Event Information
Location
Open Studio
204 High Street
Northcote, VIC 3070
Australia
Join Floyd Thursby and accordionist Salvatore Greco at Open Studio for an evening of French Gypsy Jazz. A Pay As You Feel Event!
About this event
IMPORTANT NOTICE BEFORE BOOKING YOUR TICKET
COVID-19 safety at Open Studio and the Victorian Vaccination Mandate.
As per the Public Health Order and the Victorian Vaccination Mandate, all staff, musicians and patrons are required to scan the Open Studio QR code, and show proof of double vaccination status before entry. It is mandatory to wear masks whilst moving through the venue. SEATED SERVICE ONLY - NON-CONTACTABLE ORDERING.
Non-contactable ordering with smartphone available with Mr Yum.
Staff will assist with table service as required.
PLEASE NOTE ON BOOKING THERE IS INDOOR SEATING AND OUTDOOR SEATING AVAILABLE.
All events specify the music event is inside or outside.
Note, if you are booked in the COURTYARD for a late show, depending on neighbouring activity, you may not be able to hear or see the show. If space becomes available inside staff will move you inside.
Early shows are generally in the COURTYARD, weather dependent.
Early piano events are inside the venue.
All late shows are inside the venue.
PAYF Events - you can make your contribution to the event on arrival through the MR YUM app or directly at the bar. All PAYF contributions go toward Open Studio continuing to offer affordable and accessible events.
PAYF tickets from show start time, are held for 10 minutes only.
Thanks for understanding.
UNABLE TO MAKE A SHOW?
As our capacity is limited, please email us directly here openstudiovenue@gmail.com so we can free up the tickets.
We look forward to hosting you at Open Studio!
Doors 6.30pm
Show 7.30 - 9:30 pm (inside) OPEN till late
PAYF tickets from show start time, are held for 10 minutes only.
Thanks for understanding.
FRENCH GYPSY JAZZ WITH FLOYD THURSBY AND SALVATORE GRECO
FLOYD THURSBY
Contemporary folk singer Floyd Thursby writes songs about love and death, wild nights and quiet days, sacred moments and everyday life. His album 'To those in flames' (2019) was critically lauded and his 2020 album 'The South Lands', featuring duets with Vietnamese singer-songwriter Mademoiselle, led to placement of his song 'You gotta fly' in the major Vietnamese motion picture Gái già lắm chiêu V. As a composer he has scored a feature film (The Death & Life of Otto Bloom) and multiple short films. He also performs with acclaimed French gypsy jazz quartet La Mauvaise Réputation and new project Skiffle Party! He is currently working with Los Angeles-based producer Rob Kleiner (Cee Lo Green, Sia, The Weeknd, Kylie Minogue, David Guetta) on new original material.
SALVATORE GRECO
Salvatore Greco has been performing and honing his skills as an accordionist since his childhood in Italy. He plays in a number of Melbourne-based ensembles, including French ghost jazz quartet La Mauvaise Réputation and Italian traditional music combo Bella Ciao. He has a special expertise in traditional Italian and European folk music and the gypsy waltzes much loved by accordionists the world over.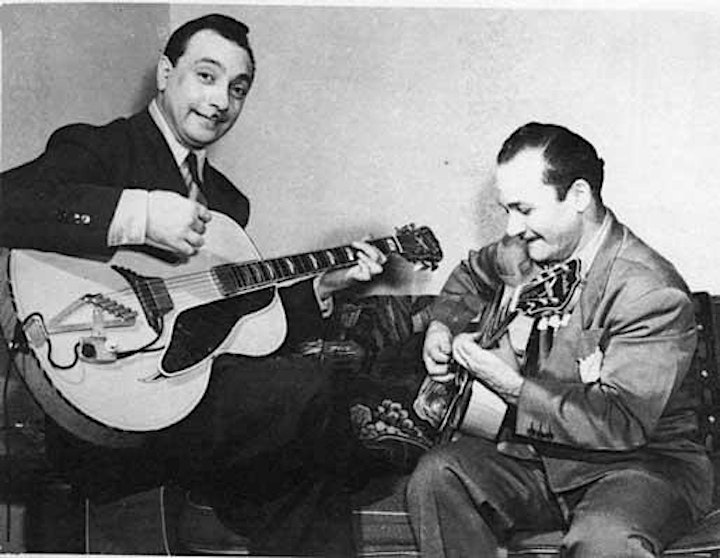 Date and time
Location
Open Studio
204 High Street
Northcote, VIC 3070
Australia