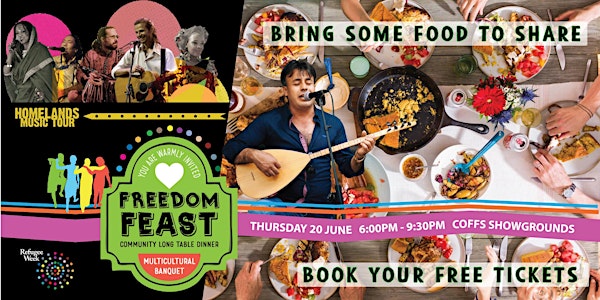 Freedom Feast 2019 - community long table dinner for Ref-YOU-gee Week
Event Information
Location
Coffs Harbour Showground - Exhibition Pavilion
123 Pacific Highway
Coffs Harbour, NSW 2450
Australia
Description
Freedom Feast is back in 2019 - in a NEW BIGGER VENUE at COFFS HARBOUR SHOWGROUNDS and amazing cultural enertainment on the menu this year as the Homelands Music Tour pulls into Coffs on it's journey from Brisbane to Sydney!!

Freedom Feast - a major activity in this years' celebration of Coffs Harbour Ref-YOU-gee Week - is a long table sit down shared community meal experience with a variety of live entertainment - a melding of story sharing, local cultural performances and touring national multicultural artists - all coming together under the one roof in the heart of Coffs for an incredible evening of food, conversation, music and dancing - a complete cultural immersion and celebration of the richness of our local community diversity as together we celebrate different aspects of the refugee experience around the theme of freedom.
Once again Coffs Harbour will come to life - bursting with the vibrant colours, flavours and aromas that make up the rich cultural tapestry of our beautiful Coffs community - as the massive Exhibition Pavilion at the COFFS HARBOUR SHOWGROUNDS is transformed into one big warm and welcoming community living room - where food and stories are shared, new perspectives are gained and new connections and friendships are forged.
BRING A PLATE OF FOOD TO SHARE (which tells something about who you are and where you are from) and join in on a sumptuous community feast featuring authentic home cooked multicultural food from all over the world. Hear and share stories inspired by these delicious dishes.
Relax and enjoy live music & dance performances from diverse local cultural communities with cultural flavours from across the globe. Be fully immersed in the exotic sounds and rhythms of afar as the hall is transformed into a bustling bazaar - complete with joyful and exuberant spontaneous dancing!
At this year's event we are so blessed and excitied to be hosting the Coffs Harbour leg of the HOMELANDS MUSIC TOUR!! The Homelands Music Tour: crossing borders, crossing cultures is a 7 date collaborative live music tour across QLD and NSW showcasing the talents of 3 professional musicians from refugee backgrounds sharing their stories, rhythms and melodies and settlement experiences. This debut collaboration will feature renowned world musicians Tenzin Choegyal (Tibet, dranyen), Kween G (Uganda, vocals), Yasmin Ibrahim (Sudan, vocals) along with Marcello Milani (guitar) and Shen Flindell (dranyen). The tour will traverse through schools, TAFEs, arts centres and live music venues across regional and metropolitan QLD and NSW during Refugee Week and is proudly presented by Settlement Services Australia, Access Community Services and BEMAC.
The Freedom Feast and the broader Ref-YOU-gee Week program is about celebrating our freedom together and the journeys we have all taken to calling Coffs home, whilst acknowledging that for many, freedom and their struggle for it took on a whole new meaning and Coffs became a new safe home, a new opportunity, a new beginning. It is about remembering and acknowledging the struggles for freedom that still exist the world over - and appreciating what we can grow together now through our freedom right here at home.
So book your free place now and come and join this positive gathering. Everyone is welcome and with a break-out space with fun activities for the little ones throughout the evening, kids are very welcome too.
So come and tantalise your tastebuds. Deepen your connection. Enjoy the entertainment and even get your dance on..

Coffs Harbour Ref-YOU-gee Week 2019 - Put yourself in the picture!

Freedom Feast is funded by the NSW Government and Coffs Harbour City Council.
Here's a taste of what to expect. Check out this great vid from our very first Freedom Feast 2017 here: https://vimeo.com/270239634
Date and time
Location
Coffs Harbour Showground - Exhibition Pavilion
123 Pacific Highway
Coffs Harbour, NSW 2450
Australia