Sales Have Ended
Registrations are closed
Thank you for registering - Meet you at the Barre!
Sales Have Ended
Registrations are closed
Thank you for registering - Meet you at the Barre!
About this Event
Xtend Barre takes elegant dance inspired moves and adds the exhilaration of high intensity workouts. Designed to help you feel the power, feed the determination and see amazing results. This full-body workout has been created to empower everyone to improve their fitness levels—whether you're an athlete, just toning up or wanting to lose weight.
This is your opportunity to try our signature class and talk to our highly talented and trained instructors about your fitness goals.
All fitness levels are welcome and no dance experience is required!
Spaces are limited - REGISTER NOW!
WHAT IS XTEND BARRE?
This is a fast-paced, full body immersion class that fuses dance, Pilates and sculpting exercises to give you a chiselled body – and fast!  By using a series of isometric exercises and orthopaedic stretches, the Xtend Barre system sculpts the body proportionally so that all body parts are equally challenged.  
This total body workout serves to strengthen, lengthen, and stretch the body from top to bottom, from the inside out.  The end result is a long and lean physique… without added bulk.  Developed from a dance and Pilates background, the Xtend Barre workout combines the amazing results of dance with the principles of strength and safety in Pilates. 
WHAT TO EXPECT?
Expect a 45 minute mind and body experience that mixes ballet and Pilates-inspired moves with targeted muscle sculpting, cardio and resistance training.  The class is set to fun, energising music with motivational cue-ing.  Your instructor will set up each exercise, get you moving and circulate the room to help correct form when needed, to make sure you achieve the challenge and change desired out of each class.
IS IT SUITABLE FOR BEGINNERS?
At Xtend Barre we teach a multi-level, safe, fun and effective class that anyone can join and thrive in.
No prior dance or Pilates experience is required to participate in this class and is suitable for beginners - modifications will be included to advance the exercises if you want to challenge yourself!
Please alert your instructor to any exisiting injuries prior to the start of class.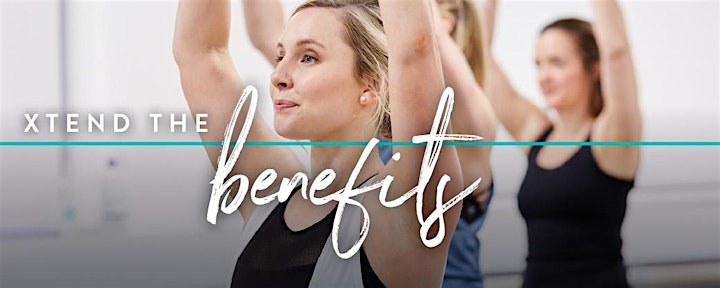 THINGS TO KEEP IN MIND FOR YOUR FREE CLASS:
Arrive 20 minutes early
Please save your Eventbrite registration and present it upon arrival.
What to wear?  Yoga pants, capris or leggings and an athletic top – whatever you'd normally wear to the gym.
What to bring? Bring a yoga mat and a pair of grippy socks or split sole canvas ballet flats to wear during class. Also bring a bottle of water to keep you hydrated and a sweat towel.
Please keep in mind that parking in Kingston can be difficult to find; we suggest factoring in 10 minutes to find a car park into your total travel time.