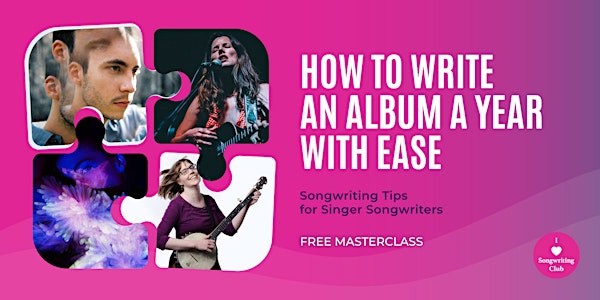 Free Songwriting Masterclass - Live Streamed
HOW TO WRITE AN ALBUM A YEAR WITH EASE: SONGWRITING TIPS FOR SINGER SONGWRITERS with I Heart Songwriting Club
About this event
HOW TO WRITE AN ALBUM A YEAR WITH EASE: SONGWRITING TIPS FOR SINGER SONGWRITERS with I Heart Songwriting Club
Free Masterclass
Want to write songs prolifically and abundantly week after week with ease? Want to write and release a new album every year? Want to become a prolific songwriter?
In this free and live masterclass webinar, discover four essential tips to songwriting that will change the way you write songs forever and empower you to become the artist you've always wanted to be. With over 15,000 songs and entire albums written using these simple songwriting tips, you will have no more excuses to stay stuck and struggling with songwriting. 
Taught by the founder of the revolutionary online songwriting club, I Heart Songwriting Club, this inspiring session will offer you practical tools for overcoming songwriters' biggest blocks and barriers once and for all. Be inspired to tackle writer's block, time management, and perfectionism and become creatively free!
This is for you if you want to get past blocks and write more songs than ever before, play your songs on stages and have people love them, record and release your songs and so much more!
AND IT'S FREE!!
Raleigh joined the club after our workshop in New Orleans in January 2020, and after 15 months of being an active club member, this is what Raleigh has to say:
"I Heart Songwriting Club has changed my life. I am a real songwriter now and it brings me such joy. The club has been an important part of making this happen for me! Thank you Francesca for bringing your workshop to Folk Alliance International in New Orleans." - Dr. Raleigh Duncan (Berkeley, CA)
**This is a live session only.**
Once you have purchased your ticket you will receive the link to the webinar location.
NOTE: This workshop is 7pm Brisbane time and works perfectly for our friends in the UK, Europe, Asia etc. Sorry America, it's not a great timezone match. But feel free to sign up so you can receive a link to watch on demand.
Please check your timezone here: https://www.timeanddate.com/worldclock/converter.html?iso=20201130T080000&p1=47&p2=136