A unique musical experience in Glebe Park presented by Lakespeare & Co with the support of the City Renewal Authority
About this Event
***Due to the rain and the need to protect the lawn, there will be no vendors***
**SHOW BOOKINGS CLOSE 6pm Friday 26 March**
Songs & Sonnets in the Park
This March enjoy being serenaded while you picnic beside a grand piano in Glebe Park.
For one night only, a grand piano will be brought onto the lawns for a night under the stars. You will experience selections from musical theatre giant Stephen Sondheim and original compositions from Rockspeare musical composer Jay Cameron, peppered with Sonnets from Shakespeare. You just might hear a few surprise toe-tapping tunes you wouldn't expect on a grand, outside, in Glebe Park.
Lakespeare & Co endeavour to bring high quality storytelling to Canberrans and this musical offering is thanks to City Renewal Authority, Events ACT and the Capital Arts Patrons' Organisation.
We know Canberrans will be thrilled by this unique evening and enjoy a magical night out in true Lakespeare & Co style. So bring a picnic or visit one of the food & beverage vendors (to be announced closer to the date) at the show - we look forward to seeing you there.
4:30pm Check-ins commence
5:00pm Vendors open for business
6:00pm ACT I
6:40pm Interval
7:10pm Act II
8:00pm Close
Vendors
Due to the dampness of the park, there will be no vendors.
Registration and Seating
Show information
1. You must register before the event and present a ticket at the check-in point to be allowed into the viewing area. No ticket, no entry.
2. Standard for our events, chairs are only allowed in designated areas. So everyone can see, chairs will necessarily be set back from the central performance space.
3. So everyone can see, umbrellas are not to be used during the performance. Patrons should use hooded rain jackets or ponchos.
IF YOU ARE UNABLE TO ATTEND
This is a unique, one time only show. If you or one of your group are unable to attend, please cancel your registration to ensure other patrons can enjoy the event. You can do this by following the information provided in your confirmation email or logging into Eventbrite.
DONATIONS
Our Company is committed to bringing free performances to Canberra's parks. Your donations are more important than ever and will help us to produce Shakespeare by the Lakes IV next year.
Cast and Creatives
Jay Cameron: Composer & Performer
Katerina Smalley: Performer & Associate Producer
David Pearson: Performer
Lexi Sekuless: Performer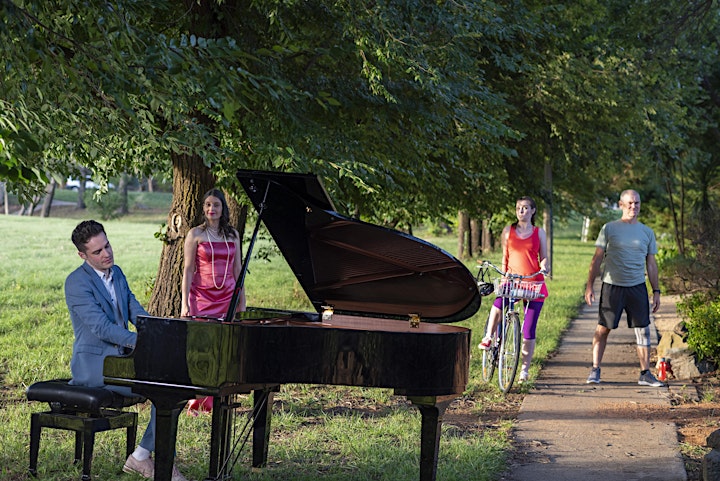 COVID-19 SAFETY PROTOCOLS
To ensure your safety and the safety of all patrons, COVID-19 protocols will be in place and must be followed. Failure to comply with reasonable directions from our stewards will result in removal from the audience space.
Tickets are NOT transferable as registered guest names will be printed on each ticket and names submitted will be final – no name changes will be accepted.
To minimise risk to the ACT, we recommend that only household groupings or those in regular close contact (such as couples) book together. Groups of people who do not regularly interact increase the risk of COVID-19 spread in the ACT. Groups with multiple physical addresses listed may be asked to confirm that they are in regular close contact.
Identification will be required to gain access to the function space and this must match the name/s on your ticket. If the name does not correspond to your ID, you will not be permitted entry to the show area.
Groups, whether chairs or blankets, need to distance 1.5m apart. You will not be able to mingle outside of your group in your 'blanket bubble' or 'chair cluster' and are asked to transit to vendors and bathrooms directly.
Persons from any at-risk postcodes (as declared by health authorities at the time) will be turned away from the event.
ENTERING
On arrival, please make your way to one of the two check-in points - one near the toilets and vendors and one near the stage. You must bring your ticket either electronically or on paper. The name of every booked attendee will be checked off the list with Photo ID to ensure that it matches details given on registration. The whole group must check-in together before entering.
All attendees will also be required to check via the ACT Government's Check-In Canberra app.
Please do not attend if you are experiencing any of the following:
Fever
Flu-Like Symptoms such as;
Coughing, sore throat and Fatigue,
Shortness of Breath
OR
Have been in contact with a person with a confirmed case of coronavirus.
SEATING
In keeping ACT Government requirements to manage COVID-19, bookings NOT made together CANNOT sit together or mingle.
There will be food and drink vendors at the show (these will be announced closer to show night) or bring a picnic to enjoy while you watch the show.
WEATHER DEFERRAL
Please monitor the Lakespeare and Co. Facebook or Instagram pages in the days leading up to the show for early notifications.