Free Social Fitness Bootcamp & Coffee's (makes friends, lose weight, tone up and feel great!)
About this Event
Tired of being stuck at home?
Want to try something Fun & New?
Maybe you want to increase your fitness and feel like you belong to a new group of friends who get you 🙂
Social Sunday Fitness and Coffee
If you'd like to mix up your routine, improve your motivation or simply expand your friendship group, Rsvp and join in! 💯
Our group fitness training starts at 7:30am and we train together for no more than forty minutes
Easily chat with new friends and we enjoy coffee's together afterwards at the near by café too ☕
Bring a water bottle and a smile.
Easily train at your own fitness level (go at your own pace)
Free social sessions
Free parking or use Bourke St/Harbour Esp Tram Stop 🚋
All Equipment provided
Exercises tailored to your fitness level and abilities
Waterside Bootcamp 🌊
Enjoy fun Social Fitness sessions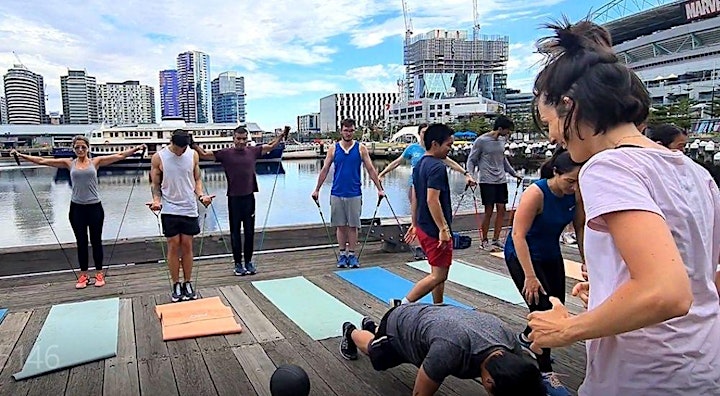 Makes New Friends, Lose Weight, Tone up and Feel great 😀
Rsvp Now! We Meet At:
Look for the fun group Training by the water:
Training on Harbour Lights Landing - Opposite Marvel Stadium, Corner of Bourke Street and Harbour Esplanade. 119 - 129 Harbour Esplanade Docklands on Sunday mornings at 7:30am 🌊🌲
We're easy to spot, look for the fun group who's about to workout and become your new best friends too 😊
Public Transport, Use Bourke St/Harbour Esplanade Tram Stop 🚋
Social Fitness and Coffee's!
Relax knowing your sessions have been pre-planned, demonstrated and tailored to your fitness levels and abilities. (so no thinking you're not fit enough, we've all been locked out of gyms for 7months, it's simply an easy way to get back in)
Training starts at 7:30am and we suffer together, I mean train together for no more than forty minutes. There'll be plenty of time for mingling over coffees afterwards at the near by Café too ☕
I'll provide all the equipment. Simply bring a water bottle and a smile. 😊
RSVP now, our group is only just forming so you'll easily fit in and I'll introduce you :)
As you can tell, I'm not a drill Sargent, it's a social fitness Meetup, comfortably train at your level we'll scale exercise to your abilities. ❤
Even if you're unsure, Rsvp and reserve your spot now because new friends are waiting for you 😊✌