FREE small business workshop: How to write a business plan - Midland
Event Information
Location
Midland Town Hall - Upstairs Meeting Room
(Enter from Midland Library foyer)
312 Great Eastern Hwy
Midland, WA 6056
Australia
Description
Prospective business owners sometimes wonder if they really need to write a business plan, particularly if they're not seeking a bank loan. However, if you want to clarify your thinking, set a tone and direction for your business, and a deeper understanding of your market, the answer is 'yes you do'.
This free workshop proudly brought to you by the City of Swan and presented by Small Business Development Corporation, is for local business operators and startups who are:
In the early stages of starting their business;
Need to secure external funding; or
Already have a business but need to develop a plan to clarify their thinking and look for new opportunities.
Topics covered in this workshop:
What should be included in your plan and why;
How a marketing plan fits into your business plan;
Why you need a financial strategy; and
How a SWOT analysis will help you indentify your business opportunities.
You'll receive a practical workbook that will form a draft plan for your own business, and there will opportunities to ask questions.
Due to limited numbers, please register your attendance.
For further information contact the City of Swan - Business & Tourism Services team on (08) 9267 9357 or email tanya.bonivento@swan.wa.gov.au.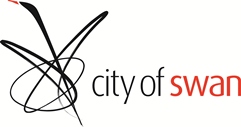 The City of Swan is committed to ensuring the delivery of education, training and skills development to support the growth and development of an increasingly diverse local economy.
Date and Time
Location
Midland Town Hall - Upstairs Meeting Room
(Enter from Midland Library foyer)
312 Great Eastern Hwy
Midland, WA 6056
Australia