Description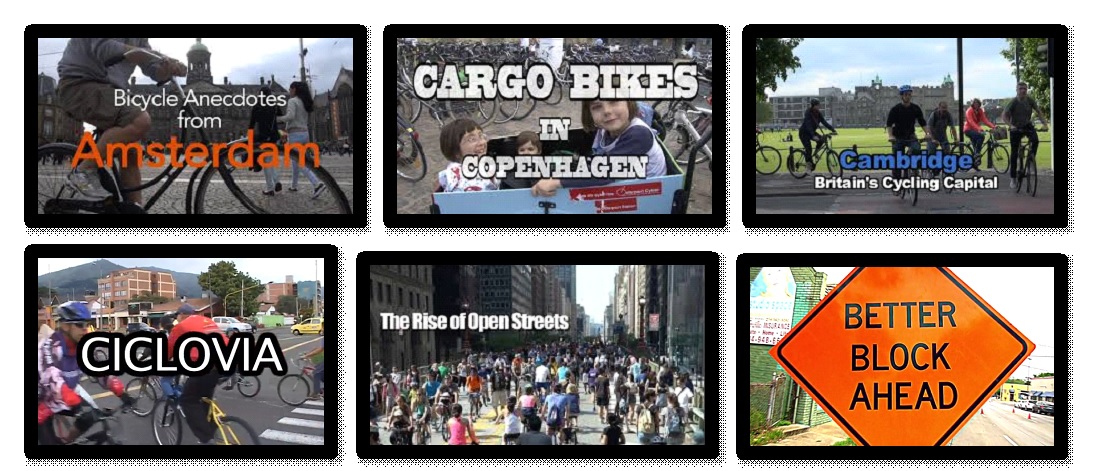 Be prepared to be truly INSPIRED by these AMAZING short films by Streetfilms - the go-to organization for educational films about sustainable transportation, car-free streets, traffic calming and much more.
We will be showing the following STREETFILMS at 630pm on Wednesday 12 October 2016 at Foyer Oxford, 196 Oxford Street, Leederville.
First Half - Bike Initiatives Around the World
1. Bicycle Anecdotes from Amsterdam
2. Cargo Bikes in Copenhagen
3. Cambridge: Britain's Cycling Capital
4. Vancouver's Breathtaking Network of Safe, Protected Bike Lanes
5. Bikes are Freedom: Inspiration from the Experts
Second Half - The Global Open Streets Movement
6. Ciclovia: Bogota, Colombia

7. The Rise of Open Streets

8. "The Better Block" Celebrates Four Years of Re-imagining Streets
9. The Metamophosis of NYC Street

10. Playstreets (1968)
There will be an opportunity after the screening to hear Mayor John Carey say a few words about the City of Vincent's current biking and open streets initiatives, and time for you to have your questions answered as well.
For those interested in becoming involved in creating 'Play Streets' or 'Open Streets' around Vincent (and Perth) this is the place to get inspired and connected to other like-minded people. We will be creating a brand new 'Open Streets' interest group to bring people together to make this happen!
" Showing the [Ciclovia] Streetfilm to our Mayor was the next best thing to flying him to Bogota to witness the joys of Ciclovia firsthand. The success of San Francisco's Sunday Streets owes a great debt to Streetfilms' pioneering work." - Leah Shahum (Executive Director, San Francisco Bicycle Coalition)
Event Details
Doors open at 630pm. Films start at 7pm.
Running time approx 90 minutes (including breaks and discussion).
Bring your own food and non-alcoholic drinks.
Gold coin donations welcome (for future screenings).
We look forward to seeing you there :)
For more information about Transition Town Mount Hawthorn go to: www.ttmthawthorn.org
For more information about Foyer Oxford go to: www.foyeroxford.org.au/