Free Online Quit Smoking Community Workshop
About this event
Free Quit Smoking Community Workshop
**Did you know that smoking remains the leading preventable cause of death and disease in Australia**
Join us online on the 9th of December to explore more about tobacco and smoking.
The workshop will provide attendees with an overview of smoking in our community, including short-term and long-term consequences, benefits of quitting, and will address common myths about smoking and smoking cessation. In addition, information on evidence-based treatment options available to assist in quitting, including behavioural strategies to cope with withdrawal symptoms.
The workshop is for smokers and non-smokers wanting to learn more. There will be an opportunity for attendees to discuss any questions or queries of theirs.
When: 7pm, Thursday, 9th of December
For further enquires: 0420 915 528, or quitsmoking@lma.org.au.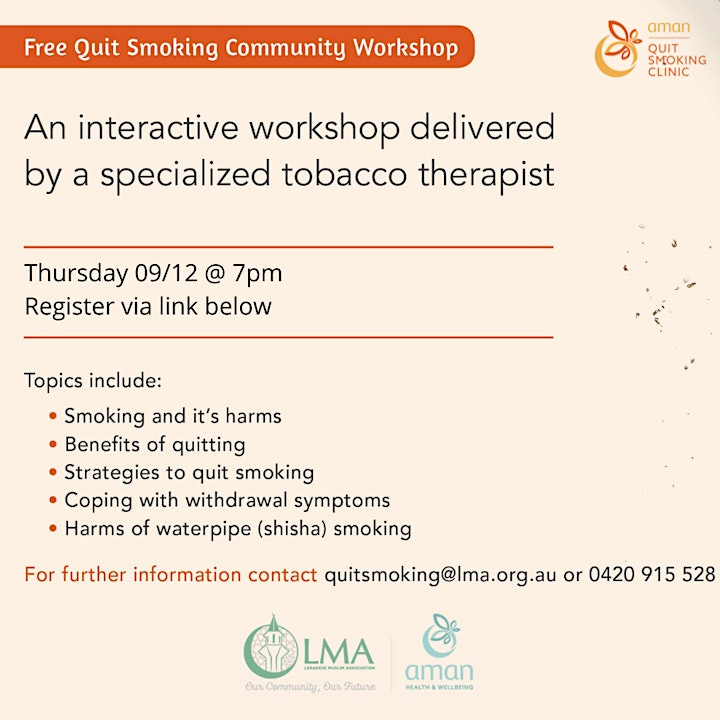 Organiser of Free Quit Smoking Community Workshop
The Lebanese Muslim Association (LMA) has been in operation since 1962 and has grown to be a nationally recognised representative service provider with over 1,000 members, over 400 initiatives and events and with a staff of over 40.
Its reach has grown to include a vast spectrum of communities and networks from across NSW, including having three mosques and partnerships with a number of stakeholders and sponsors.
It is most prominently associated with being the caretaker of Lakemba Mosque, one of the largest Mosque's in Australia that hosts thousands of people every week, and over 100,000 people across major events and milestones.