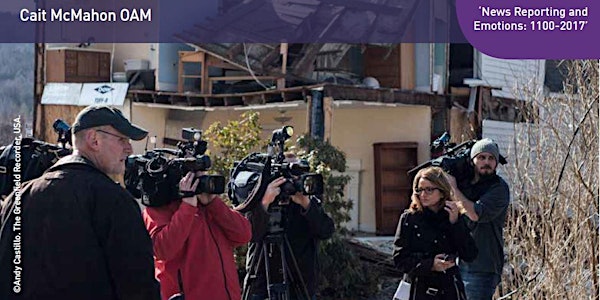 FREE Public Lecture - 2017 Change Program Collaboratory
Event Information
Location
The University of Adelaide
Lower Napier Building LG28
North Terrace
Adelaide, SA 5005
Australia
Description
The ARC Centre of Excellence for the History of Emotions, Europe 1100-1800 presents its 2017 Change Collaboratory opening lecture:
JOURNALISTS IMPACTED BY TRAUMA - THAT'S NEWS. WHY SHOULD WE CARE?
Cait McMahon OAM
Dr McMahon OAM will present the current psychological research on journalists exposed to traumatic events, and the emotional repercussions of such work. This research will be accompanied by examples of how media
professionals have managed their emotions at the time of potentially traumatic exposure and afterwards. McMahon will discuss self-care strategies that she teaches journalists to maintain resilience in such circumstances. The presentation will also include examples of journalists' self-censorship because of fear elicited through trauma reporting; the concept of moral injury as it relates to news gathering, and the importance of ethical reporting on people affected by trauma.
All welcome to attend this free event but registration is essential, this lecture will be followed by a wine reception.

This is also the Opening Public Lecture for the 2017 Change Program Collaboratory
Date and time
Location
The University of Adelaide
Lower Napier Building LG28
North Terrace
Adelaide, SA 5005
Australia