Description
Free Primary STEM TPL Rapid Upskill!
Designed from real classroom experiences, this interactive day helps you create consistently effective science learning that directly address the curriculum with easily accessible and cost-effective materials.
Suitable for all Year 3 to 6 Primary Teachers (Are you a F to 2 teacher? Click here for your event)
Designed to build science capacity in your school
Highly interactive & hands-on... creativity is celebrated here!
Embedded curriculum planning
Built on materials you can source from the local shops
Includes kit to take back to school for instant implementation
How much?
It's free! This event has been sponsored by the Toyota Community Trust as part of supporting Melbourne's West. This program is presented by Fizzics Education with experienced science educators. Bookings essential


Format

The day is broken up into 3 distinct sections;

Before Morning Tea
Introduction & Principles of Science Literacy
After Morning Tea
Going deeper...
STEM Ideation
Science & Digital Tech
After Lunch
Making it happen!
Rapid development of the curriculum to suit the needs of learners. It's all about implementing the ideas raised throughout the day.
Teachers are paired up as part of a Professional Learning Network so that following the TPL day;

Teachers can work with each other to support the implementation of their goals for their school.


The following school term all teachers are invited to share what they have achieved and find ways to collaborate and extend student learning opportunities.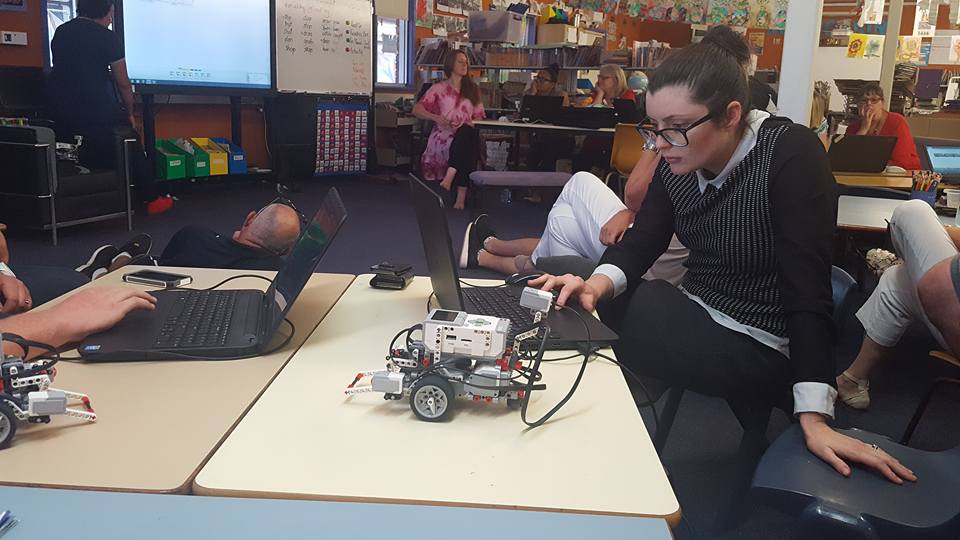 Supporting the National STEM School Strategy 2016 - 2026
In 2015, all Australian education ministers agreed to the National STEM School Education Strategy 2016–2026, which focuses on foundation skills, developing mathematical, scientific and digital literacy, and promoting problem-solving, critical analysis and creative thinking skills. The strategy aims to coordinate current activities, and improve STEM education. Fizzics Education has created this Teacher Professional Learning opportunity to help address the five action areas highlights by the Strategy;
Increasing student STEM ability, engagement, participation and aspiration.


Increasing teacher capacity and STEM teaching quality.


Supporting STEM education opportunities within school systems


Facilitating effective partnerships with tertiary education providers, business and industry


Building a strong evidence base
By addressing these five action areas teachers will able to contribute to addressing two overall goals of the strategy;
Goal 1
Ensure all students finish school with strong foundational knowledge in STEM and related skills
Goal 2
Ensure that students are inspired to take on more challenging STEM subjects.
AITSL Standards
2.1 Demonstrate knowledge and understanding of the concepts, substance and structure of the content and teaching strategies of the teaching area.


2.2 Organise content into an effective learning and teaching sequence.


3.2 Plan lesson sequences using knowledge of student learning, content and effective teaching strategies.


3.3 Include a range of teaching strategies.
ACARA links
Science Inquiry Skills is concerned with the practices used to develop scientific knowledge, including questioning, planning and conducting experiments and investigations, collecting and analysing data, drawing critical, evidence-based conclusions, and evaluating and communicating results.

The Science Inquiry Skills strand comprises five sub-strands. This TPL day will focus on three of the five sub-strands, these are:

Questioning and predicting – key abilities include identifying and constructing questions that can be investigated scientifically, proposing hypotheses and suggesting possible outcomes.


Planning and conducting –key abilities include making decisions about how to investigate or solve a problem and carrying out an investigation, including the collection of data.


Communicating – key abilities include conveying information or ideas to other through appropriate representations, text types and modes.

Frequently Asked Questions
What to bring
Morning Tea, Lunch and Afternoon Tea is provided
Bring along any smart device so that you can make notes, take photos and visit websites on the fly
Wear comfortable clothes that can get dirty.
Any medications
NB: No nuts allowed on-site
EpiPens
We take anaphylaxis seriously. Anyone that requires an EpiPen must bring a minimum of 2 on the day in association with the ASCIA Guidelines. This is so that in the event of an emergency we have the required dose (we cannot borrow someone else's EpiPen or rely on an onsite backup EpiPen working or being available).
Please arrive with two EpiPens in an appropriate cooler bag and give all information of the allergic condition to our presenters.

I need more details about what will be covered

Sure thing! The following covers more of the broad information covered this day
STEM Ideation
We've all heard the acronym STEM… so what does it really mean to put this into classroom practice? In this module we look closely at what ideas have been used by other schools and then together we rapidly develop ideas for STEM in your school. This is module is about co-creation of STEM lesson activities that students love and planning for how to realistically implement a lesson sequence that fits in school timetable.

Science & Digital Tech
We all love a gadget and we most definitely use apps everyday! This module helps take advantage of our digital native's curiosity as we explore the variety of helpful resources that can really make a difference when teaching students science in the classroom. We'll look at how you can enhance learning with your resources already at hand, plus help with planning out what you can do to create Maker Spaces and more!