How To Breakthrough When You're Feeling Behind In Life in your late 20s / early 30s
About this event
Do you ever get the Monday morning blues and "Thank God It's Friday" feelings of relief at the end of your working week?
Does your current job pay the bills but there's very little about your work that you enjoy or that inspires you?
You invested a lot of time & money to get where you are today for your career only to find out that it's not what you thought it would be and you hate it but know there is no point of return so you stay at the job you have as you feel like you're being crushed by either anxiety, fear of unemployment (especially now due to Covid-19), or just have crazy amounts of college debt —you know, like most Millennials these days.
You glare at your cat in the morning as you get ready for work and say, "Gosh, I wish I had your life."
You feel behind because you're nearly in your 30s but haven't got a satisfying, profitable career you love, you haven't made lots of money or bought a house or found the love of your life to build a family with kids. You feel stuck, frustrated and are anxious about your future, especially due to the coronavirus…you're not sure what to do next or how to get out of this rut. Every day feels like groundhog day….help I want my life back!!
If one of these describes your life and some of your frustrations then we've got an incredible opportunity for you as we have created an event called…
🙌How To Breakthrough When You're Feeling Behind In Life🙌
The Fastest Way To Live Life With Courage, Passion, Purpose & Wealth
 📅DATE: October 24th (Sunday)
🕒 TIME: 6.00 pm – 8.00 pm ( AEST, Brisbane Time)
💻 WHERE: Online via Zoom (On your mobile, tablet or desktop)
✏️ REGISTER FOR THE FREE ONLINE EVENT NOW ✏️
Do you find yourself needing to make more money doing what you dread in order to do what you actually love on the weekend?
You see two roads in front of you. A life of comfort and a life of risks with lots of opportunities. And you're not sure you have the right car or directions to go down either one. You've had 3-5 jobs in the last four years.
Or maybe Your part-time job at Starbucks or in a call center or retail job has lasted 5 years but it's not where you wanna stay for the rest of your life.
And often ask yourself "When is life going to feel like it's supposed to?" or "There's got be more to life than this?"
What if you could finally do what you most love & find joy while prospering from your passion & being free from the chains of fear, self-doubt & procrastination? What if you could finally stick to your goals and get the results you most desire?
Then this is the right event for you, where you can discover and learn how to overcome a life crisis in your late 20s, early 30s so that you can proudly say to yourself, your friends and family "I have made it"
What is a life crisis I hear you ask?
A life crisis happens when you compare your hopes, dreams & desires with your reality and you realize you haven't achieved what you most want for a very long time, now. This makes you anxious about your future, doubt yourself, and fear making mistakes or fail to move to the next level of lifestyle. You question yourself if you are still on the right track in life and feel super stressed & confused…
Are You Ready To Transform This Crisis Into Your Best thing that happened? It's not too late. A lot can happen with the right methods, energy & mindset come and join us and you will know how!
============================================
🤔This Event Is For People Looking To...
============================================
✅Learn How To Overcome a Life Crisis in your late 20/early 30s during uncertain times (Covid-19) & turn anxiety + fears into excitement & confidence
✅Overcome PROCRASTINATION on your hopes, dreams & goals
✅Get Clarity & a Simple Fast Strategic Solution on why we keep failing on achieving those goals & dreams
✅Create Fast & Lasting Change to turn your crisis into the best thing that ever happened
✅Get Energized & Motivated by kicking your life into gear with a practical, inspirational event & a supportive community
✅Crush the anxiety you have about the past, future, or present.
✅Wash Away the illusion of "everything is ok" when you KNOW that something is missing.
============================================
 What You Will Learn in 90 jam-packed minutes…
============================================
➡️Discover the main 3 reasons that are Currently Holding You Back from Achieving Success, Freedom & Happiness
➡️What is self-knowledge, inspiration, self-efficacy & how it can transform your life
➡️The 4 crisis scenarios most people face in their late 20s/early 30s and how to turn that crisis into the best thing that ever happened to you
➡️Find out the ROOT CAUSE and work out WHY You're in this life crisis & hesitate to change
➡️Our psychology-based yet simple 4 steps SECRET success & happiness formula to achieve any goal
➡️Embrace your TRUE SELF and look yourself in the eye with conviction.
➡️Boost your confidence
➡️Insider's GUIDE, practical TIPS and STRATEGIES to stop being behind in life
➡️Get inspired to a life worth living with courage, passion, purpose & wealth
➡️How to gain control and take charge of your life!
============================================
What Will Change For You After This Event:
============================================
👉You will have more clarity & a solution on how to get out of your life crisis
👉You will be energized, more confident and inspired to take action for your new goals & dreams
============================================
You'll Get For FREE:
============================================
🎁A Secret Special Bonus valued at $97 participate to qualify
🎁A Powerful Eye-Opening Tool Valued at $60 That Is Simple Yet Effective in Assisting You Achieve Your Goals
============================================
👉Grab your FREE ticket now:
(Events will be held live online via Zoom. Claim your free early bird ticket now! Tickets are strictly limited to 20 people and will be allocated on a first-come, first-served basis. Be sure to Register now as it fills up fast)
============================================
Share with your friends and invite them to join.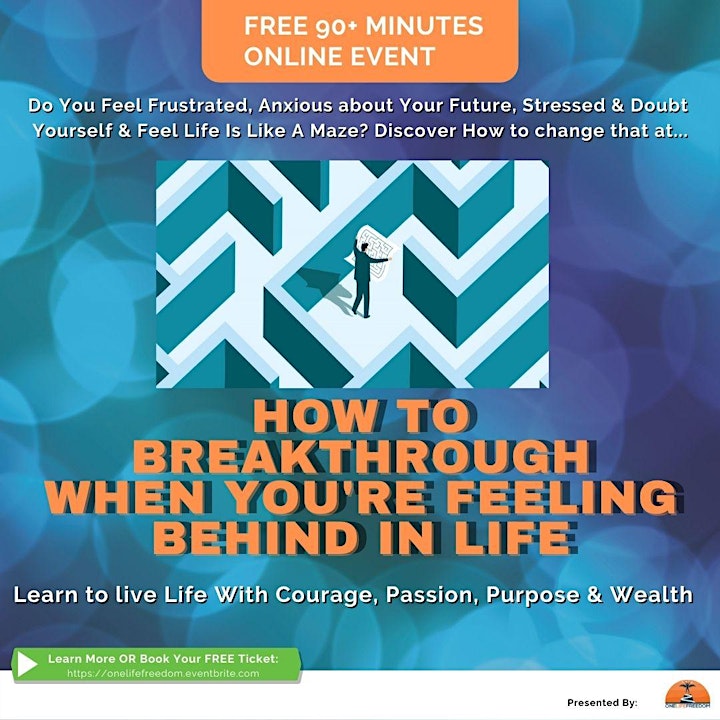 ============================================
Frequently Asked Questions:
============================================
 Is it REALLY Free? Why?
Yes, because we use the "Freemium" marketing method. Like Google and many companies these days, we deliver great value for FREE and a small % of people decide to learn more about our premium, paid programs.
 Can I attend part of it?
You can attend the first part of the course and leave later if you like. But chances are, you will feel inspired to stay for the whole thing.
 Are there going to be multiple speakers?
No, definitely not. The only speaker will be David Plos (not a line up of people selling different products. We hate those events too.).
 Why did you create this event?
Because over 2 years ago we were given the opportunity to do something different with our lives (besides working 50 hours a week in the rat race). We love personal development and we're fortunate enough to do what we love. We want to pay this forward and give you this opportunity to possibly change the course of your life too. Also, we don't like seeing people not realizing their potential because of either:
a) A lack of knowledge. We want to fill in these knowledge gaps for you.
b) They believe things to be true that are quite simply false. We want to explain the truth about what your life can be like and how to create it.
What is the agenda for the event?
Topics we cover such as:
Module #1: 
The butterfly effect
Discover the main 3 reasons that are Currently Holding You Back from Achieving Success, Freedom & Fulfillment
The 4 life crisis scenarios that impact your life
How pro's learn to be successful
The formula to success & happiness
Module #2:
The secret 4 step dream life accelerator formula & evidence it really works
The power of self knowledge
The power of self efficacy
Why we do what we do
The power of self mastery
Module #3: 
Review
Special gift/surprise
Introduction to our premium service
Q&A
Organiser of Free Online Event "How to breakthrough when you're feeling behind in life"