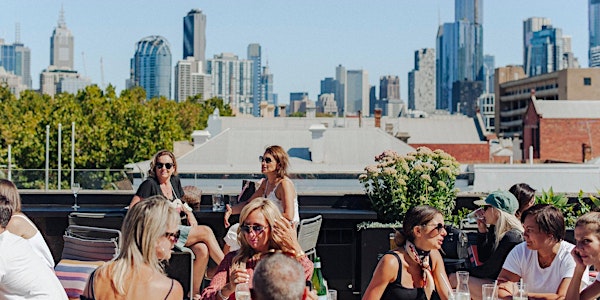 Free Melbourne Meetup Group - South Melbourne Rooftop Bar & Pub
Free Melbourne Meetup Group - South Melbourne Rooftop Bar & Pub - The Rubber Chicken Comedy Bar
About this event
FREE South Melbourne Meetup
Social Rooftop Bar Saturday Drinks!
DO YOU?
- Feel like getting out more? 🥂
- Want a Free Event? ❤
- Want to have Fun while increasing your Social Circle? 🥳
Then Perfect RSVP - Because This is for YOU 👇
Bored? You've Been Through 2 Years of Lockdowns!🤔
TIRED of being Stuck at Home? 😫
Come to Easily Meet and make new friends, enjoy your Friday evening drink and be introduced by our friendly hosts 🥂
Ever get the Feeling you'd like to be More Social? 😀
YES I know it's hard, but we're all in the same boat ⛵
My hosted Meet ups are designed to get you out and easily connecting with new friends 🥂🍷
We're simply a lovable group of strangers coming together to say hi while making new friends
RSVP and click the Free Green Booking Button to Save your place Now.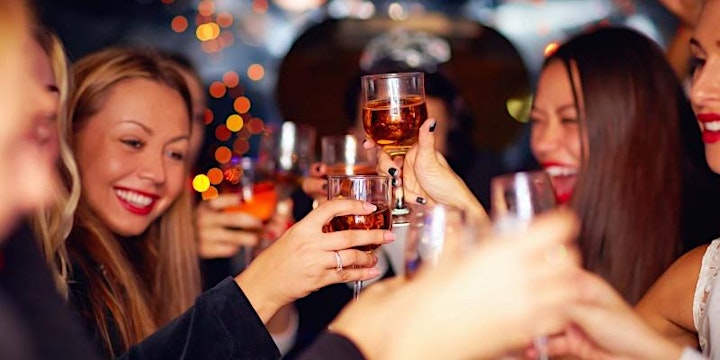 Social Meetups? 🥂
Yes! I use the Meetup app to host us the BIGGEST social nights at bars and clubs across Melbourne
Most come alone or forward this event to invite a friend
It's like going to a social event that's designed to easily connect you with other people who are also wanting to make new friends just like you 😍
Held at The Rubber Chicken
I've secured us a 150 person booking with a designated section just for you 🥂
That way you know everyone there is open to a friendly chat, just like you!
6PM Saturday the 22th of January at the The Rubber Chicken,
You've Been Through Enough Isolation Working From Home and With Lockdowns
I get it, I haven't spoken to many people lately and that's why this is perfect, we're all new, let's get out and let's make friends and smile 😊
What are the Events like? 🥂
View other Meetup Event Pics on our INSTAGRAM page 📷
@MelbourneSocialEvents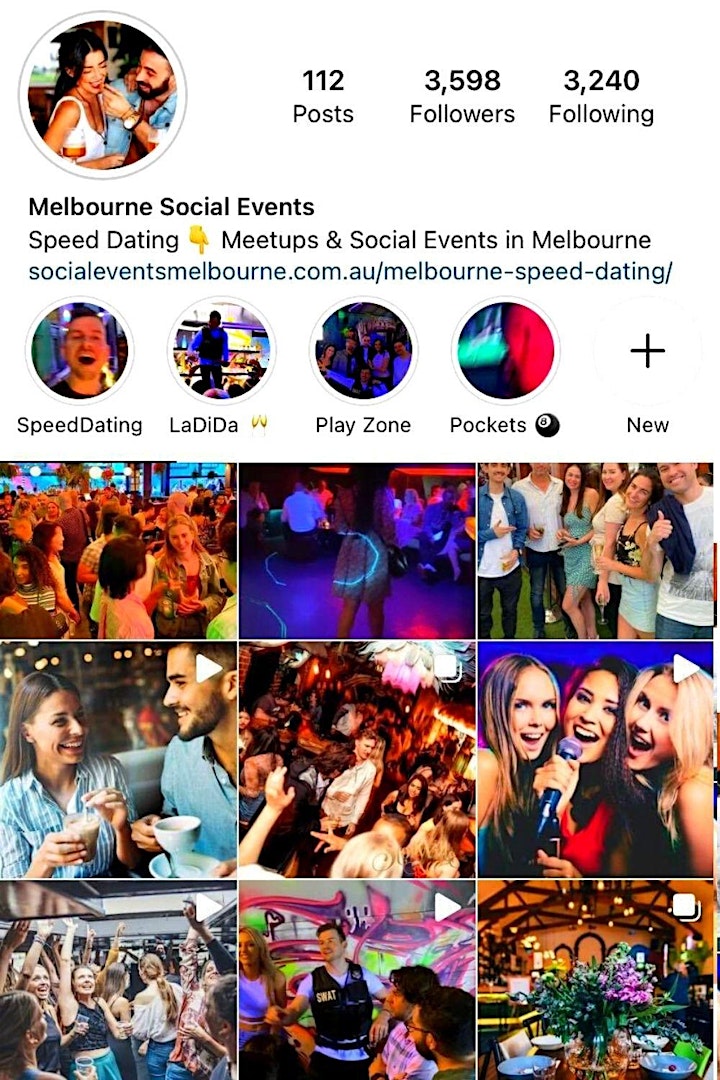 Still Unsure?
It's tough meeting new people, and hard making small talk with strangers. But what if it felt natural??
My Social Meetup Events are the Easiest Way to Meet New People. Come along and let our friendly hosts help break the ice for you. 👌
EVERY RSVP brings you more conversations, building your social circle and confidence.
Why not take your first step, RSVP and smile 😊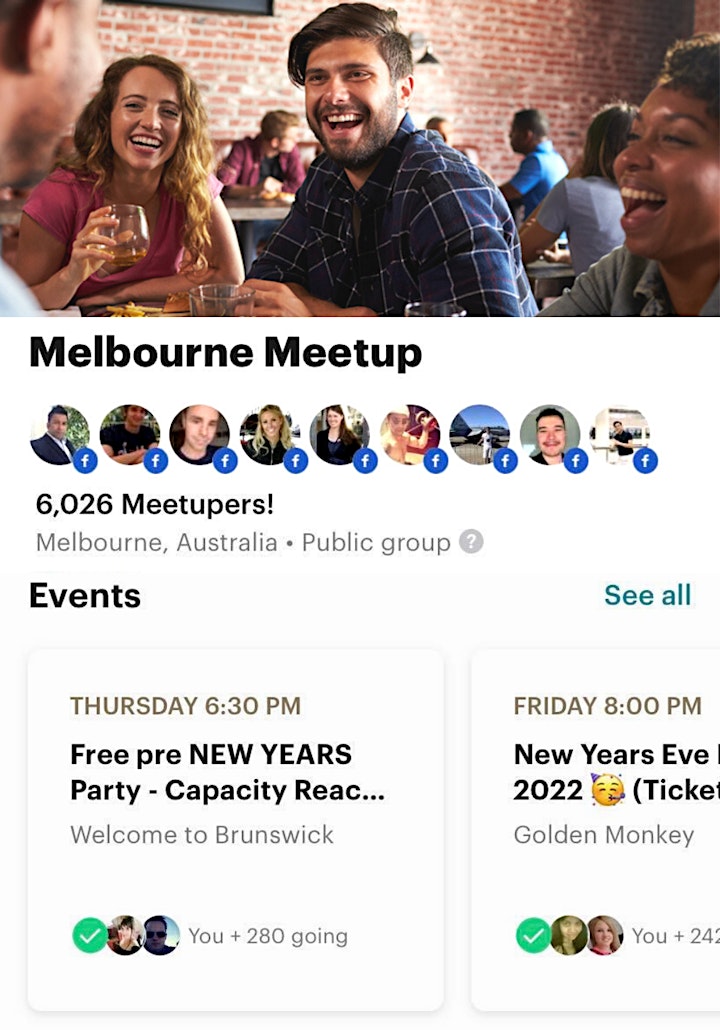 Organiser of Free Melbourne Meetup Group - South Melbourne Rooftop Bar & Pub
Best Speed Dating & Social Events in Melbourne
Want to meet someone, or expand your social circle?
Ever get that Feeling you'd like to get out more?
Maybe You've Recently Moved to Melbourne, or Just Broken-up?
Tired of your friends always staying home in their own relationships?
View Speed Dating events on Eventbrite
Social Melbourne Meetups Solve all That
You've been through 2 YEARS of Lockdowns!

Tired of being stuck working from home?
YES I know it's hard, but we're all in the same boat
View Events on Instagram @MelbourneSocialEvents
RSVP to easily meet, explore and make new friends at social events in Melbourne
View social events on Meetup App
Single?
Try Speed Dating and Singles Events in Melbourne
Stop having your time wasted on endless Tinder swipes and misleading online chats that go nowhere

Stop Feeling Rejected
No Pressure from Asking for Numbers, Easily Receive Your Matches via Email
RSVP to be Introduced and Easily Meet in Person
But What is Speed Dating?
Let's face it, Meeting People is Hard
Arranging an online date is time consuming, frustrating and not to mention expensive.

And when you finally meet I'm sure you've know within the first minute if there's no vibe only to be stuck with them for hours...
View Speed Dating events on Eventbrite
Every 5mins You'll Rotate & Meet Someone Fun & New!

When you arrive there'll be a few minutes to settle & grab a drink while mingling with the others who'll be in the same boat as you

You'll be assigned a comfortable seating space and a charming companion.

You'll have around 5 minutes to chat one on one with each match, enjoying roughly 12 – 15 conversations over the night
View Speed Dating events on Eventbrite
There's no stress, you'll be introduced and prompted when to move

Enjoy Your Privacy, I've Booked Us the Venue
Mid way there'll be an intermission to go to the bathroom, pursue any favourable chats and grab another drink

The best part is there's no rejection

Simply tick your match card and receive your compatible matches the next day via email

Click here to join our Melbourne Social Singles Facebook Page
View Speed Dating events on Eventbrite
STILL UNSURE?
You've literally got nothing to lose
I know you've tried dating before, but what if your next partner is one 5min chat away?
At worst you'll have interesting stories, and what if maybe, just maybe you find someone who completes you... (do it!)
EVERY RSVP brings you more conversations, building your social circle and confidence.
Speed Dating Melbourne
View Speed Dating events on Eventbrite
View Speed Dating Facebook Page
View Pictures on Instagram @MelbourneSocialEvents