Description
A Live Masterclass Event On High-Yield Property Investing Strategies


"Take a look at the photos above of two houses"
The Property On The Left Picks Up $1,500 In Weekly Rental Income...

Whereas The One On The Right Is Stuck At Just $600. Can You Guess Why?

Both are of comparable size and design, and they're in the same ordinary, everyday suburb... SO WHAT MAKES THE DIFFERENCE?
And how can you use the same strategy to double your cashflow returns and potentially replace your income in as little as 13 months, while transforming lives?
Debra and Jamie thought it sounded impossible.
With a desire to not only be in a position where Debra could quit her job, but also help build a better community and make a difference in the world, it was everything they were looking for.
They had a block in Brisbane and wanted to build on it, but the market conditions meant a traditional negatively geared property would set them back $15,000 a year.
Instead, they followed the unique process you're about to discover and achieved a $35,000 positive cashflow per annum.
No, that's not a misprint. They added almost $700 a week to their income, instead of losing $300.
That's a $1,000 a week difference… the equivalent of slogging it out at a job paying $50,000 a year, but instead earning it passively – while barely lifting a finger.
What's more, they slept soundly at night because…
They Were Able to Provide Affordable Housing for People Who Desperately Needed It

Perhaps most importantly, they were able to stick to their values of family, integrity and empathy… and start their marriage off on a solid financial ground.
I want to show you how to do the same, so instead of waiting 10 years, scrimping and saving, and depriving your family of every little luxury with 4.5% or 5% rental yields…
You can get 10% or 12% yields instead of constantly paying out money, and earn passive income from day one.
And because the returns are ridiculously high, the capital gains are exceptional too. For instance…

A Recent Property Received an Offer for $930,000, Whereas a Similar House Next Door Sold for Just $780,000

And this was a real sales contract, which was knocked back because the cashflow was so solid my client wanted more.
Imagine how that could transform your life. You could potentially change everything and replace the income from your job with just a couple of investments.
All you need to do is fill a need the community is desperate for right now and tap into a "blue ocean" trend which allows you to…
Buy Fewer Properties and Replace Your Income Sooner - While Transforming Lives
The Traditional Approach
Buy at least 5 negatively geared properties

Use interest-only loans

Keep working to pay holding costs each month

Wait 10+ years for capital growth & rental increases

Sell some properties to pay down loans on the others

Remaining properties are now cashflow positive

Hopefully the rental yield is enough for you to live on...

Leave your job - finally!
---


My Shortcut
Buy a couple of properties that produce high rental yields of up to 10%, 12% or more

Leave your job - and soon!

That's it! Really, that's all there is to it...
Sounds too good to be true, doesn't it? Especially since...
If You Already Own a Property, This Could Quickly Double Your Cashflow Returns Within Months
For instance, Kieron took his 4 bedroom house in Brisbane and followed my recommendations…

And while in 2016 he was collecting $620 per week, by 2017 it had increased to $1,270 per week… an extra $33,800 per year.
Don't worry, I understand your scepticism. But what makes all of this possible is the trends which are occurring in the Australian economy right now. For instance…

Did You Know 1.55 Million Australians Are Dealing With Housing Stress?
It's a huge and growing problem, with one major cause:
We Build Our Houses Too Big, Which Is Why There Are 12 Million Empty Bedrooms In Australia… Will You Help Me Fill Them?
Australian homes are the biggest in the world at 246 sqm, which is why they are also some of the least affordable homes in the world.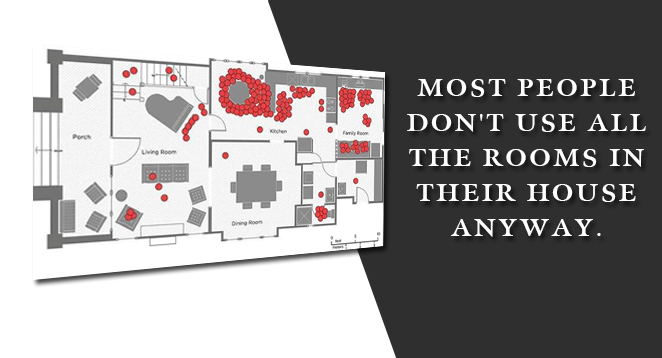 A lot of Australians are willing to live in smaller homes if they can afford to pay the rent without stress.
In fact, when we have a rare vacancy in one of our properties, there is often a queue of prospective tenants out the door. Demand for affordable housing is huge and supply is tiny.
And that's a very profitable opportunity for you...
Just like my students, you can provide affordable housing and enjoy double-digit rental yields from your investment property.
At this event, I'll show you exactly how the affordable housing market works and how to get started in it. In fact...
You'll Even Get a Step-by-Step Checklist of Exactly What to Do
And make no mistake about it, the information I'll be sharing at this event works. I used it to retire from my 9-5 job in 13 months after being in all sorts of financial trouble, and I've helped dozens of others do the same. What you learn can change your life forever, as it has for many before you.

But This Isn't For Everyone

I am passionate about building better communities and making Australian homes more affordable, and I'm looking for others who want to authentically do the same.
What really motivates me is getting those Australians facing housing stress, out of the labyrinth, so they can be happier and more productive.
I'm not talking about drug dealers and other criminals. I'm referring to ordinary, decent, honest people who've ended up in a tough situation through no fault of their own.
Sure, we'll all make a profit. There's no other option. To build affordable housing without government assistance (which is the best way to do this), it needs to be financially viable.
However…

I Only Want To Work With People Who Are Passionate, Driven And Focused On Creating Positive Change

If that's you, and if you're ready to say goodbye to negative gearing, low rental incomes and financial stress…
And if you're ready to say hello to confidence and certainty – and help dozens of people have homes they can afford to live in…
Then I look forward to seeing you at my Property Income Accelerator event, where I'll show you exactly how to double your cashflow and retire in as little as 13 months. However, don't dilly-dally…
To avoid disappointment, please grab your free ticket now. I know it will be the most congruent, detailed and valuable event you've ever attended, and I can't wait to share it with you.
Warmly,
Ian Ugarte
P.S. Seats are highly LIMITED & reserved ONLY FOR TICKET HOLDERS.