Free Form Fighting - Friendly Games #12 - Tournament

Sunday, 11 October 2015 from 9:00 am to 5:00 pm (AWST)
Event Details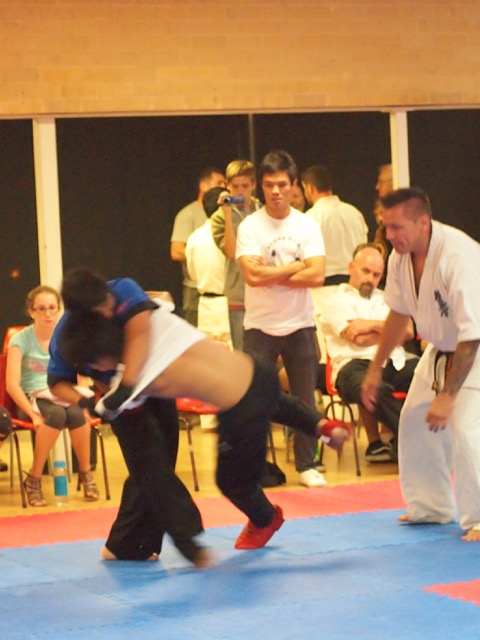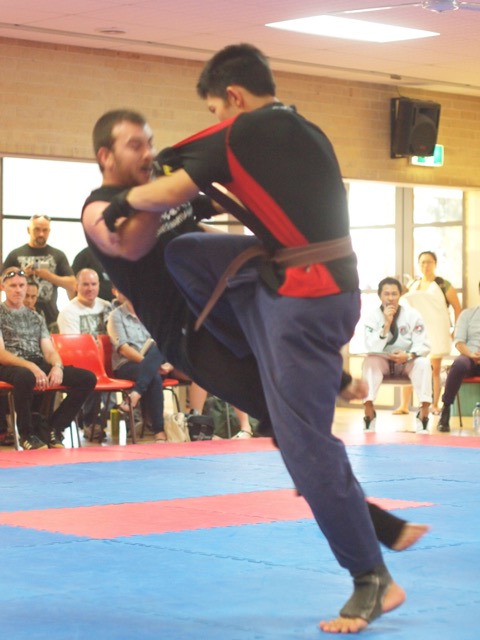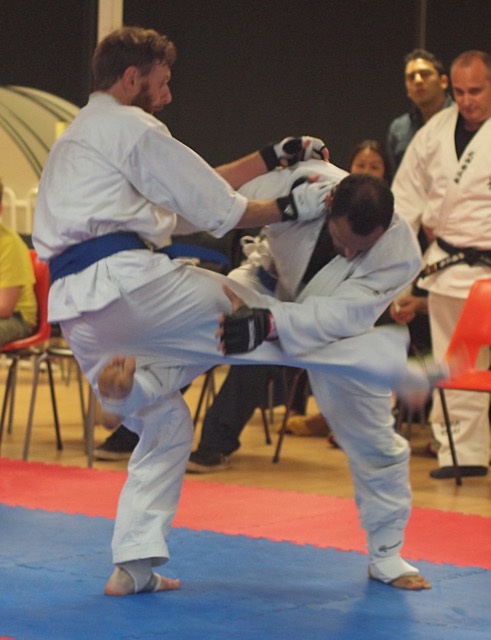 Full Tournament
In preparation for the upcoming Internatinal compeotion (Singapore 4-7 Dec 2015), the organisers wish to extend this invitation to all combat martial artists of Australia.
Compete in your weight category for the championship.  
Full contact rules (excluding head strikes).  Exciting and challenging.  Kung Fu vs. Karate, Karate vs. MMA, Tae Kwan Do vs. Kenpo, Jujitsu vs. Kick boxing........... the combinations are endless.
Register now and be the first 60 particpants or contact the organiser for more details.
Born from the need to create an inclusive amateur tournament environment for martial artists from different style backgrounds, Si Fu Gawain Siu wrote rules to a unique space that honours students, instructors and their arts enabling a full contact (excluding head strikes) championship that is safe yet challenging both physically and mentally.  Ideal for novice martial artists who are looking to experience a full contact environment to those who are looking to maintain their fight fitness.

Free Form Fighting is a translation from the Chinese language for Sanda allowing kicks, punches, throwing, grappling, blocking and controlling techniques.  Only strikes to the head, neck and joints are taboo everything else is allowed.  Fighter's personal protective equipment consists of a mouth guard, groin guard, thin neoprene fingerless glove and thin rubber shin pads.

Competitors are carefully and thoughtfully matched by the committee of FFF master instructors.  Age, martial experience and weight are main considerations, culminating into a respectful, exciting and safe tournament.
Officials consist of tournament host, referee, judges (2), head judge, time and score keepers and tournament doctor.  All officials are long standing and respected martial arts students and senior teachers of respected arts and clubs.

The referee manages over 3, two minute rounds ensuring the rules and regulations  are followed.  Judges are given 2 colours, black and red and rule in favour of the stronger fighter at the end of each round.  The winner of the majority of rounds is declared the winner of the bout.

Since it's inception in 2009, over 180 martial artists from more than 17 different martial arts codes have participated in 8 tournaments.

All martial artists are welcome to step up and to acknowledge their commitment, it's FREE to compete.
For more information email Si Fu Gawain Siu on sifu@gingmo.com.au or call him directly on 0412 920 002.
     
This fight night will feature one of the largest fight cards in the short history of the Friendly Games. Past representatives of the games include…
 
·         Kyokushin Karate
·         Kenpo
·         Tae Kwon Do
·         Silat
·         I Liq Chuan
·         Brazilian JuJitsu
·         Pak Mei Yaolin Kung Fu
·         Shaolin Kung Fu International
·         Xanda Chinese Boxing
·         Choy Li Fut Kung Fu
·         Kick Boxing
·         Go Kan Ryu Karate
·         Wing Chun
·         Sanda
·         Wu Wei Dao
·         Jujitsu
·         MMA
·         Magkuno Diamondback Eskrima
·         Ging Mo Kune
·         Chen Style Tai Chi
·         Judo
                                              
Thank you, and we look forward to seeing you on the night.
FFF Master Instructor Committee
Si Fu Gawain Siu, 8th Degree Red Belt Master - Ging Mo Kune, Ging Mo Academy
Sensei Darren Saul, 3rd Dan Black Belt - Kyokushin Karate, Kyokushin Karate WA
Sensei Dave Hughes, 3rd Dan Black Belt - Kyokushin Karate, Kyokushin Karate WA
Master Slade Norris, Master Instructor - Kenpo, The Armoury
Mr. Torin Burton, 4th Dan Black Belt Head Instructor - Taekwondo, Premier Martial Arts
SI Fu Vincent Cordeiro, Master - Buk Sing Choy Lay Fut Kung Fu, Vincent's Chinese Martial Arts
Master Colin Wee, Principal 6th Dan - Joong Do Kwan Tae Kwan Do
Shihan Andrew Netes, 10th Dan - Bujinkan Shinobu Dojo Perth
FAQs
Are there ID requirements or an age limit to enter the event?
FFF tounaments are family inclusive events, however we ask that all minors are accompanied by an adult.
What are my transport/parking options getting to the event?
Lots of free parking available at the event.
What can/can't I bring to the event?
FFF organisors ask that all supporters be respectful.  Video cameras and cameras are welcome.
FFF events are cigarette and alcohol free events.
Where can I contact the organizer with any questions?
Click on the above link.
Do I have to bring my printed ticket to the event?
Please bring your eticket to the event for registration.
When & Where

Willetton Basketball Stadium
47 Burrendah Boulevard
Willetton, WA 6155
Australia

Sunday, 11 October 2015 from 9:00 am to 5:00 pm (AWST)
Add to my calendar
Organiser
GMA is a community based martial arts academy teaching Kung Fu and Tai Chi for adults and children.

Operated by Si Fu Gawain Siu and Si Mo Mary Anne Taylor, the academy focuses on supporting community and members in a respectful and nurturing environment.

Group classes are currently conducted year round at Leederville Town Hall, West Leederville Tuesday, Thursday and Saturdays with private lessons by appointment.

More information may be accessed from their website on www.gingmo.com.au or by telephoning 0412 920 002 or email on either sifu@gingmo.com.au or maryanne.t@gingmo.com.au.