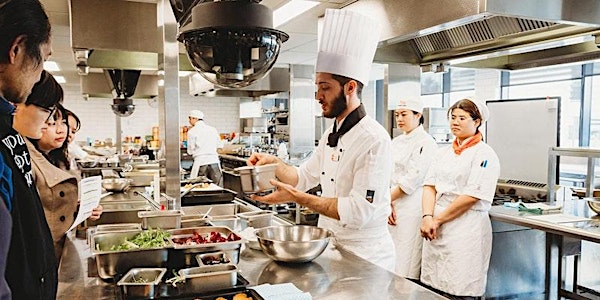 FREE Experience Day: Cookery, Patisserie, Coffee and Mocktail Workshop
Event Information
Location
William Angliss Institute Sydney
Level 1
11 Bowden Street
Alexandria, NSW 2015
Australia
FREE Experience Day: Cookery, Patisserie, Coffee and Mocktail Workshop
About this event
William Angliss Institute Sydney will be providing a unique, hands-on workshops in the exciting fields of cookery, patisserie, coffee and mocktail. Run by our highly experienced trainers. This is a free event and guests will have access to the entire program of workshops. Best of all you get to eat or drink what you make!
WHAT YOU GET
Cookery workshop: 10:30 – 11:30 AM, 12:45 – 1:45 PM
• Aspiring chefs are invited to hone their cooking skills with the help of an Angliss expert in NSW's largest training kitchen – the Angliss' super kitchen.
Patisserie workshop: 10:30 – 11:30 AM, 12:45 – 1:45 PM
• Budding Patissiers will be making delicious chocolate truffles with Chef Christopher Walton in our Sweet Release kitchen, which learning all about the history of cocoa and chocolate and how they have become every food lover's favorite!
Coffee workshop: 11:45 AM – 12:15 PM
• Baristas-to-be will be enjoying the creation of latte art, and what goes into making the perfect coffee!
Mocktail workshop: 12:15 PM – 12:45 PM
• Mocktail lovers will be shaking up unique drinks behind our fully equipped Bar at Angliss's onsite training Restaurant Rubric! And they get to drink their ready-made drinks too!
Places are strictly limited, so bookings are essential.
Disclaimer: All participants must be a minimum age of 17 to join in kitchen activities. All participants are also asked to please follow William Angliss Sydney's Covid safe practices on the day.
For further information, visit https://www.angliss.edu.au/events-hub/sydney-angliss-experience-day-jan22/
Date and time
Location
William Angliss Institute Sydney
Level 1
11 Bowden Street
Alexandria, NSW 2015
Australia