Description
You're invited to attend a FREE event in Melbourne on Tuesday evening 11 June 2019.
HALFTIME EXISTS TO INSPIRE PEOPLE TO LIVE THEIR LIFE PURPOSE NOW.
Part of the Halftime journey from 'success to significance' includes using your talents to benefit the community (referred to as the 'low-cost probe'). We will be holding this special event in an industrial factory space created by Halftime Alumni Phil Simpson and Andrew Russell and their friends.
On this night you will have the opportunity to hear from a few of our Alumni as we enjoy good barista coffee, fancy desserts and unique surroundings, seeing firsthand the result of a Half-timer putting the principles of Halftime into practice.
At this event, you'll have the opportunities to hear some Alumni stories and our special guest will be Simon Costa AO.


---
At age 37, Simon Costa was appointed to head up the largest horticulture and supply-chain organisation in the southern hemisphere, leading 13,000 employees across 35 businesses. Seven years later he took a risk, walked away from it all and ended up impacting millions of people.
The moment Simon Costa realised he had a simple solution to help break the cycle of poverty he knew it was a legacy he wanted to leave. Simon discovered that the issue among many areas of sub-Saharan Africa wasn't actually the shortage of food; the crops were growing in abundance. The problem was the storage and management of the food, causing them to lose up to 50 percent of food before consumption.
Thus began the seven-year journey of Simon generously using his extraordinary supply-chain expertise to implement a system that has quite literally changed millions of lives.
Simon's outstanding humanitarian work with the UN has resulted in him being appointed an Officer of the Order of Australia in this year's Australia Day honours.
You won't want to miss this opportunity to hear Simon's inspiring message.


---

Your Hosts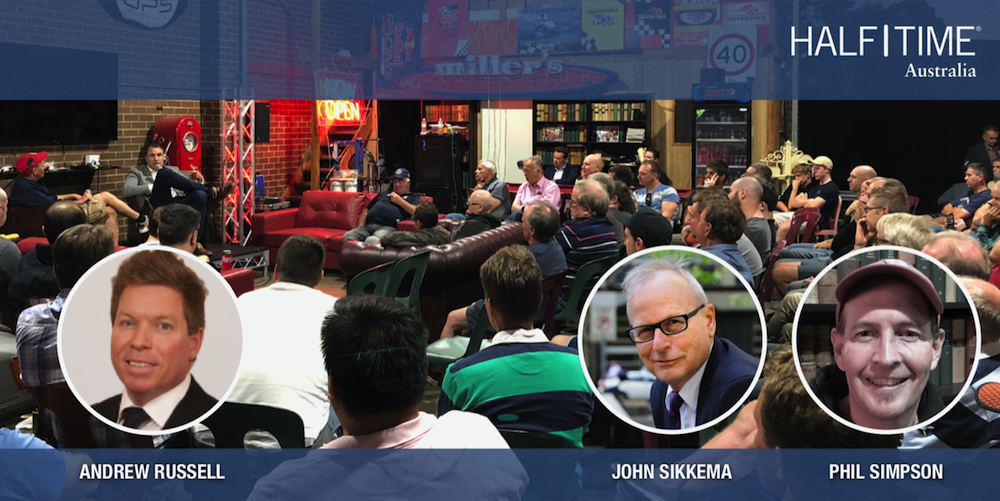 Andrew Russell from Halftime Australia
Andrew is involved in both business, and ministry and mission. He works four days a week for boutique fund manager Prime Value. The rest of the time he is distracted, (in a good way) by local ministry initiatives with his church and community and global mission partnerships and projects.
Andrew is also a Halftime coach and facilitator who has participated in the Halftime Executive Roundtable program, the Dream2Gether retreat and the JUST5 Leadership Trip to India. These programs helped him clarify his own life's purpose and were a key motivator for him to take on a parallel career, allowing him to commit more time to helping others discover their own personal mission and purpose.
John Sikkema from Halftime Australia
John Sikkema is a business entrepreneur, author, and thought-leader who is passionate about motivating and mentoring business leaders and organisations to discover their purpose and achieve their dreams and vision. John was the founder of Garrisons Financial Planning which he sold in 2000 to a Packer-owned company for $40M. He is Chairman of Halftime Australia and Non-Executive Chairman of Prime Value a boutique fund manager. John wrote the best-selling book Enriched; Re-defining Wealth.
Phil Simpson a Barrister, School Chaplain and Co-Founder of 'Shednite'
During the week Phil is both a barrister by trade and also a school chaplain at Blackburn Primary. Phil has recently returned from Halftime's JUST5 Leadership Trip to India, participated in the "Great Leap" 2-day Leadership intensive and is currently a participant in a Halftime Executive Roundtable Program. He will share how Halftime has given him more clarity and focus, support and encouragement and tell us a bit more about the ready-made community offering support for men at the 'SHEDNITES'.


---

About Simon
Simon is a businessman, humanitarian and philanthropist. With 30 years of executive experience, including 22 years as CEO/ Director of large private, public and humanitarian organisations, his focus now is helping successful people become exceptional leaders. Simon has been appointed a Senior Officer of the Order of Australia (AO) for outstanding service to business and humanity. He was awarded the Pride of Australia Medal for his selfless service to the disadvantaged internationally and within Australian society. His work in undeveloped countries was also recognised by the United Nations with the Global Innovation Award for the Most Impactful Humanitarian Innovation. Simon lives in Melbourne with his wife and two teenage daughters.
* Header Image via The Herald Sun