Free Event: Pain and Stress Relief for Women | Birmingham UK | Marisa Russo
Location
Hollymoor Centre
8 Manor Park Grove
Northfield
Birmingham
B31 5ER
United Kingdom
Sales Have Ended
Registrations are closed
Event sold out Thank you for your interest
Description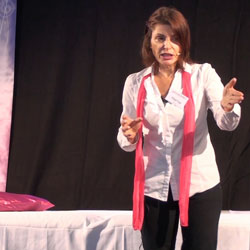 Free Pain and Stress Relief
Alternative Therapy for Women with Marisa Russo
Touring UK and Ireland from Australia
USA media who refer to Marisa as the 'Sherlock Holmes of Healing' invites you for a free evening to experience her investigative healing methods which pinpoint the real cause behind your pain, stress and other conditions.
"I read your energy field as if I was handed a book of your life experiences - childhood, schooling, peer influences, accidents, traumas, stresses, environments and adulthood.
If you were seeking help for physical pain, I quickly go to the chapter and page in the book and target the time and incident that is still negatively impacting you… your pain being one of the symptoms. Like editing the words on that page, I clear the negative energy to neutralize and soften the impact relating to the incident and the pain in your body is released.
It is the same process for improving finances, relationships and health issues. I target the blocks, release them and introduce flow."
Evening Format
Marisa will be working live with the audience one-on-one and as a group. She may invite you to the stage and use her experience to help you. She will do this by finding the cause of your condition using her 'Sherlock' investigative style. There will be explanations for the audience before applying a targeted energetic release of the condition. There are always fascinating cases.
Although Marisa would love to get to work with everyone personally, it is not possible in one evening. She does connect everyone to the healings (only if you choose it) so you will benefit from...
- the energetic connection (the healing energy is magnified as a group),
- witnessing how the powerful healings are performed, and
- the straight-forward instruction Marisa gives on stage will give you enlightenment and a clearer understanding of how to live a happy and satisfying life.
"I simply love everything about the personal healing process. I mostly love seeing the freedom my client feels when the 'shackles' have been loosened and removed."
We look forward to meeting you at the event. There are limited spaces so please confirm your place.
Why not join us for Forensic Healing Essentials in Manchester Thu July 3?
Or Bristol Sunday June 29?
Consultations with Marisa Russo
You may wish to organise some one-on-one time with Marisa in:
UK, Wraysbury (Windsor area) June 20, 12-3PM

UK, Birmingham July 1, 12-4PM

UK, Manchester July 3, 12-4PM

UK, Edinburgh July

5, 2-5PM

Ireland, Dublin July 9, 12-4PM
30min GBP120 / EUR140
60min GBP200 / EUR240
*Above pricing is an estimated conversion from AUD Australian dollars
Please visit booking webpage or
Book by calling +44 203 318 5599
If you prefer not to order online, please call +44 203 318 5599