Art for Peace by Sri Chinmoy. Opening Ceremony, Saturday 2pm October 31 at Collie Art Gallery. Light food and refreshments will be served.
About this Event
Birds and flight have inspired humanity throughout history as a symbol of freedom and peace. One person who was no exception, was Indian artist Sri Chinmoy. He painted over 16 million birds and a selection of his works are on display at Collie Art Gallery from October 31 till December 6. None of the art is for sale as it aims to promote world harmony, hope and friendship. Interspersed amongst the artwork are comments on the exhibition from humanitarian leaders, including Nelson Mandela, Mikhail Gorbachev and Desmond Tutu.
The artist, Sri Chinmoy (1931-2007) who was also an athlete, poet and musician, chose birds as his main artistic motif because of the inspiration they gave him. "The uncaged bird," he said, "is crying for freedom. The uncaged bird is striving for peace." Also on exhibition are some of Sri Chinmoy's Jharna Kala works. Jharna Kala is Bengali for "Fountain-Art" and was a term Sri Chinmoy coined to describe the outpouring creative capacity that everyone has within.
Sri Chinmoy's art has previously been exhibited at Parliament House, Canberra, at the Carrousel du Louvre, Paris, the foyer of the United Nations Headquarters in New York and the Commonwealth Institute in London. The public are invited to attend the opening reception on Saturday October 31 at 2pm where light food and refreshments will be served. There will be music, poetry, and peace inspiration. None of the art is for sale. Free tickets are required so we can meet any guidelines that may be put in place.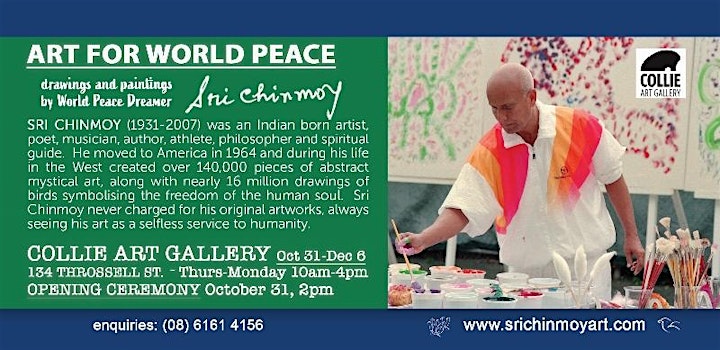 Perth local Vidagdha Bennet who is helping organise the exhibition said "It is great to have Sri Chinmoys birds in Perth. Everyone who sees them always goes away uplifted and many humanitarians have shown their support for the exhibition."
More information can be found by calling 61614156 or visiting www.meditationperth.org