[FREE EVENT] Discover Ways To Buy Property Up To 30% Below Market (Brisbane Event)

Wednesday, 9 November 2016 from 9:30 am to 4:00 pm (AEST)
Event Details
Discover How To Buy Australian Property At Up To 10-30% Discount For Instant Profit Potential plus Ways To Minimise Your Risk In Every Deal And Protect Your Wealth And Assets!
Now in its 10th year and having educated more than 50,000 regular Australians, Zadel Property Education is touring with Dominique Grubisa in a complimentary round of 1-Day Live events!
What You'll Discover At This Powerful Event...
"Dominique Grubisa LIVE – National Tour 2016"
1) Unique Insights Into How To Pick Up Property At Up To 30%
BELOW MARKET VALUE

... For Instant Profit Potential

This is what will be revealed to you...
How to secure properties up to 30% below market value... and make instant capital gains... no matter what the market does.
Proven ways to secure great deals with potentially none of your own money. ELITE level investors use these strategies all the time.
Why Dominique believes the current market is so great for buying distressed real estate right now and why you'll be kicking yourself if you don't get an insight into these strategies for free.
Exactly why this concept can be so much more lucrative than traditional passive property investment.
A professional insight into the typical profit margins you can aim to make.
The demystifying truth about creating win/win deals that have a great result for you and the seller.

The differences between mortgagee repossessions and foreclosures. YOU need to know this crucial difference to succeed in this business.

Competitive edge tips for gaining an unfair advantage on the rest of the market... you could end up dominating with these tips.

How to potentially replace part or all of your income with just one of Dominique's strategies. Follow this strategy exactly and you can likely kiss goodbye to your daily grind very soon.

How you can turn a hobby and helping people into a full-time career in property investment... no matter what level of experience you have.
The most common errors first-time investors make that leaves them broke and wishing they never entered the property market.
The life-changing secret of achieving all of the above with an ethical and morally sound approach.

And much, much more...
Click the " Register " button above to book your FREE seats NOW!(Scroll up to the top of the page)

(Limited Seats Only Due To Venue Capacity)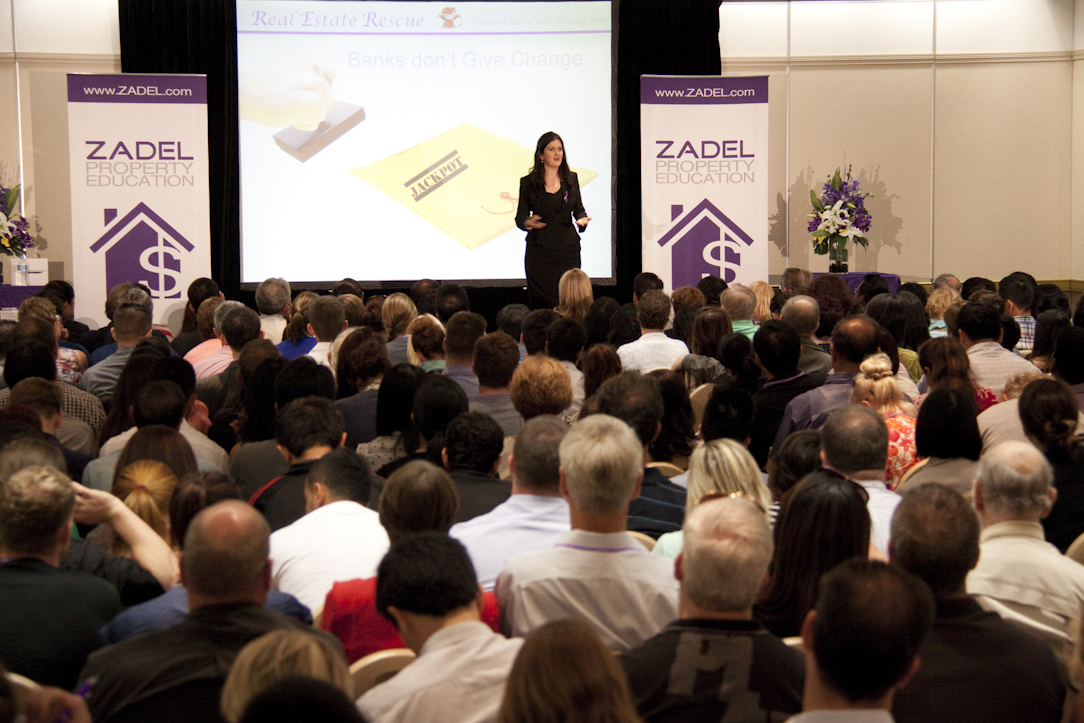 2) Master Wealth Control (Dominique's unique asset protection strategies)

How You Can Minimise Your Risk In Every Deal And Protect Your Assets

You will get invaluable insights into how you can protect your wealth and assets and reduce the risk on any venture with Dominique's Master Wealth Control.

No other property education company covers this crucial part of the business in exactly the same way Dominique does!
Here is just some of what Dominique will be showing you on how to reduce your risk in any property venture and protect your assets!!

That you can virtually bullet proof your assets to minimise the risk of anyone taking them from you...

Why most Australians take an unnecessary huge financial risk when investing - you can avoid this...

A simple asset protection policy that will protect your legacy for years to come...
How to get your finances back on track and under control - no matter what state they are in right now...

Why Dominique believes current conditions make it a necessity to protect your assets and why you will be taking a massive risk not attending to this area...

The quickest and easiest way to minimise risk when you are making financial investments...

The truth about what makes people successful in this business. You won't read this in a success or investment book but it's common to all successful people and you can easily learn it - starting right away...

The critical importance of having an experienced legal and financial team at your side to avoid financial pain...

Insights into her single most powerful strategy for protecting your wealth and assets...

If you want to safeguard your assets, your family and your legacy... then don't miss this crucial piece of advice...

Breakthrough Insights into the economy and how global forces can impact you...

Legal aspects of buying property that so many regular investors aren't aware of... and

end up broke and holding the bag

when things go wrong...
Click the " Register " button above to book your FREE seats NOW!(Scroll up to the top of the page)

(Limited Seats Only Due To Venue Capacity)

Who Is Dominique Grubisa And
Why You Should Listen To Every
Word She Says...
Dominique is a Solicitor/Barrister turned property entrepreneur and one of Australia's top debt and legal experts.
She has made hundreds of thousands of dollars in property deals herself using this strategy, and her students have made combined profits in the millions of dollars.
Few people – if any – have the legal, entrepreneurial and property experience Dominique has. In fact, it's not uncommon to spend over $500 an hour for access to someone of Dominique's calibre.
Dominique reduced a regular Aussie's monthly debt from around $20,000 per month to a mere $642 per month... On NATIONAL TV! (you'll get to see this video when you attend the event)
Dominique is a highly skilled debt and commercial law specialist
She has a masters of law and 20 years experience dealing with debt and property investment
She has practiced as a barrister and solicitor and worked directly with creditors and debtors
She has appeared on multiple Australian media channels including "Today Tonight, "The Circle" and "Prime News"
She has authored 2 books: "How To Manage Your Debt" and "How To Take Control Of Your Divorce"
She is a dominating force as a public educator on distressed property and asset protection
Event Host: Stuart Zadel - CEO At Zadel Property Education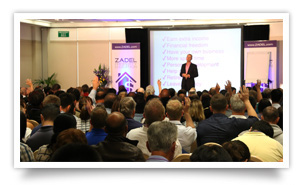 Formed in 2007, Zadel Property Education Pty Ltd (ZPE) is an Australian wealth education company, providing free and paid workshops in six major capital cities across the country. 
ZPE provides access to specialist education and delivers expert insights into systems designed to achieve results in the current Australian market. These systems aim to provide the foundation for your success in the new economy, primarily through property, as well as shares and mindset.

ZPE has a 2020 mission to inspire greater financial awareness within the wider Australian community, and has implemented 5 Inspiring Goals to support this evolution of this mission:

Inspire A Community Of 1,000 Financially Abundant Australians –

will you be next?

Inspire 100,000 People Live At Our Events –

66,421 attendees

Inspire Through The Distribution Of 1,000,000 Books – Currently 

601,989

distributed
Inspire The Contribution Of $1,000,000 To Worthwhile Causes – 

$459,191.60

contributed
Inspire The Planting Of 1,000,000 Trees In Australian Soil –

27, 006 (ZPE) + 18,149 (Clients)
Click the " Register " button above to book your FREE seats NOW!(Scroll up to the top of the page)
(Limited Seats Only Due To Venue Capacity)

This Could Be The Last Property Event You Ever Need To Attend! 
During 1 content-rich day at the 'Dominique Grubisa Live', you'll be exposed to a tonne of cutting-edge wealth generation content that you can take and run with immediately. There is enough life-changing information at this free event for you to get on the road to financial freedom without having to attend another event ever again. Yes, and you'll see why by the end of it.
Should you wish to study further with Dominique Grubisa, you will get the chance to enrol in the Dominique's workshops that will be on offer, but it's entirely your choice. Not only that; to show you how serious we are about education and over-delivering..
Decide to attend Dominique Grubisa 1-Day LIVE event right now and you'll get a brand-new physical copy of the best selling 4th edition book "The New Way To Make Money In Property Fast!".
This book features a dedicated chapter on Dominique's Advanced Asset Protection System, so will serve as an excellent take-home gift.
You'll also receive Dominique's exclusive DVD "21 Common Mistakes Property Buyers Make... And How To Avoid Them!" On this DVD, Dominique shares with you 21 of the most common mistakes today's property buyers make. You'll learn what it means to be properly prepared before you start looking, the drawbacks of extreme market conditions and how to buffer yourself against them, and why emotional intelligence is just as important as bricks and mortar!
Click the " Register " button above to book your FREE seats NOW!(Scroll up to the top of the page)
(Limited Seats Only Due To Venue Capacity)
When & Where

Hotel Jen
159 Roma Street
Brisbane City, QLD 4000
Australia

Wednesday, 9 November 2016 from 9:30 am to 4:00 pm (AEST)
Add to my calendar