Description
Get the Experience and Skills to Start Your Accounting Career Today!
BOOK A FREE CONSULTATION TO LEARN MORE ABOUT OUR INTERNSHIP PROGRAM.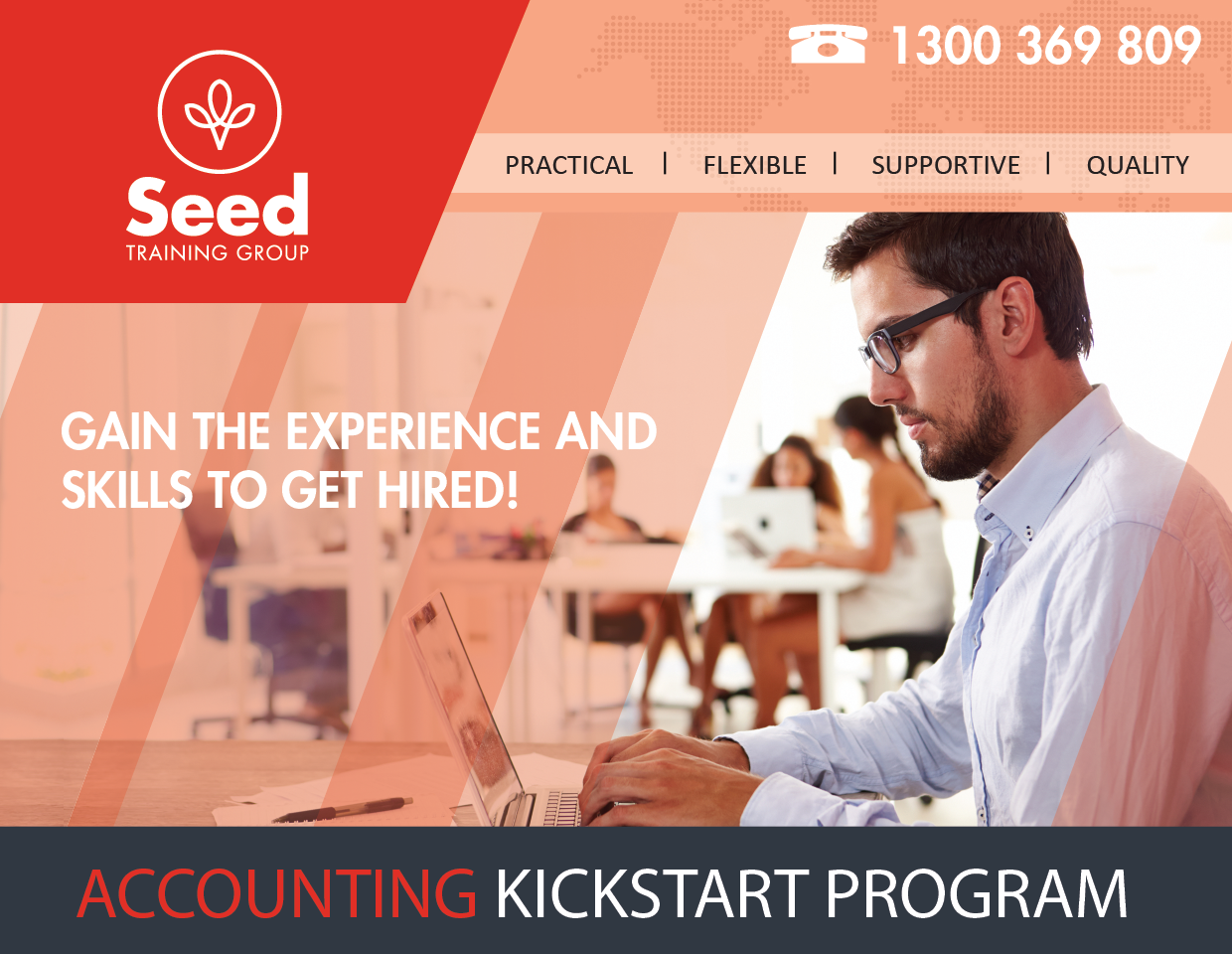 Become your future employer's top choice with Seed Training Group. With expert trainers and career support, our Accounting Kickstart Program has been specifically designed to equip you with the necessary skills to kickstart your Accounting Career in Australia.
PART 1: Practical Training Course details (Pre-placement Training)
Practical Bookkeeping Training (MYOB, XERO & Reckon Accounts) - 5 sessions
The Bookkeeping program seeks to familiarise you with Accounts
Payable, Accounts Receivables, Payroll and other functions that occur in
a real working environment by exposing you to real-life case studies.
You will practice these case studies using popular bookkeeping
software such as MYOB, XERO and Reckon Accounts in the following areas:
• Setting up a company
• Process purchases and sales invoices
• Process accounts payable and accounts receivable
• Record deposit on purchases
• Record credit notes and overpayments
• Process payroll – PAYG withholding and PAYG instalments
• Record employer contributions and deductions
• Inventory adjustments and tracking
• Bank reconciliation
• Prepare P&L statements and balance sheets
• BAS / annual GST return lodgement


Other Modules Available:
- Individual and Business Taxation
- Management and Cost Accounting
PART 2: 8 or 12 WEEK INTERNSHIP PLACEMENT

Your Pre-Placement Training will be followed by a Career Development Workshop before we place you into your Internship Program with one of our Host Companies.
Career opportunities:
Upon completion of the Bookkeeping program, you will be equipped with appropriate and up-to-date skills to apply for relevant job positions such as:
• Bookkeeper
• Accounting clerk
• Accounts officer
• Accounts payable officer
• Accounts receivables officer
• Payroll officer
• Accounts assistant
• Accounts administration officer, Tax Officer, etc...
Get Your Career Started Today.
Register to BOOK A FREE CONSULTATION with our Consultants.
One of our friendly Career Consultants will contact you to book your appointment.
Hours available for Consultation: Monday to Friday, 9am to 5pm
For more information, please contact us at:
P: 1300 369 809
E: info@seedtraining.com.au
W: www.seedtraining.com.au
Note: Seed Training Group charges a fee for the training and materials.
By registering you accept Seed Training Group's Terms and Conditions and agree to be opted in to communications.