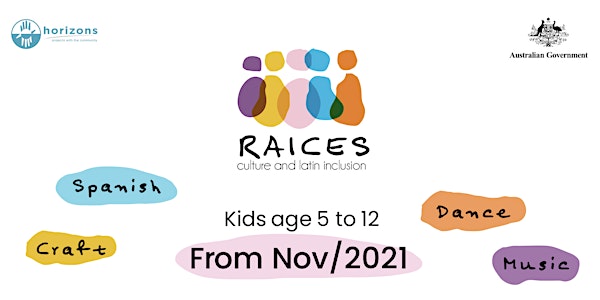 Multiple Dates
Free bilingual workshops (english and spanish) for kids aged 5-12
Be part of this beautiful bilingual and inclusive experience. Where you will learn about Latin American language, music, dance and crafts.
About this event
Welcome to RAICES: culture and latin inclusion, a project developed by Horizons: projects with the community. Funded by the Australian Government Department of Social Services.
Bienvenidos a Raices: cultura e inclusion latina, un projecto realizado por Horizons: projects with the community. Auspiciado por el departamento de servicios sociales del gobierno Australiano.
This is a FREE event where you can assist as a family to share our beautiful culture. The program is oriented to kids aged between 5 and 12 years old.
Este es un evento GRATIS, donde podras asistir como familia para compartir nuestra hermosa cultura. Este programa esta orientado para ninos de 5 a 12 anos.
The project will be deliver online at this stage. You will learn about four different areas where you will find fun activities related to each of them. This four areas are: Music, Dance, Spanish and Crafts.
Este proyecto se realizará online por el momento y estará compuespo por cuatro diferentes areas, donde encontraras actividade especiales para cada una. Estas cuatro areas son: Musica, Danza, Espanol y Manualidades.
This program was made for you do it at your own pace at home, but with a potential face to face experience if circumstances apply.
Este programa esta hecho para que lo hagas a tu propio ritmo en tu casa, con posibilidad de hacerlo presencial si las circunstancias aplican.
Organiser of Free bilingual workshops (english and spanish) for kids aged 5-12