Free and Equal: An Australian Conversation on Human Rights 2019
Description
Two weeks left to get your tickets

What do you want human rights protection to look like in 21st century Australia?
It is time for us to talk about the Australia that we want to live in, and how we want our rights and freedoms protected. There are great opportunities ahead for human rights protection in Australia, but also great challenges. How do we balance competing rights in a complex legal landscape? How do we keep improving protections for vulnerable Australians? How do we find common ground on human rights in a diverse Australia?
In December 2018 the Australian Human Rights Commission President, Emeritus Professor Rosalind Croucher, announced the launch of a national conversation on human rights to explore all these questions and more. The Free and Equal conference is the centrepiece of this conversation and a once-in-a-decade event. Hosted by Dr Julia Baird, it will take stock of the themes emerging from Australian voices and allow us to hear from human rights experts, industry and community leaders on how we can advance human rights into the 21st Century


---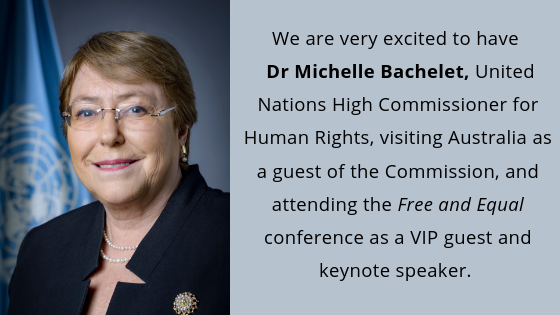 ---
Buy your tickets now for the Australian Human Rights Commission's Free and Equal: An Australian Conversation on Human Rights conference on Tuesday 8 October 2019, at the Hyatt Regency in Sydney. Key topics will include:
Partitions, roadblocks, and glass ceilings: What human rights walls still need to be torn down in 2019-2020?
What's next for Indigenous rights in the 21st Century?
Accessibility of human rights: Can we access the protections we have in practice? And what do we need to do to make sure everyone can?
Australia's international human rights obligations and our role in the region. What's our international human rights image, and should we change it?
The future of human rights in Australia: The way forward, and the human rights landscape the next generations will need in a changed world.
Hear from experts on human rights as well as leaders from Australian industry, government and the community:
Dr Michelle Bachelet, UN High Commissioner for Human Rights
Emeritus Professor Rosalind Croucher AM, President of the Australian Human Rights Commission
Dr Julia Baird, Journalist, broadcaster, columnist and political commentator.
Hakeem al-Araibi, Community and Human Rights Advocate, Football Victoria
Professor George Williams AO, Dean of UNSW Law
Brooke Boney, Reporter, TODAY Show
Professor Mick Dodson, Northern Territory Treaty Commissioner
Craig Foster, Former Socceroo, Broadcaster, Sport and Human Rights Advocate
Nyadol Nyuon, Award winning human rights advocate and lawyer
Sam Mostyn, Non-Executive Director and sustainability advisor
Cathy McGowan AO, Former Independent MP, women's rights advocate and community worker
The Hon Catherine Branson AC QC, Chair of the Board of the Human Rights Law Centre and Deputy Chancellor of The University of Adelaide
The Hon Susan Ryan AO, Former Age Discrimination and Disability Commissioner at the Australian Human Rights Commission and freelance advocate for the rights of older people
Professor Helen Milroy,

Professor and Director of the Centre for Aboriginal Medical and Dental Health at the University of Western Australia

Eliza Hull, ABC Producer, Access and Inclusion Coordinator Arena Theatre
Marlee Silva, Founder of Tiddas 4 Tiddas
Aisheeya Huq, Media Spokesperson, School Strike 4 Climate Action
Emily Dash, Artist and advocate
Frank Hooper, CEO of Keep Talking NT
And more...
Purchase your ticket now to secure your place and avoid disappointment!
---
FAQs
Are concession tickets available?
A limited number of concession tickets are available for people with a valid concession (student, disability, aged pension) card. These tickets cost $115+GST ($126.50). Please email a copy of your concession card to freeandequal@humanrights.gov.au and we will provide you with a code to purchase your concession ticket.
What are the transport/parking options getting to the event?
The Hyatt Regency Sydney is centrally located adjacent to Darling Harbour in Sydney's Central Business District. The venue is a 5-minute walk from Town Hall Train Station, a 10-minute walk from Barangaroo Ferry Wharf and a 20-minute walk from Circular Quay. The venue is located 30 minutes from Sydney (Kingsford Smith) Airport.
There is a Wilson Parking across from the venue, located at 282 Kent Street. Daily rates can be viewed at: https://www.wilsonparking.com.au/park/2235_383-Kent-St-Car-Park_383-Kent-Street-Sydney
Hyatt Regency Sydney offers valet parking for guest attendees at AUD $80.00 per car, per 24-hour period.
Wheelchair access
The Sussex Street entrance is wheelchair accessible, as is the conference room within the venue.
Accessibility and dietary requirements
If you have any requirements that will assist you to participate in the event, please contact us on 02 8231 4283 or freeandequal@humanrights.gov.au.
Do I have to bring my ticket to the event?
Yes. You will be asked to present your ticket upon arrival, either as a hard-copy printout or as a digital copy on your mobile device.
What is the refund policy?
Tickets are non-refundable.
Who can I contact with any questions?
For information about the Free and Equal conference, and the Australian Conversation on Human Rights project more broadly, visit the website at: https://www.humanrights.gov.au/our-work/rights-and-freedoms/projects/free-and-equal-australian-conversation-human-rights.
For queries, contact us at freeandequal@humanrights.gov.au or 02 8231 4283.
Find out more at https://www.humanrights.gov.au/our-work/rights-and-freedoms/projects/free-and-equal-conference