Framework to Action: WHO on Universal Health Coverage in the West Pacific
Description
The George Institute for Global Health and UNSW Sydney invite you to attend a public lecture, 'From Framework to Action: Universal Health Coverage in the Western Pacific Region'
WHO's 13th General Program of Work (13GPW: 2019–2023) will be presented to the World Health Assembly this May. Hailed as one of the most inclusive in WHO's 70-year history, this latest GPW has Universal Health Coverage at its core and champions WHO's role in delivering the Sustainable Development Goals.
In this lecture Dr Vivian Lin, Director, Health Systems, World Health Organization Regional Office for the Western Pacific, will present a global overview of the 13GPW and plans for implementation in the Western Pacific Region. She will showcase WHO's 'action agenda' on the SDGs in our region, drawing on country-specific work in Vietnam, Cambodia, Solomon Islands and the Philippines.
The presentation will provide tangible examples of WHO's work to accelerate progress towards the SDGs and UHC in the Asia Pacific. It will cover WHO's support to countries transitioning away from a reliance on aid to domestic financing; efforts to better regulate and improve the quality of health care; the expanding role of e-health; and hospital management and planning.
There will be an opportunity for questions and discussion after the presentation.
Follow the conversation on Twitter #GeorgeTalks
Please arrive at 12.15pm for refreshments, we will commence at 12.30pm.
About the Speaker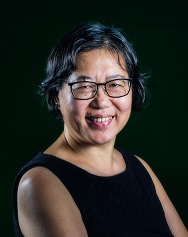 Dr. Vivian Lin, Director, Health Systems, World Health Organization Regional Office for the Western Pacific
Dr Lin has more than 30 years' experience in health policy and program development, health planning, and public health teaching and research.
In her role as Director Dr Lin is responsible for the Division of Health Systems at the regional office and for technical support to countries and WHO country offices in a wide range of health system issues, including universal health coverage, health policy and planning, health financing, health workforce, health information systems, health system research, pharmaceuticals, medical technologies, traditional medicine, service delivery and quality, health law and regulation, and community engagement. Cross-cutting issues covered in the division include sustainable development goals, social determinants of health, equity, human rights and gender.
Dr Lin was previously Professor of Public Health and Head of the School of Public Health at La Trobe University, in Melbourne, and is the author of several leading public health textbooks in Australia and numerous articles on health issues in Australia, China, and globally. She has also worked at senior levels in health policy in several Australian jurisdictions and in intergovernmental relations, including as Executive Officer of the National Public Health Partnership. She has also consulted widely for the World Bank, UK Department for International Development, the Australian Aid program and served on multiple academic, government, community and editorial boards.
This event is a collaboration with UNSW Sydney.
Organiser of Framework to Action: WHO on Universal Health Coverage in the West Pacific
The George Institute for Global Health is improving the lives of millions of people worldwide through innovative health research. Working across a broad health landscape, the Institute conducts clinical, population and health system research aimed at changing health practice and policy worldwide. The Institute has a global network of medical and health experts working together to address the leading causes of death and disability worldwide. Established in Australia and affiliated with the University of New South Wales, the Institute today also has offices in China, India and the United Kingdom, and is also affiliated with Peking University Health Science Centre, the University of Hyderabad and the University of Oxford. Our research has resulted in changes to medical guidelines and ways of thinking about some of the most common medical treatments around the world.