Our 2021 Frahns Farm Planting Festival will be held over 4 days in June.
About this event
UPDATE: Registrations for Saturday 26th and Sunday 27th are now exhausted. We may release more tickets in the near future. For now, if you would like to attend Shoots N Roots, please purchase a ticket and arrive in the afternoon of Sat 26th.
Our Frahns Farm Planting Festival is back again in 2021…!
We're looking forward to spending a day outdoors with you, giving something back to nature and having fun whilst we're at it.
🌱🌱** REGISTER A SPOT, PLANT YOUR PLANTS ** 🌱🌱
Bio·R, Landscapes SA - Murraylands and Riverland and many enthusiastic volunteers (including you!) will be coming together over 4 days in mid-late June 2021 to plant habitat for wildlife as part of our exciting restoration initiative at Frahns Farm.
We can't wait to be outside and get our hands in the dirt either 🌿👩🏽‍🌾
When: 19th, 20th, 26th & 27th June 2021
Time: 8.45am – 4.00pm
RSVP: Please follow the instructions on the Eventbrite page.
Lunch
We are happy to announce that we are organising a catered lunch again this year for all our planting volunteers. Please notify us of any dietary requirements during the registration process and don't forget to bring a plate, bowl, mug and cutlery. We'll bring the washing-up station!
This year volunteers also have the option of offsetting the cost of their lunch so that Bio·R can direct as many funds to conservation activities as possible. Choose this option when you register, but please note that this is not counted as a donation and is therefore not tax-deductible.
More Information
Be sure to bring some sun, rain or wind protection (depending on the weather, perhaps all three!), and if you have them, some gloves, rubber boots and a hand mattock / trowel for planting.
Bio·R will also have merchandise available, including badges, puzzles, cards and KeepCups. Proceeds from these sales help with the costs of our revegetation work, so please consider taking a gift home with you to support our work for wildlife.
You'll also get the opportunity to learn about how your efforts on the day will be directly helping local wildlife in the context of Adelaide's surrounding ecology.
Meet like-minded people, get involved in some positive environmental action and have fun!
We're also holding a live music, campfire and camping evening called Shoots n' Roots after planting on Saturday 26th - find out more here!
We can't wait to see you there!
What to Bring:
plate, bowl, mug and cutlery for lunch
sun / rain protection and warm clothes
gloves for planting
rubber boots
hand mattock / trowel
water bottle
Where to go:
Frahns Farm, Monarto. We will provide you with a more specific location closer to the date.
Acknowledgement of Country:
We acknowledge that this event will take place on the traditional lands of the Ngarrindjeri people and respect their elders past, present and emerging. We appreciate the Ngarrindjeri people's innate and deep spiritual connection with the land and waters of this region and aspire to work alongside the them in taking care of land and community.
Shoots N Roots - Live Music and Campout on Saturday 26th June
On the final evening of our 2021 planting festival we are organising local live music acts, a campfire and camping for any of our wonderful volunteers who would like to join us. Musicians include Katie Pomery, Jake Blake and the Snakes, Naomi Keyte and Bromham. To find out more, visit http://shootsNroots-ffpf2021.eventbrite.com.au/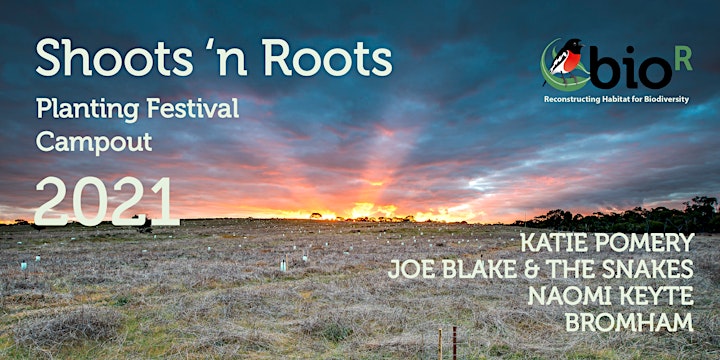 Organiser of Frahns Farm Planting Festival 2021
Bio·R generates funds, knowledge and practical skills to re-construct habitats that support native wildlife in degraded landscapes. Bio·R is a non-profit organisation that focuses on offsetting ecological footprints to make a real-world difference for the wildlife that needs our help.