Artist, Catherine Ketton, helps you achieve exciting results with Oils. Term 1: 7 February to 21 March 2021, for adults.
About this Event
About this Event
This is a Sunday Morning class.
Description
We will explore the fundamentals of oil painting as we work on a sunny Australian landscape and a vibrant seascape.
This workshop is suitable for beginning artists, or those who are in the early stages of working with oil paint. For more experienced artists who normally work in other mediums, this workshop will offer the opportunity to consolidate and extend.
Participants will learn to build a painting in layers – blocking in, moulding, and refining final details. At the completion of the course the student should feel confident about working with oils independently on a project of their own.
This workshop is an six week course, running every Sunday Morning from 10am to 1pm. The dates are as follows:
07/02/2021: 10am - 1pm
14/02/2021: 10am - 1pm
21/02/2021: 10am - 1pm
28/02/2021: NO CLASS
07/03/2021: 10am - 1pm
14/03/2021: 10am - 1pm
21/03/2021: 10am - 1pm
Don't want to pay online? Give us a call on 07 4632 2727.
A printable copy of the materials list can be found here.
*** Murray's Art and Framing has a full selection of art supplies, if you need them for your materials list ***
Murray's Art and Framing and Myart Studio comply with the Government contact tracing requirements for more information go to:
https://www.covid19.qld.gov.au/updates/important-changes-to-record-keeping-for-contact-tracing
Participants will be required to sign in.
Week One
• Introduction to materials
• Use of photographs as source material (all photographs supplied by tutor)
• Exploring two methods of transferring an image to canvas
• Blocking in the Australian landscape – the big picture, looking for shapes, paying attention to tone, where is the light/shadow, looking for contrast, using an easel to advantage, beginning colour theory
Week Two
• Working on a second pass of colour
• Applying a critical eye – check
• Correcting problem areas
• Moulding the form – revising tone, shadow, light, contrast
• Atmospheric perspective – using colour to advantage
• Paying attention to brushwork
Week Three
• What does the painting need?
• Applying detail
• Highlights – saving the best until last
• Glazing to create atmosphere
• Blocking in of second project – seascape
Week Four
• Discussing composition
• Second pass of colour for seascape
• Managing the horizon
• Brushwork to create texture
• Revising principles of moulding the form
Week Five
• Creating the sparkle and movement
• Applying detail to seascape
• Glazing to intensify colour and push contrast
• The finishing process
Week 6
• Students have an opportunity to refine their landscape and seascape and to begin a project of their own using their own source material.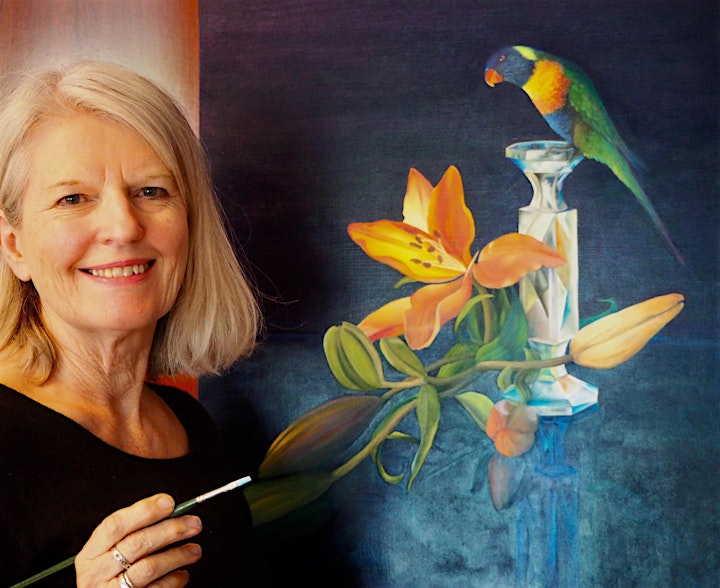 MyArt Studio Workshop booking and cancellation policy
The 16 Duggan Street entrance to the classroom will be opened 15 minutes prior to commencement of the class. Students are responsible for their own artists materials unless otherwise stated. A materials list is available for each class and will be emailed to you once your booking is confirmed. Materials lists are also available on our website. Tea and coffee will be provided, and students have access to the kitchenette and toilet facilities. No parking facilities provided. Street parking is time limited and shopping centre parking is at your own expense. Classes with outdoor activities are attended at your own risk.
Fees
Please book into a workshop at least one month prior to its commencement if possible. This will secure your spot in the class and allow us to confirm tutor bookings. If there are insufficient number workshops may be cancelled.
Cancellation of enrollment by you
If you choose to withdraw from a course or workshop up to one month before its commencement, you will be charged a $25 administration fee. The remainder (minus Eventbrite fees) will be refunded. If you choose to withdraw from a course or workshop within 1 month of its commencement, you will be charged a $25 administration fee and the remainder (minus Eventbrite fees) will only be refunded if the position can be filled.
Missed Classes
Once a workshop has commenced there are no refunds. MyArt Studio cannot accept responsibility for changes to students' personal circumstances that prevent attendance. Classes missed are the student's responsibility and are non-refundable. Students are not entitled to a discount or 'make-up' class if they miss a class for any course they are enrolled in.
Cancellations of workshops by us
In the event of a class being cancelled due to insufficient enrollments, a full refund will be given.