Fossils, megafauna & climate change guided walk & talk
Description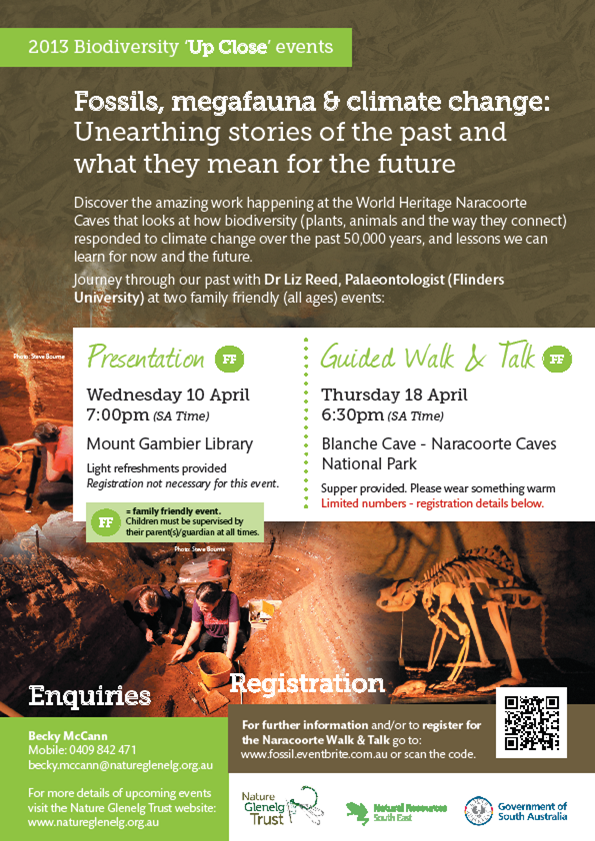 click here for a low resolution poster of April's fossil events
The 2013 Biodiversity 'Up Close' event series presents.....
'Fossils, megafauna & climate change: unearthing stories of the past & what they mean for the future'
Discover the amazing work happening at the World Heritage Naracoorte Caves that looks at how biodiversity (plants, animals & the way they connect) responded to climate change over the past 50,000 years, & lessons we can learn for now & the future.
Journey through our past with Dr Liz Reed, Palaeontologist, Flinders University at two family friendly (all ages) events:
Wednesday 10 April 7:00pm (SA time)
Presentation
Mt Gambier Library
Light refreshments provided
(Registration not necessary for this event)

Thursday 18 April 6:30pm (SA time)
Guided walk & talk
(follow up to Mt Gambier presentation-wear something warm)
Blanche Cave, Naracoorte Caves National Park
Limited numbers for the Naracoorte event!

For further information contact: Becky McCann 0409 842 471 becky.mccann@natureglenelg.org.au
This event is a part of the 2013 Biodiversity 'Up Close' event series.
For more details of upcoming events go to the Nature Glenelg Trust website: http://natureglenelg.org.au/current-projects/up-close-events-2013/
Organiser of Fossils, megafauna & climate change guided walk & talk