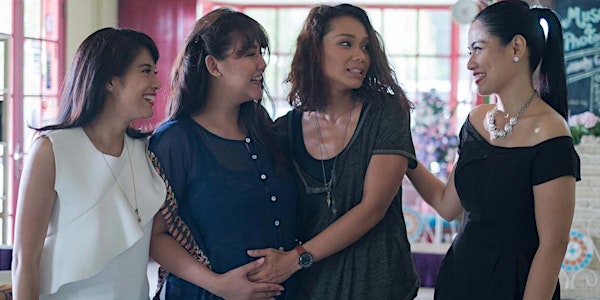 Forum: Fostering Australia-Indonesia connections in film & creative economy
Location
ACMI X
The Australian Ballet Centre
2 Kavanagh Street, Southbank (Alternative access: via The Arts Centre)
Melbourne, VIC 3006
Australia
Description
Forum: 'Fostering Australia-Indonesia connections through film and the creative economy'

Tuesday 23 August 2016, 2.00pm-3.30pm

Venue: ACMI X, Level 4, The Australian Ballet Centre
2 Kavanagh Street, Southbank (Alternative access: via The Arts Centre)

Sponsored by ACMI X, Australia-Indonesia Centre, All In Pixel, Buset magazine, Miles Films, Australia Indonesia Youth Association, Tanahkhir Film, Brainstorminc Entertainment

Facilitator
Tito Ambyo (Lecturer, School of Media and Communication, RMIT)

Panellists
Helen Simondson (Acting Head of Public and Education, Australian Centre for the Moving Image)
Jemma Purdey (Organiser, ReelOzInd! Australia-Indonesia Short Film Competition and Festival)
Tom Gleisner (Writer/Producer/Director, Working Dog Productions)
Cast and Crew What's Up With Love 2
Irving Artemas (Brainstorminc Entertainment)

This will be the first time the new and innovative ACMI X creative co-working space will showcase a discussion on Indonesian and Australian collaborative initiatives through film.

This forum brings together members of the cast and crew of Indonesia's box office smash What's Up With Love 2 (Ada Apa Dengan Cinta 2) and the organisers of the ReelOzInd! Australia Indonesia Short Film Competition and Festival – both currently showcased in ACMI – with figures from Australian film, education and business, to exchange ideas and perspectives on the ways in which film, and the arts more broadly, can forge stronger connections between our two countries.

What's Up With Love was the film that jump-started the Indonesian film industry 14 years ago. The two main stars, Dian Sastrowardoyo and Nicholas Saputra, were catapulted from newcomers to household names. But this film is more than that. What's Up With Love is the most beloved film for an entire generation of Indonesians. And after 14 years, the sequel is finally here. What's Up With Love 2 is the highest grossing Indonesian film in Indonesia and Malaysia for 2016.
ReelOzInd! Australia Indonesia Short Film Competition and Festival is an initiative of the Australia-Indonesia Centre to encourage creative exchange and for Australians and Indonesians to share their stories with each other. The Australia­-Indonesia Centre was established by the Australian Government in late 2013 to facilitate research-­driven innovation and build stronger relationships between Australia and Indonesia. The Centre, hosted by Monash University, is a collaboration between Monash University, the Australian National University, CSIRO, the University of Melbourne and the University of Sydney, working with seven leading Indonesian universities.
The forum will be followed by a screening of AADC2 in ACMI Cinema Two, 4.30pm, 23 August 2016.