Forget the parachute: applying current practices in humanitarian response
Sales Have Ended
Ticket sales have ended
Keep in touch with us in the lead up to our event, share with friends and interact with us on the night: Twitter: follow us at https://twitter.com/TheDevCircle Facebook: https://www.facebook.com/events/759517214259582/ Tags for this event: #meldevcircle #RedRAustralia #humanitarian
Sales Have Ended
Ticket sales have ended
Keep in touch with us in the lead up to our event, share with friends and interact with us on the night: Twitter: follow us at https://twitter.com/TheDevCircle Facebook: https://www.facebook.com/events/759517214259582/ Tags for this event: #meldevcircle #RedRAustralia #humanitarian
Description
Forget the parachute: applying contemporary practices in humanitarian preparedness and response

Melbourne Development Circle presents an evening with Kathryn Harries, Integrated Management Systems Specialist, in conversation with Sarah Forbes of RedR Australia discussing contemporary approaches to humanitarian preparedness and exploring with us how we can bridge the know-do gap in the field.

The presentation aims to provide development specialists with a pathway into humanitarian response, while providing food for thought, and an opportunity to engage, for experienced humanitarian response practitioners.
We will start with a short Humanitarian 101 overview, which includes government leadership, the cluster approach, accountability and localisation. Kathy will then share her experience and recent research which focuses on knowledge transfer and utilisation.
As many development practitioners find themselves as first-responders in rapid-onset emergencies, it is important to be aware of the basics of humanitarian response.
As many countries have recurrent emergencies, it is even more important to consider emergency response in your development programmes. To work with the community and other local actors, to improve their resilience to future emergencies.
This presentation is designed to give humanitarian practitioners and others a basic understanding of humanitarian preparedness and response, to be able to access and more effectively utilise available guidance in the countries in which they are working.
Follow us on Twitter at @thedevcircle
Tags for this event: #meldevcircle #RedRAustralia #humanitarian

Presenter – Kathryn Harries – RedR Australia Associate Trainer – Water, Sanitation, Hygiene (WASH) and Integrated Management Systems Specialist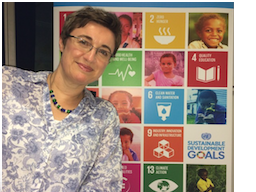 Kathryn Harries is an all-round WASH professional with emergency response experience in Asia, the Pacific and Africa. She was the WASH Cluster Coordinator during the famine in Somalia 2010-12 and led the UNICEF WASH team on development projects in India's Rajasthan province from 2008 – 2010. Kathryn started her career operating and managing large scale sewage treatment plants in Sydney. She has deployed with RedR to the Philippines, Timor-Leste and Geneva. She has a Masters of Engineering Science and a postgraduate certificate in low cost water, sanitation and hygiene from the Water, Engineering and Development Centre (WEDC) at Loughborough University in the UK. Most recently, she has been Knowledge and Learning Manager for the DFAT-funded Civil Society WASH Fund, worked with the Global WASH Cluster to capacity build government agencies in leadership and coordination for WASH responses to large scale emergencies and supported governments in the Pacific to strengthen their WASH preparedness and response. She is passionate about WASH and leadership / management which empowers local teams.
Melbourne Development Circle is delighted to have RedR Australia as our content partner for this event.
MC - Sarah Forbes, RedR Australia
Sarah recently returned from a RedR deployment with the Food and Agriculture Organization (FAO) in their headquarters in Rome, where she was responsible for coordinating FAO's Standby Partner deployments globally. Sarah has a Master of International Business and has worked with RedR Australia since 2012 in a number of capacities in RedR's Melbourne Office and as a roster member/deployee. Sarah deployed with UNICEF in South Sudan in 2014 and is now Contracts Coordinator in the International Programs team at RedR Australia.