Event Information
Location
Brisbane Ranges
(meeting point: to be advised)
Staughton Vale, VIC 3221
Description
Do you want to experience a path to a healthy, happier YOU right here in Melbourne?
For the first time in Australia, In My Nature brings the many benefits of a deeper connection to nature through the unique forest therapy approach of Shinrin-yoku.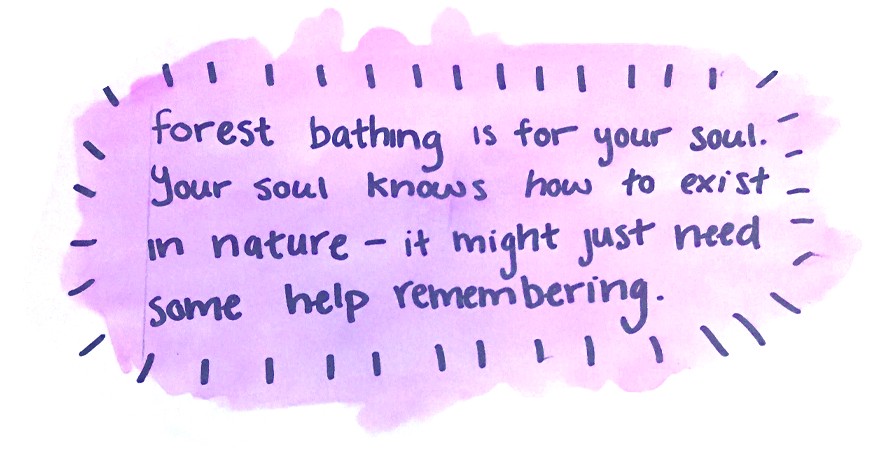 What is Shinrin-yoku?
Shinrin-yoku is a Japanese term that simply means "taking in the forest atmosphere" or "forest bathing" in a very relaxed way along guided walks in a natural setting.
Imagine something that combines the benefits of embodied practices like yoga or qigong with mindfulness, ecopsychology and social connection - all in a natural setting.
With a focus on slowing down and awakening the senses, our gentle walks involve a series of guided invitations to help relax, become present and make contact with nature. The experience invites room for listening, healing and reflection, for quiet and accepting presence, and for inquiry through all the senses, in a non-judgmental setting.
Benefits:
The scientifically-proven benefits of Shinrin-yoku include:
Boosted immune system functioning, with an increase in the count of the body's Natural Killer (NK) cells.

Reduced blood pressure

Reduced stress

Improved mood

Increased ability to focus, even in children with ADHD

Accelerated recovery from surgery or illness

Increased energy level

Improved sleep
Just as impressive are the results that we experience when forest bathing:
Deeper and clearer intuition

Increased flow of energy

Increased capacity to communicate with the land and its species

Increased flow of eros/life force

Deepening of friendships

Overall increase in sense of happiness
---
Testimonials:
[Jodie; giving 5-star rating on Facebook on 27 May 2017]
Such a beneficial experience! Susan's tours are great to reset your priorities and reconnect with nature and people who love nature. Even for those of us who think we spend time plenty of time in nature, a guided experience like this reveals so much more and is a heart opening, heart warming joy. Highly recommended. Thank you, Susan xx
[Jessica; giving 5-star rating on Facebook on 27 May 2017]
Absolutely loved it. I'm still smiling and thinking about it hours later. Thank you Susan! I hope to bring my family next time.
[Jay: via email on 24 May 2017]

I have always enjoyed meditation as well as nature. Shinrin-yoku forest therapy effectively combines the two. It is easy enough to find pleasure in being surrounded by nature. But having a guide like Susan to hone my ability to appreciate things in greater detail and with a greater sense of the moment was extremely beneficial. I found myself appreciating the texture, shape and colour of my surroundings in ways that would not have occurred to me had my attention not been drawn to them by Susan. There are similarities to mindfulness meditation which also benefits from being learned from a professional. However, I found that forest therapy is different from meditation in one key aspect. Rather than finding peace and calm from within I felt I was absorbing it from my surroundings in a more active way than with typical meditation. It is more than just clean air and an escape from the hustle and bustle of modern life. Shinrin-yoku is a focused experience that I felt penetrated my heart and soul and left me feeling refreshed beyond what merely a gentle walk in the forest could achieve. Thank you Susan!
[Dean; giving 5-star rating on Facebook on 13 May 2017]
Had an awesome experience with my mum today. Susan's introduction to Shinrin-yoku on Mt Macedon is memorable. Thanks Susan
[Kee; giving 5-star rating on Facebook on 5 April 2017]
Recently attended the Shinrin-Yoku Forest Bathing at Dandenong Ranges. It was a total mid blowing experience! Susan is an excellent guide and made the whole experience unforgettable. I would definitely recommend it to anyone. Thank you for the soul enriching experience with us! xx

---
Joining this event entitles you to a gentle and guided Shinrin-yoku (森林浴, Forest Bathing) walk that supports well-being through sensory immersion in a naturally healing environment.
This is a full three-hour guided Forest Bathing event scheduled specifically to cater for those who really need to relax, reduce their anxiety or de-stress.
The traditional Japanese tea ceremony concludes the event.
I keep the group size to no more than 12 people so that we can enjoy a quiet, calm and peaceful walk in the forest.
---
For more information about the uniqueness and health benefits of Shinrin-yoku/Forest Bathing, please see our website at inmynature.life.
What to bring:
Comfortable clothing and closed, soft shoes

Sunscreen and hat during summer

Warm jacket, beanie gloves, hot drink on cool days

Raincoat for wet and windy days

Snacks and water
Questions or more information:
If you have questions or require more information, please email me at susan@inmynature.life
I am really looking forward to being your Guide!
Susan
Forest Therapy Guide & Happy Hiker
Date and Time
Location
Brisbane Ranges
(meeting point: to be advised)
Staughton Vale, VIC 3221