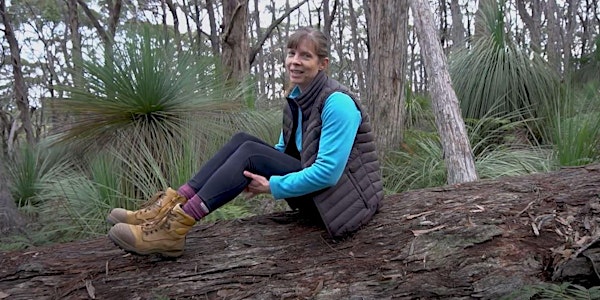 Forest Bathing in Mark Oliphant Conservation Park
Location
Mark Oliphant Conservation Park trailhead
178 Scott Creek Road
Heathfield, SA 5153
Australia
Join us for a June-long celebration of Adelaide becoming a National Park City, with events being held across metropolitan South Australia.
About this event
Forest Bathing (no swimming involved!) is a chance to 'bathe' or immerse yourself in the natural environment. It is an opportunity to awaken and engage your 5 senses - listening, touching, smelling, tasting and seeing as we allow ourselves to just 'be' in nature.
As you wander slowly, take time to stop, smell, touch and notice nature. The experience involves guided 'invitations' to help notice the nature, calm your busy minds, perhaps be playful and have some fun.
Disconnect from technology and release yourself from having to keep track of time as your guide lead you through nature. If that sounds interesting and you're curious we'd love for you to join us in beautiful Mark Oliphant Conservation Park.
Why come?
Research shows that Forest Bathing (also known as shinrin yoku, forest therapy or nature therapy) has benefits including lowering blood pressure, reducing stress hormones in the body, improving mood, reducing worry, improving immune system function, improving concentration, memory and ability to think clearly and increasing our sense of vitality and feeling alive!
Our host Bronwyn Paynter is an occupational therapist and practices that all of these can support our ability to do the things we need, want and have to do every day. In a world where people of all ages are increasingly disconnected from nature, a guided nature-based experience such as this can help remind us that WE are part of nature, belong in nature and care for nature.
Who is this for?
Everyone! Almost everyone enjoys and can benefit from being in nature. The experience is tailored to the needs of the group.
Please be aware there are no toilet facilities in the park and the activity will involve some walking on unsealed trails.
Where
Mark Oliphant Conservation Park - Gate 1 Carpark and Trailhead, 178 Scott Creek Road, Heathfield.
See meeting point on Google Maps
Is there a cost?
No, this activity is FREE.
Who runs this?
Flourish, nature based OT is Bronwyn Paynter. She is an occupational therapist with almost 30 years experience, and a passion for supporting wellbeing. She is a certified Forest & Nature Therapy Guide with the Association of Forest & Nature Therapy Guides and Programs, and a permaculture designer. Her nature connection started with gardening, camping (as a girl guide) and family holidays in nature. For the last few years she has been coaching occupational therapists internationally in ways to work more closely with nature because there is so much evidence about how nature is the optimal environment for people to flourish.
FAQs
Is there a toilet?
No, there are no toilets in the park. The nearest public toilets are located in Aldgate or Stirling.
Are their age restrictions? Is this suitable for children?
This event is best suited to adults or children over 8 who are able to be fairly still and listen for up to 10 minutes. Children will be required to be under the care of a responsible adult to supervise their participation.
What ability is required, How accessible is for Forest Bathing?
If you have any needs specific to disability, or medical needs or any questions at all please provide whatever information you like to support your participation in the event. Please advise any particular requirements reqarding mobility, vision, hearing and individual support needs so we can optimise your participation in the event. Please e-mail Bronwyn (flourishnaturebasedot@gmail.com) to provide any information that will support your participation.
Will I be safe?
Bronwyn and our Volunteer Rangers have current first aid certificates and will be carrying a first aid kit. There is mobile phone reception where the activity will take place. Please advise any particular health concerns that may be relevant.
All current SA Health requirements regarding COVID-19 will be required to be followed during the event, such as maintaining 1.5m distance from other people not in your household group. While masks are not mandatory, we understand if you have a need to wear one.
What should I bring to the event?
We will go ahead regardless of the weather (except if severe weather ) so dress appropriately - it is usually a few degrees cooler than in Adelaide. You will need decent sturdy shoes for this experience - boots or sneakers are good if you have them.
Bring a rain jacket in case of rain – although some people choose to get wet as part of the nature connection experience. We move very slowly during a Forest Bathing session, so consider wearing/bringing an extra layer as well as beanie (hat), gloves and scarf if it's cold or windy. We move very slowly during a Forest Bathing session,
We will and spend time sitting or if you can't sit standing still so perhaps add an extra layer to your clothing since we're not physically active. Please feel free to bring something to sit on (eg small pillow, plastic sheet) but make sure you can carry it.
Also - Please bring a drink bottle of water and any special snacks you may want. A simple snack (usually fruit) and place specific warm tea will be served as part of the experience. If you or anyone in your group have any dietary restrictions or allergies please contact the organiser at flourishnaturebasedot@gmail.com to advise prior to the event
What's the cancellation policy?
The event will only be cancelled in the case of extreme weather or safety hazards (e.g. severe weather warning). If the event is cancelled you will be notified by 8pm the evening prior - by the e-mail you used to register and by text message to the mobile number recorded with your ticket registration.
If you are unable to attend the event please cancel via the Eventbrite process so any people on the waiting list can access tickets.
We really encourage you to prioritise this wellbeing practice for your self-care and make it important for you to attend once you have booked.
NOTE - you will be required to complete a registration/disclaimer form on arrival prior to the event commencing.
How can I contact the organiser with any questions?
e-mail flourishnaturebasedot@gmail.com or phone Bronwyn on 0412404700