Foodprint Melbourne event: planning a resilient city foodbowl
Description
The Foodprint Melbourne project will launch its final report on Thursday 24 November from 2.30 – 5 pm with a conversation about strengthening the resilience of Melbourne's foodbowl to increase the city's food security. The project will propose a framework for strengthening the resilience of the city foodbowl.
Melbourne's Chief Resilience Officer, Toby Kent, will chair a panel of experts who will discuss approaches to increasing the resilience of Melbourne's foodbowl. A keynote presentation will highlight lessons learned from the introduction of an Environment and Food Production Area to protect Adelaide's foodbowl.
This free event will be held at the University of Melbourne's Parkville campus in the Yasuko Hiraoka room on the first floor of the Sidney Myer Asia Centre. Afternoon tea will be served from 2.30 – 3.00 pm prior to the event.
Please register to attend via this page. Tickets are limited.
Panel: A resilient and sustainable food future for Melbourne - what are the key ingredients, and what is needed to get us there?
Chair: Toby Kent, Chief Resilience Officer for the City of Melbourne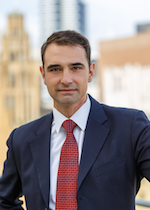 Toby Kent is the Chief Resilience Officer for the City Of Melbourne. His role involves working across Melbourne's metropolitan region to implement a resilience strategy that will see Melbourne better prepared to manage the chronic stresses and acute shocks that Melbourne faces, today and in the years ahead.
Toby has created and implemented resilience and sustainability strategies across a range of sectors. Since the late 1990s he has worked with governments, communities, industry sectors and many other stakeholders on five continents.
Toby has a Masters degree in Urbanisation (Housing and Social Change) from the London School of Economics.
Panellists include:
Panellist: Professor Michael Buxton, RMIT University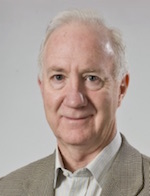 Michael Buxton is a professor of Environment and Planning at the School of Global, Urban and Social Studies, RMIT University. Prior to joining RMIT Michael worked in senior management with Victorian Government Planning and Environment agencies, and was an elected Victorian local government councillor and Mayor for ten years. Michael heads a team carrying out extensive research into peri-urban regions. They have investigated the nature and extent of contemporary peri-urban regions in Australia; identified future patterns of socio-economic, environmental change in peri-urban landscapes; and developed scenarios for future land use and management.
Panellist: Annmaree Docking, City of Whittlesea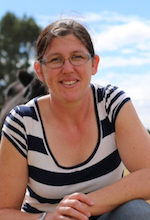 For 10 years, Annemaree has worked in State and Local Government supporting agriculture and the environment. She is currently the City of Whittlesea's Agribusiness Officer. This program focuses on the support and development of agriculture and food production in the rural north of the municipality. At 17, Annmaree moved from suburban Melbourne to Central Victoria, where she studied agriculture and worked on a range of farming enterprises across Victoria and New South Wales. She continues to run a mixed farming enterprise in Central Victoria.
Panellist: Kirsten Larsen,
Victorian Eco-Innovation Lab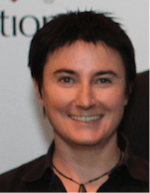 Kirsten Larsen is a food systems research and partnerships manager at the Victorian Eco-Innovation Lab, Foodprint Melbourne researcher. She has been investigating sustainable food systems for close to a decade. From a background in state government sustainability, climate and food policy, Kirsten turned to systemic analysis of food security and sustainability and has been involved in the development and implementation of food policies at state and local government levels. Through her work with the Victorian Eco-Innovation Lab, she has researched sustainable food production, distribution and consumption. She led the development of the South-East Food Hub, and is co-founder and director of the Open Food Network, an online marketplace connecting farmers with consumers.
Panellist: Garry McQuillan
, CEO of Cardinia Shire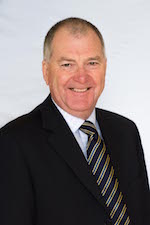 Garry has held the position of CEO at Cardinia Shire Council for the past 10 years. He has a long history in local government in Victoria and NSW. Garry is the Chairperson of the Southern Metropolitan Regional Development Australia Committee and is a member of the Interface and South East Metropolitan group of councils.
Garry is a member of the Foodprint Melbourne Stakeholder Advisory Group. Cardinia Shire is an important area of food production on Melbourne's fringe and Australia's 'asparagus capital'. In his role as CEO of Cardinia Shire, Garry actively promotes agriculture in the region and works to increase access to recycled water for the region's farmers. He has been influential in promoting healthy living for Cardinia's residents, in particular creating a fair and sustainable food system. Council, in partnership with Sustain Australian Food Network, aims to reduce the obesity rates by 30% over 10 years in Cardinia.
Panellist: Wayne Shields, President, Victorian Farmers' Market Association; farmer, Peninsula Organics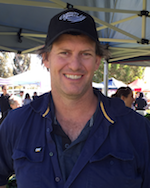 Wayne Shields is a fifth generation farmer based in Baxter, on the Mornington Peninsula, right on the Urban Growth Boundary. He and his family run Peninsula Organics, growing certified organic vegetables which are sold through their farmgate stall, box schemes and farmers' markets, alongside more traditional wholesale markets channels. Wayne is also the President of the Victorian Farmers' Markets Association, which supports and promotes authentic farmers' markets.
Keynote: Introducing a new Environment and Food Production Area to protect a city foodbowl - South Australia's experience
Earlier this year, new legislation in South Australia created Environment and Food Production Areas in Greater Adelaide. These areas aim to protect Adelaide's foodbowl and environmental resources from urban encroachment. Chris Kwong, from South Australia's Department of Planning, Transport and Infrastructure will speak about the new Environment and Food Production Areas and will share lessons from the policy's development and introduction.
Keynote speaker: Chris Kwong,
Department of Planning, Transport and Infrastructure in South Australia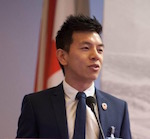 Chris is Manager - Development Policy and Assessment in the Department of Planning, Transport and Infrastructure in South Australia. Chris is a lawyer by background, he has been an Associate to a Judge of the Federal Court of Australia and has practised as civil litigation lawyer. In recent years he was a ministerial adviser to the Hon John Rau MP, South Australia's Deputy Premier, Attorney-General and Minister for Planning. In this role, he assisted the South Australian Government in introducing South Australia's first legislative urban growth boundary, the Environment and Food Production Areas. Outside of work, he enjoys running and volunteering with Australian Red Cross.
The Foodprint Melbourne project has been investigating what it takes to feed Melbourne, the vulnerabilities in the city's food supply and the role of the city-fringe foodbowl in increasing the city's food security. Two years of research has created a new evidence base to guide policy directions. The event will be of interest to those working in policy, planning, infrastructure, and service delivery for Melbourne's food system.