What drives our food behaviours? How does the food we eat affect our mood and how much choice to we have over our food habits?
About this event
"You are what you eat".
"An apple a day keeps the doctor away"
We all know the role that diet play in our physical health, but is there a connection with our mood and overall well being? Do we really have free choice over our food choices in Australia?
Join this free online event where we will exploring these questions with the leading researchers in the field.
Panelists: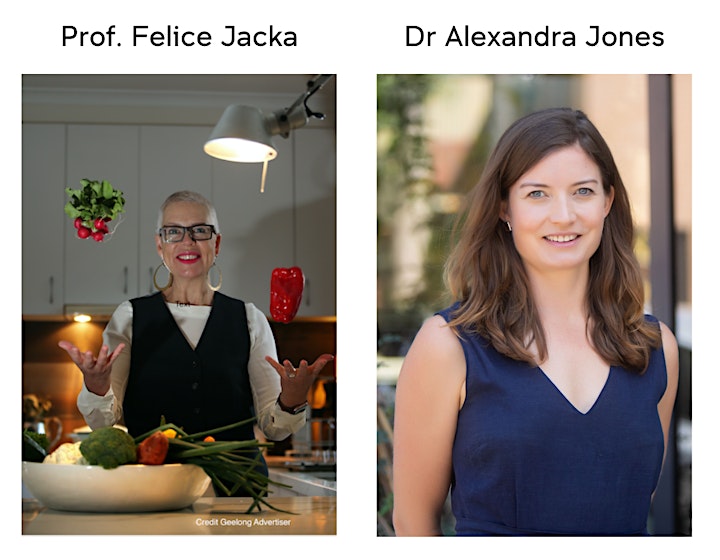 Professor Felice Jacka
Professor of Nutritional Psychiatry and Director of the Food & Mood Centre at Deakin University. She is founder and president of the International Society for Nutritional Psychiatry Research (ISNPR) and immediate past president of the Australian Alliance for the Prevention of Mental Disorders (APMD).
Professor Jacka has pioneered and led a highly innovative program of research that examines how individuals' diets interact with the risk for mental health problems. Her current work focuses closely on the links between diet, gut health and mental and brain health. This research is being carried out with the ultimate goal of developing new, evidence-based prevention and treatment strategies for mental disorders. She has recently published a book for the general public called 'Brain Changer' through Pan Macmillan Australia and Yellow Kite in the UK and EU. Her children's book – There's a Zoo in my Poo – was published in July 2020.
Dr Alexandra Jones
Research Fellow in Food Policy and Law at The George Institute for Global Health, where her work focuses on using regulation (e.g. sugar taxes, food labels, marketing restrictions) to promote healthy and sustainable diets.
Ali has previously worked on global tobacco control, and in health and human rights. She holds a Masters of Law in global health law, and in 2019 completed a PhD in public health. She tweets about keeping the food industry honest at @alikjones
This event is part of UNSW's Mental Health Month program.
Organiser of Food. Mood. Free Choice?
The Health Promotion Unit is part of UNSW Health and Wellness. It promotes the health and wellbeing to UNSW  students. Health is not merely the absence of disease but involves our physical, mental, social and emotional wellbeing. It underlies our ability to achieve academically but also our life satisfaction.  It is influenced by the environment we live, work and play and also by the choices we make.