Join us for a global webinar addressing the key role of food heritage in the transition towards sustainable futures
About this event
This RMIT global webinar is supported by Barcelona City Council and forms part of the program for the Barcelona World Sustainable Food Capital 2021.
The current context of climate change and a growing population urge the transition to a more sustainable and resilient model of food production and consumption.
Preserving cultural heritage and revisiting traditional food practices can contribute to this transformation by promoting agricultural diversity, influencing consumption habits and adding value to the sense of place.
Employing traditional knowledge to transform food cultures in an inclusive way is a contentious process that requires reflection, mediation and engagement from a variety of stakeholders, including Indigenous communities.
This global webinar will bring together researchers, cultural managers, urban planners as well as representatives of Indigenous-led organisations to explore the key role of food heritage in tackling global challenges and promoting sustainable food systems.
Key questions:
What can we learn from the first agriculturalists on earth?
How can we harness the value of food heritage to create more inclusive, green and resilient cities?
How can Indigenous thinking contribute to the transition towards sustainable food systems?
How can research, education and culture join hands and support this process?
*The webinar will be captioned in Spanish and Catalan.
Meet the speakers

Amaranta is the Strategic Coordinator of the Barcelona World Sustainable Food Capital 2021 project led by Barcelona City Council.
With over 10 years of academic experience, her research has focused on the study of socio-ecological conflicts, particularly those related to energy and food systems. Based on this expertise, she has participated as a speaker at multiple conferences and seminars on the global ecological crisis from a socio-ecological perspective.
Amaranta has an interdisciplinary educational background. She is a Sociologist and an Agricultural Engineer with an MA in Ecological Economy and a PhD in Environmental Sociology from the Autonomous University of Barcelona.

Luke is a proud descendent of the Gumbaynggirr Aboriginal people of Northern New South Wales (NSW), Australia. He currently holds a position at RMIT University as an Indigenous pre-doctoral Research Fellow.
His research is assessing the dietary safety of a range of traditional Aboriginal foods and also exploring how food regulatory frameworks can better accommodate the traditional knowledge held by First Nations Peoples into the overall risk assessment of traditional food products that are being developed for commercial markets.
As part of this project, Luke is actively bringing together the research sector and the national food regulatory body with a range of First Nations stakeholders, such as the Federation of Victorian Traditional Owner Corporations  (FVTOC) or the Indigenous Native Grains Network (INGN).

Chris is the General Manager of Black Duck Foods Ltd, an Australian Indigenous social enterprise committed to traditional food systems that care for Country and return economic benefits directly to Indigenous Peoples.
According to Chris, "Black Duck Foods is about trying to re-establish the traditional agricultural methods and systems that were used pre-colonisation and reinvigorate that back into the Australian food system."
An early career in the global investment banking and oil sectors underpin his focus on managing people and enterprises dedicated to accelerating community development outcomes.
Chris holds degrees in Chemical Engineering and Teaching.

Gemma is the Director of the Museum of Rural Life, based in l'Espluga de Francolí, Tarragona, Spain. She is also the Coordinator of the Carulla Foundation, President of the Interarts Foundation and Co-founder and President of the Association ConArte Internacional, focused on promoting arts and cultural education for social inclusion and development. 
Gemma was previously the Director of the UNESCO Chair in Cultural Policies and Cooperation at the University of Girona. Her research interests lie in the fields of cultural and educational policies and the evaluation of arts educational programs in formal and non-formal sectors.
In 2015, Gemma was awarded the Ramon Roca Boncompte' Prize in cultural management research.

Lamia is a scientific researcher at the Water Research and Technology Centre based in Bordj Cédria, Tunisia and a member of the Research in Action Association (REACT).
At REACT, she is working on the promotion of urban agriculture and its inclusion in the strategic plans of cities in Tunisia through the European project EdiCitNet (The Edible Cities Network).
As a Food Engineer, Lamia is a strong advocate of preserving and adapting Tunisia's culinary heritage and ancestral knowledge as a way to enhance sustainable food consumption habits for future generations.
She is a Doctor in Environmental Sciences from Aix-Marseille University in France.

Marta leads RMIT Europe – the European hub of RMIT University – and is based in Barcelona, Spain.
She is heavily involved with urban wellbeing, particularly the impact of design and technology for healthy ageing and has been a member of European expert panels for nature-based solutions in cities, active ageing and the built environment.
Marta is on the Research Advisory for the International Well Building Institute.
Partner organisations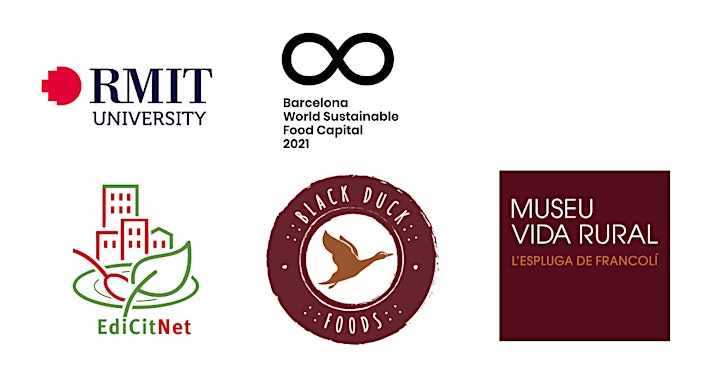 Organiser of Food heritage for sustainable futures
RMIT University is a global university of design, technology and enterprise, with more than 87,000 students and 11,000 amazing teachers and staff.
RMIT's European hub in Barcelona, ​​Spain, is the gateway for European research, industry, government and enterprise to innovation and talent in Australia and Asia.
We leverage the University's global connections to deliver an international dimension to research and innovation beyond Europe's borders.

We provide early access to the next generation of talent for European industry including servicing our partners seeking local talent for their operations in Australia.
We also work with our partners looking to extend their workforce in Europe through the diversity and depth of international talent. 
Talk to us about the ways you can leverage our presence in Europe to extend your markets to Australia and Asia through innovation and talent.