Location
Club Burwood RSL
96 Shaftesbury Road
Burwood, NSW 2134
Australia
Follow In My Footsteps (FIMF) launches its inaugural event for families called a "Family Dance Affair"!
About this event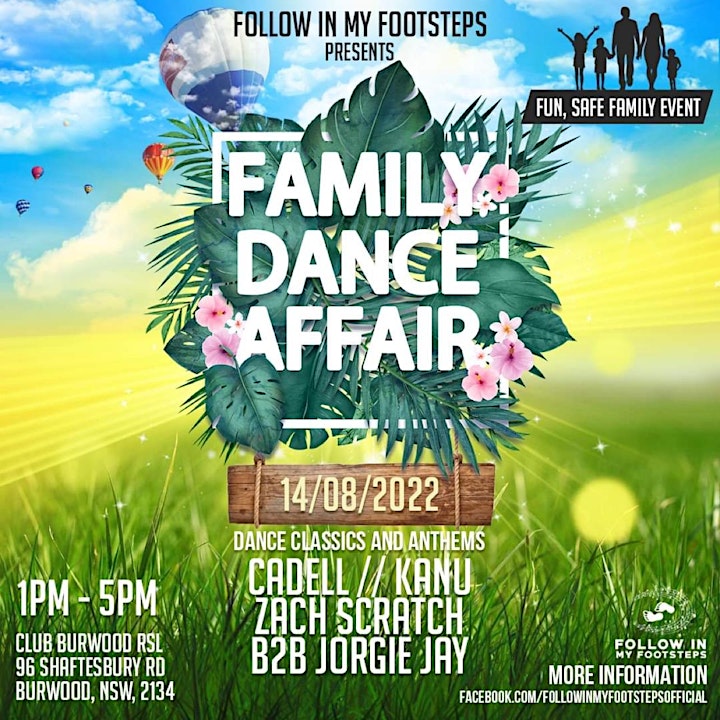 Drawing on our experience as music enthusiast's and parents, the FIMF crew create radical, social and eccentric fun for all ages.
Inspired by our founders lifelong love of clubbing and the festival scene, "FIMF presents" is something we want our children to experience in a safe environment - somewhere relaxed, entertaining and where parents and their families can enjoy themselves as much as the children!
🎧 Cadell, Kanu + Zach Scratch B2B Jorgie Jay! 🎶🔥
What to expect at our event?
✅ Club Classics and Anthems played by well known DJ's
✅ Kids Activities / Entertainment including bubbles, glow in the dark / flashing toys, face painters, balloon artists and chill areas
✅ Licensed Bar and Food Options
✅ Our Distinctive Parachute Dance
🤫 Plus a few other activities which we'll keep up our sleeves for now 😉
This event is something you definitely would want to experience with your family and friends - You don't want to miss out!
Online ticket sales will close on Sunday, 14th August 2022 at 9am.
** Limited Tickets will be available at the door **
[Kids under the age of 3 receive complimentary admission 👶]