A listening walk through the Len Howard Conservation Park wetlands for the 2021 Mandurah Festival.
About this event
Participate in a sensory walk of the Nature Trail, Len Howard Conservation Park, and create a unique cyanotype print using local plants.
**Meet at the carpark off Dampier Avenue** DO NOT FOLLOW EVENTBRITE DIRECTIONS as the carpark does not have a street address. Go to the end of Dampier Avenue to the weird tiny roundabout and turn south down the narrow lane towards the estuary (has a boom gate on it). Follow the map below or put the following coordinates into your browser's map page/GPS -32.5714521472771, 115.68447577093757.
What do you hear when you walk in a local wetland? Have you ever thought of what the sounds around you can tell you about where you live? Unlike seeing, sound is all around us, all of the time. Walking and listening makes us more attentive to the more-than-human world around us. Discover the patterns and textures of plants we come across. We will make an on-the-spot sun print as a record of where we had walked and what materials we find: creating a 'map' or 'blueprint' of our walk. Walking and experiencing at a leisurely speed, will take around about 2 hours to complete our experience.
Two dates: 30 October or 6 November
Cost $5
Wear enclosed shoes and clothes suitable for the weather on the day.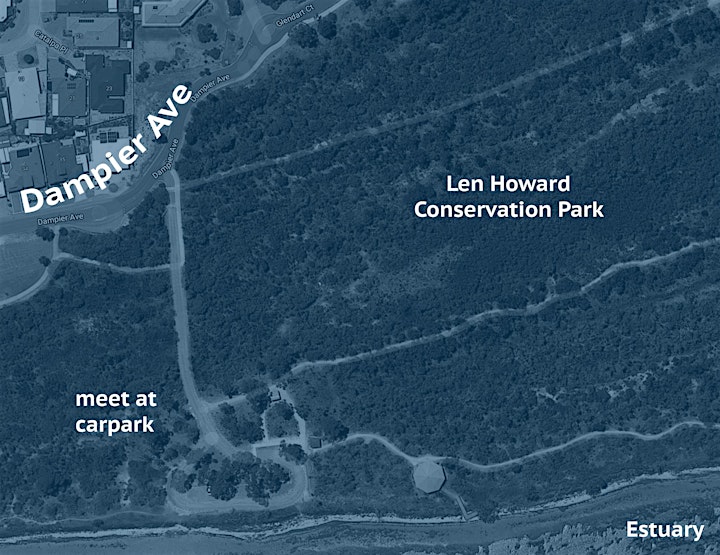 Organiser of Flow: Wetland Walking and Listening
Perdita Phillips is an Australian artist with a wide-ranging and experimental conceptual practice. She works in performative and site-specific situations and projects, mixed media installations, books and environmental sculptures. Whilst materially diverse, underlying themes of ecological processes and commitments to a resensitisation to the physical environment are apparent. Creating 'anticipatory aesthetics' to widen the potentials in a narrowing world, Phillips has inhabited/exhibited widely including participating in Frankenstein GRID (Stanford University outdoor projection festival), Here&Now2018: Besides, it is always the others who die(Lawrence Wilson Art Gallery, Perth), Incinerator Art Award, (Incinerator Gallery, Moonee Ponds), Another Green World (Western Plains Cultural Centre, Dubbo), Carry me,   and Weed-ingparticipatory projects for Spaced Know thy Neighbour Project, Perth and Going underground: Multispecies encounters with rocks and water in the shadow of extraction(Collaborative event with Astrida Neimanis, Sydney-Lithgow-Sydney).