Florianópolis' BRAZIL - Architecture and its Nuances: Influence of Azorean...
Description
Competency: Design
Knowledge Domain: Social and Ethical

The Australian Institute or Architects presents Brazilian Architect and Urban Planner Renata De Vecchi.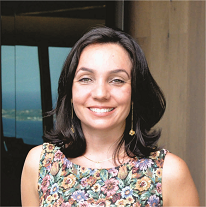 International Guest Speaker: Renata De Vecchi
She's flying all the way from BRAZIL, come along and hear from Dr Renata on Florianópolis.
What makes Florianópolis Brazil so unique?
Florianópolis is a city of contrasts. It can vary from a quiet places with horizontal architecture, made of traditional masonry, to verticalized structures. This city is full of urban art and buildings characterized by the modernist style.
This talk presents the hibridism related to the Florianópolis' - Brazil - architecture: the Azorian influence and peculiar insertion of modernism.
More about our International Guest Speaker:
Dr. Renata De Vecchi lives in Brazil. She has expertise in indoor environmental quality, thermal comfort and building energy efficiency. She is currently a member of the Brazilian Center for Energy Efficiency in Buildings (CB3E), postdoctoral fellow at the Federal University of Santa Catarina and teacher at the University Center Estácio de Santa Catarina. She is also a Partner on DUX Bioclimatic Architecture & Engineering (design office). Renata is passionate about studying the influence of architecture on people's life.
Students, graduates, non-members and related diciplines are welcome. Light refreshments and beverages will be served from 5:30pm.
This event is sponsored by a joint initiative of QUT and Fulton Trotter Architects.
Are you accumulating CPD? Please remember to write your name and email on the sign on sheet at the door.
---
Ticket Prices
Earlybird: Register and pay BEFORE Friday 1 September, 2017 for $10 tickets
Member: A+ $15 General $20 Graduates $5 SONA $5
Non Member: General $35 Student $15
Not a Member? Want to get exclusive discounts and perks? Click here to Join
For more Queensland CPD events, please click here to go to our website
Have a CPD Topic you want covered? Email us! qld@architecture.com.au
---
Contact:
Australian Institute of Architects
Queensland Chapter
70 Merivale St
South Brisbane
T| 07 3828 4100
TERMS & CONDITIONS: 1. The Queensland Chapter has the right to cancel or alter the dates, pricing, speakers or venue of an event that has been created by the Chapter. 2. No cancellations or refunds two (2) working days prior to the event. 4. People attending in replace of the registered person must pay the ticket fee associated with their membership type. 5. Please note that start and end times are an estimation. Some seminars may finish earlier or later than the proposed time.