Register your school to participate in two days of fun, interactive workshops, aimed at helping students think about their future.
About this event
Over two days, the Find Your Spark! roadshow aims to give students an insight into what their future could look like.
Hosted at Mount Gambier High School in partnership with Flinders University and eNVIsion Limestone Coast, you're invited to register your school's attendance at one or both of the events on offer:
Regional Roadshow | Tuesday 29th June | For year 10s | Capacity: 300 students
Day one of the program features 10 different study area workshops, including the following disciplines:
Medical science
Criminology
Rural health
Solar car project
Creative industries
Tourism
Sport
STEM Showcase | Wednesday 30th June | For year 9s | Capacity: 90 students
Day two welcomes students and teachers into the mind-opening (and sometimes mindblowing!) world of STEM, with workshops that include:
Zumo robots
Electronic circuits
Satellite imagery:
________________________________________________________________________________________________
IMPORTANT INFORMATION:
Fill out the registration form and indicate which session you're interested in - or participate in both. You'll also be asked for an estimate of the amount of students you'll be bringing.
Once we have enough expressions of interest, we'll send you more information on the workshops and a spreadsheet to fill out, letting us know which students are attending and what they'd like to participate in.
Workshops will be filled on a 'first-in, best-dressed' basis, so we encourage prompt return of the completed spreadsheets once received.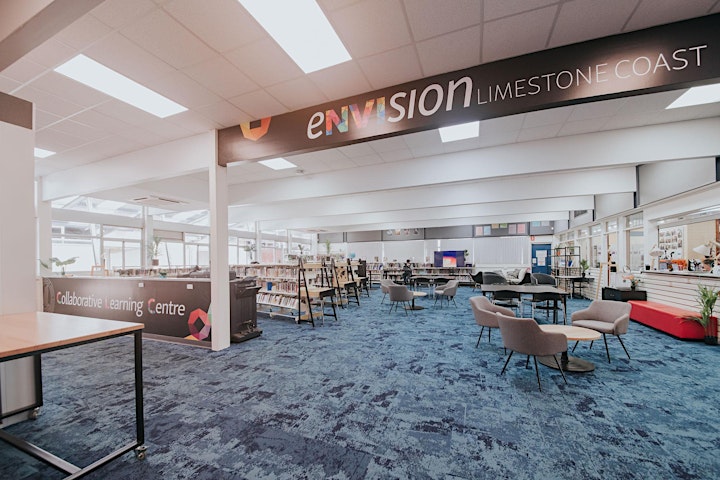 Organiser of Flinders University | STEM Regional Roadshow
eNVIsion Limestone Coast is a collaborative community for businesses of all sectors and industries. We provide the tools and expertise to take your idea or established business to the next level. eNVIsion offers the resources to help your business grow, develop, scale, and connect to new local, national and international markets. We take pride in delivering our services through partnerships with schools, business, industry and councils across the region.