Location
Sydney Masonic Centre
279 Castlereagh Street
66 Goulburn Street
Sydney, NSW 2000
Australia
Refund policy
Contact the organiser to request a refund.
Eventbrite's fee is nonrefundable.
Uprising World Premiere, Calling and Battle Hardened Flesh and Blood event in Sydney, Australia.
About this event

To mark the release of Flesh and Blood's newest set, Legend Story Studios is excited to announce that Sydney will be hosting one of the Uprising World Premiere events, one of three events taking place across the world on June 10 – 12. Join the global Flesh and Blood community and be among the first in the world to try out the latest release!
These World Premiere events are a chance to bring the global community together for one fantastic weekend of Flesh and Blood Organised Play, and in the spirit of coming together the weekend will also feature the first ever Team Blitz Calling event! Grab your friends and battle it out over two days of fast and furious blitz action. These Calling events will each feature a USD20,000 prize pool, plus a Professional Tournament Invitation and a Golden Cold Foil Legendary prize card for each member of the top four teams.
The Legendary Dragons of Volcor are descending upon World Premiere events, and we have a special premium package available for the collectors out there featuring two very special World Premiere promotional items:
A Legendary Dragons of Volcor playmat, exclusive to the World Premiere
A set of limited edition Legendary Dragons of Volcor Dragonshield 100ct sleeves. The Sydney World Premiere premium event package will contain sleeves featuring the Legendary Dragon, Dominia!

IMPORTANT NOTES:
All times in AEST and all prize money in $USD
You will need your GEM ID to participate and purchase your ticket if you are participating in an event. If you do not have a GEM ID, please register for one by going to https://fabtcg.com/accounts/register/
Entry into The Calling is in teams of 3. You cannot enter this event as an individual.
The Calling is a 2 day event across Saturday and Sunday
The Battle Hardened tickets will go on sale Saturday, 11 June 2022 after Day 1 of the Calling.
SCHEDULE
WORLD PREMIERE
Friday, 10 June 2022
1:00pm - Onsite Registration + Deck Construction
2:00pm - Registration Closes. Event Start. Round begin.
THE CALLING
Saturday, 11 and Sunday, 12 June 2022
Must enter in teams of 3 players. Decklists with team members' GEM IDs MUST be submitted physically during onsite registration
8:00am - Onsite Registration
9:30am - Registration Closes
10:00am - Rounds Begin
Qualifying teams continue on to Sunday for Day 2
BATTLE HARDENED
Sunday 12 June 2022
7:30am - Onsite Registration
9:00am - Registration Closes
9:10am - Rounds Begin
PLUS MORE
Side events - Scroll down to Side Events Info
Vendors: Sell and trade singles, Purchase accessories

PRIZE STRUCTURE
World Premiere
Pack War: Every round, a judge will place one (1) Uprising Booster Pack on the table for each match-up. The winner in each pairing wins the pack for that round. In this way, players may win up to six (6) additional Uprising packs in Pack War.
In addition, all players at 6-0 will receive one (1) box of Uprising Boosters.
The Calling
Champions (1st) - US$7,500, 3 Random Gold Foil Legendary Drops, & 3 Professional Tournament Invitations
Finalists (2nd) - US$3,000, 3 Random Gold Foil Legendary Drops, & 3 Professional Tournament Invitations
Runners-Up (3rd & 4th)- US$1,500, 3 Random Gold Foil Legendary Drops, & 3 Professional Tournament Invitations
5th - 8th - US$900
9th - 16th - US$450
Teams events do not presently award XP or Elo
Battle Hardened
(all in $USD)
1st Place - US$500, 1 Random Gold Foil Legendary Drop, Battle Hardened Playmat, & 1 Professional Tournament Invitation
2nd Place - US$500, Battle Hardened Playmat, & 1 Professional Tournament Invitation
3rd & 4th Place - US$250, & Battle Hardened Playmat
5th thru 8th Place - US$125, & Battle Hardened Playmat

Format
World Premiere
Friday: 6x Uprising Sealed Deck Swiss rounds (No cut, No playoff)
The Calling
The Calling Main Event is 3 Player Team Blitz. Every player must register individually. Each player on the team must play a different Hero. Players on a team will be arranged as and A, B, and C Player. This will determine where you sit each round. Each round players will play A vs A, B vs B, C vs C.
Saturday: 7-9x Team Blitz Constructed Swiss rounds (Top 24, or X-2 Cut)
Sunday: 3-5x Team Blitz Constructed Swiss rounds (Top 4 Team Cut)
Top 4 - Single Elimination Team Blitz Constructed (untimed)
While no XP, this event does reward PTIs to Top 4 teams.
Battle Hardened
Sunday: 5-7x Classic Constructed Swiss rounds (Top 8 Cut)

Teams Registration:
Each team member must purchase tickets individually for the Calling.
To register on Saturday morning, all three (3) members must be present, then registered as a team.
All three (3) decklists must be submitted.
Players will choose to register as A, B, or C.
Player A is loaded into GEM.
Searching for "Player A" is how the team will search for Pairings and Standing throughout the event.
The team then gets one (1) SET of three (3) promos to distribute among themselves.
Swiss Rounds:
Swiss rounds are best-of-one.
Swiss rounds are 30 + 5 minutes in duration. (30 + 5 means there are 5 minutes allocated for the start of game procedure. Players must have presented their deck and revealed their equipment and weapons within this 5 minute window. If both players complete the start of game procedure in less than 5 minutes, they may begin playing their match immediately.)
The number of rounds of Swiss is determined by the number of players at the beginning of round 1.

Decks
Decks must be legal as defined by the Card Legality Policy.
Deck registration must be done using full English card names only and be clearly legible.
The official Deck Registration Sheet is available here.
Players may not change their registered deck during the tournament.
Deck checks will be conducted by event staff throughout the tournament.
It is the responsibility of each player to ensure there are no distinguishing marks or patterns on their cards or card sleeves for the duration of the tournament.

Side Events
3 Side events confirmed
Uprising Draft
Win a box Blitz
Win a box Draft
Side event tickets $20 for each event to be paid on the day.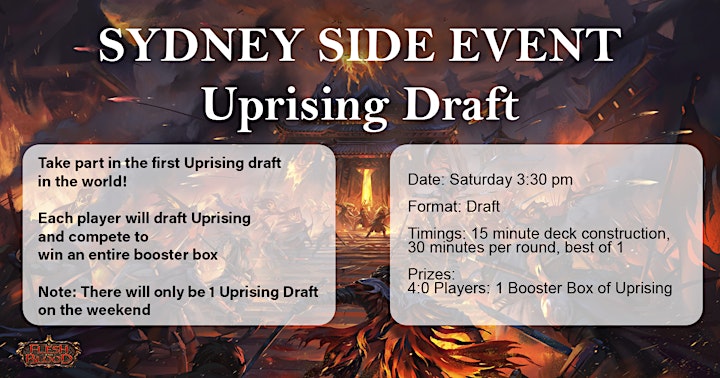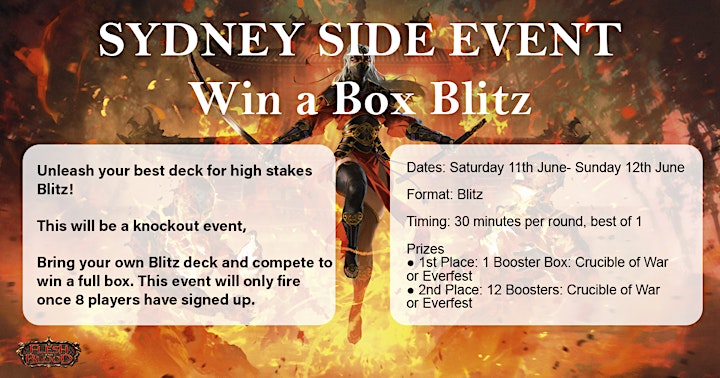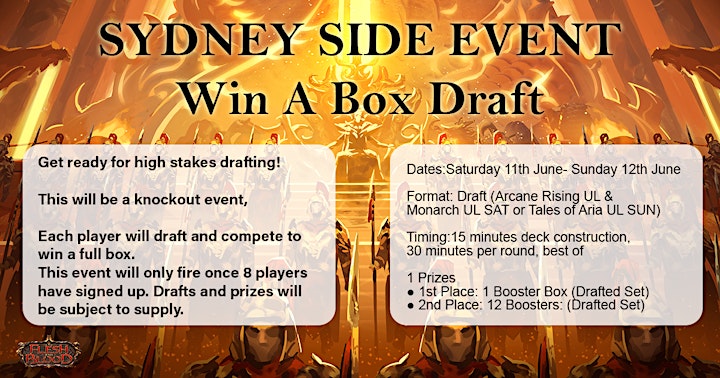 FAQs.
Q. I have a problem with buying my ticket, how do I contact the event organisers?
A. You can reach out to Let's Play Games via the FB Group or via email events@letsplaygames.com.au
Q. I entered the wrong Gem ID what do I do?
A. Email Let's Play Games events@letsplaygames.com.au and we can ensure your correct ID is recorded
Q. Where will the event be held?
A. Sydney Masonic Centre
Address: 66 Goulburn Street Sydney NSW 2000
Website: https://sydneymasoniccentre.com.au/