About this Event
Dress up in your best active wear and surround yourself with like-minded people!
Itinerary
9am - Doors Open
9.30am - Welcome
9.40am - Gut health talk
10am - Pilates with Denika from Flex and Stretch Pilates
10.45am - Protein Smoothie (green or fruit)
11am - 'Empowered eating' with guest speaker and author Kim Stevenson Farmakis
How to overcome obstacles and idenity triggers
How to develp your self love and confidence
The neuroscience of success
Conquering your past so you don't sabotage your results
Powerful steps to overcome emotional eating
1pm - Healthy nutrituional lunch designed and prepared by Flamingo Flare chef Corryne
2.30pm - Event ends
Tickets - $75 plus GST
**TICKETS ARE LIMITED TO ASSIST WITH COVID SOCIAL DISTANCING REQUIRMENTS**
Please Note
*Due to COVID it is essential that you bring your own exercise mat and towel. They will not be supplied.
*If COVID regulations change and we are unable to proceed with this event a refund will be issued minus the eventbrite service charge.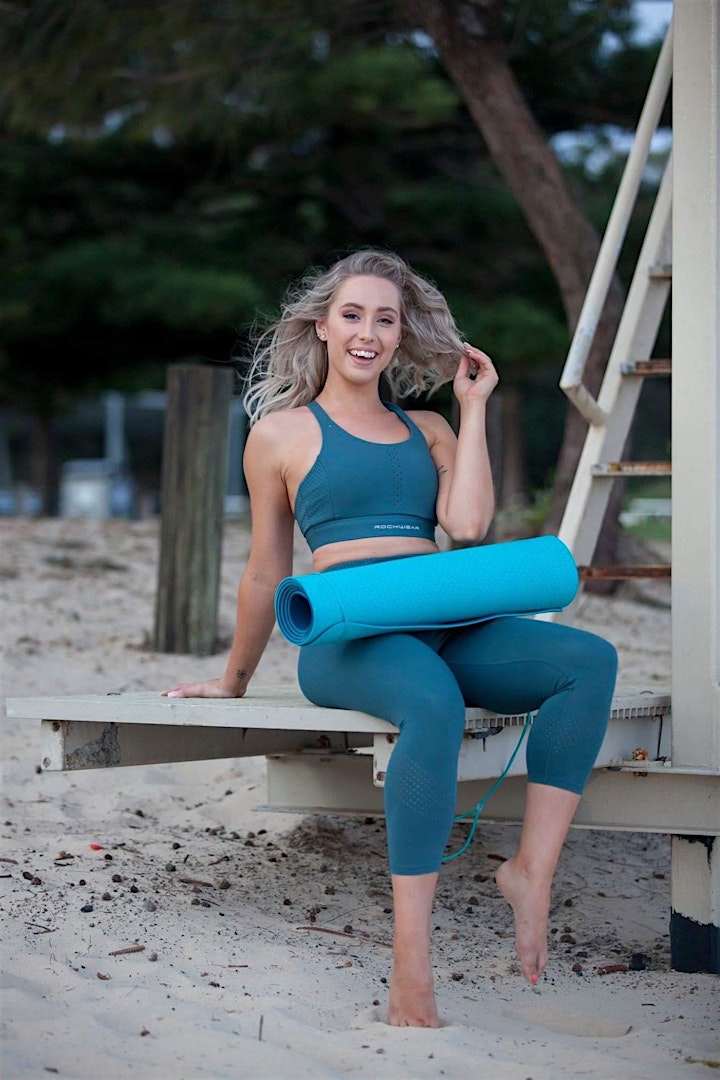 Denika Veigel - Flex and Stretch Pilates
Denika has surrounded herself with the Performing Arts industry for almost 15 Years, and has within the last year and a half found a passion for Pilates.
Denika has extensive training in Dance, many opportunities include performing in YIPA, School Spectacular as a featured Artist, Starstruck, chosen for Callbacks 2015 as part of her HSC, been involved in Gosford Conservatorium productions, performed many times with Central Dance Company, was invited two years in a row to perform her own Choreographed Solos in Choreographers Community Showcase, was the Face of Flight Dance Supplies in 2017, was a guest performer for the New Empire Ballroom Rag Time Orchestra, performed in Short + Sweet, performed for many charity events, performed at the opening of the Art House Wyong, was involved in RAW Newcastle, she was also a Sydney Kings Harlequin Cheerleader, and has been involved in many Gosford Musical Society Performances. Has completed her RAD Ballet exams from Pre Primary through to her Advanced 1.
After suffering from Two bulging discs to the L4/L5 in the lower spine, Denika found that Pilates saved her and gave her a new outlet in life. Denika is now currently studying with Polestar Pilates Australia.
Flex and Stretch Pilates proudly owned by Denika, is Located in Erina (Central Coast), catering for all levels.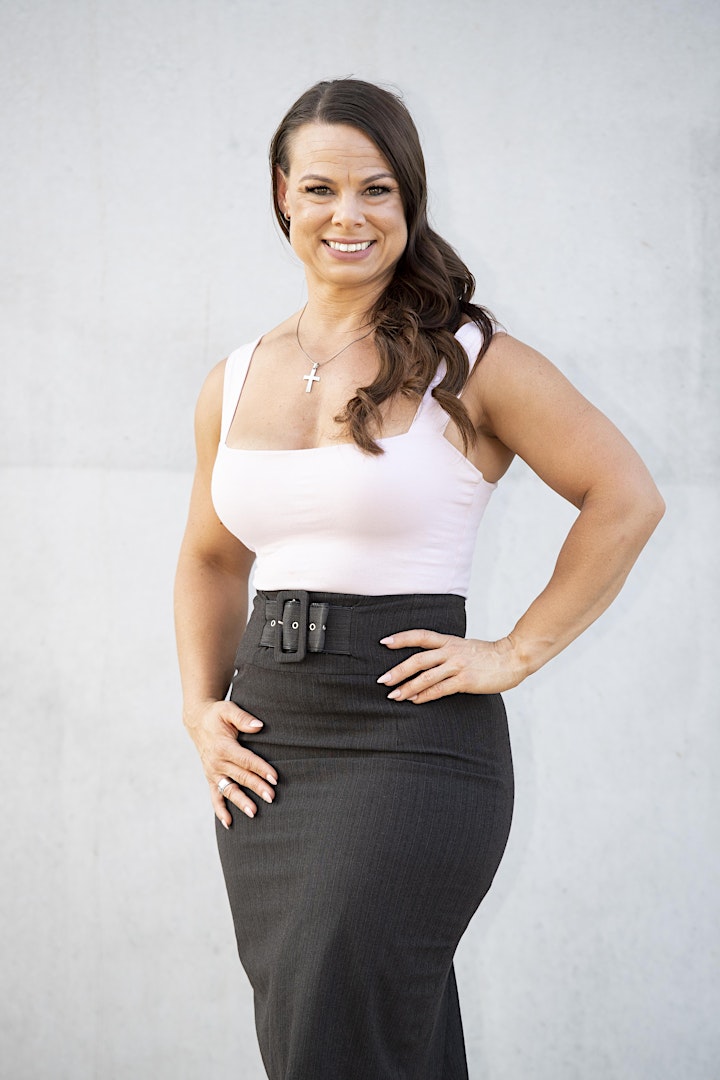 Kim Stevenson Farmakis - Guest Speaker
Kim is highly sought after as a speaker and has contributed to various media including Body and Soul magazine, ABC radio, the Jaemin Frazer Podcast and Canberra Times. She shared her insights on empowered eating for the Fernwood Wellness Challenge and is a regular speaker at gyms throughout Canberra and beyond. She is also the author of Empowered Eating- Binge Free Forever.
In her energetic and engaging presentations, Kim shares the mindset tools she used to recover from an eating disorder, traumatic childhood and a destructive perfectionist all or nothing mentality. These breakthroughs enabled her to take silver at the World Powerlifting Championships, bench 117.5kgs at only 63kgs body weight and break numerous Commonwealth and Australian records. Her story will leave you inspired!
The key takeaways include:
Empowered mindset
● Why fear drives us and where does it come from
● How to overcome fears and limiting beliefs
● How to overcome obstacles and identify triggers
● How to develop your self-love and confidence
● How to deal with all types of rejection
● The neuroscience of success
● How to inspire change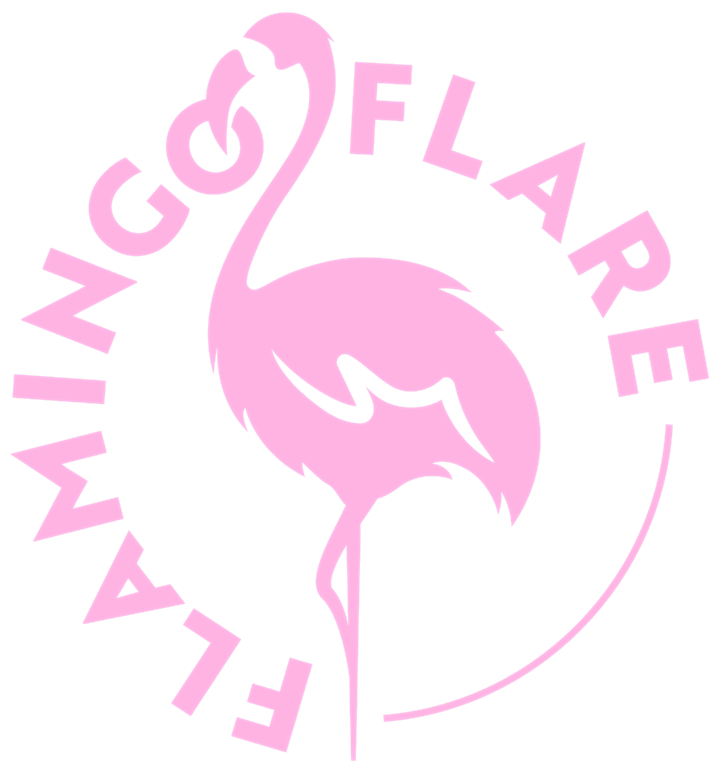 Flamingo Flare Events - Styling and Catering
Built on passion and an unwavering dedication to excellence, Flamingo Flare pushes boundaries through innovative planning to execute flawless symbolic events. We are known for designing personalised milestone events; luxe boho weddings and being the only company in the Newcastle / Hunter Valley region with letter tables.
Flamingo Flare understands that catering isn't just about bringing food to the table; the dining experience should be as dynamic as your guest's conversations. We want you to feel like you have your own personal chef, therefore all menu's are uniquely designed. Whether you are requiring small fine dining or a large cocktail and grazing event you can take comfort knowing that your guests will taste a little bit of heaven in every bite.