Darwin's first night of nights for the beauty & hair industry!
About this event
Forget generic dinner and totes awkward networking hangs. I'm determined to create an all-encompassing event that educates, inspires and entertains. 
Every Ticket includes entry to our EPIC door prize raffle valued now over $7000!! and includes incredible prizes like...
Caitlyn Menzels - The Salon Bible Course valued at $2,999
Mandy Jeffeys - Full Brow Course Valued at $2,500
Mimmi Ebberstens - Online lash Couse and Full Kit valued at $2,500
Rhi's - The Freedom Lifestyle -Life Coaching Session
Photography session from GP Photography
Make Up session
Self Love Healing session from Avalon In'LaKesh
Branding help from Digital Bloom
... and soooooo much more!
General Admission Tix
They are packed 💼with so much value too! We are talking:
champagne🍾 on arrival
photos📸 of the night
entry to our door🚪 prize which has toppled OVER $7000🤑!
Hot and cold canapes throughout the night 🥰
your chance to win fabulous prizes throughout the night worth hundreds!
schmoozing and leaning 🤓off some of the most talented coaches and trainers in Australia 🦘
VIP
VIP Express entry
Champagne on entry🍾
entry to our door🚪 prize which has toppled OVER $7000🤑!
Photos📸 of the night
2hr drinks package which includes beer wine AND spirits!
Hot and cold canapes
Meet and Greet with the speakers🙌
VIP Goodie bag which includes but not limited to: A 30min card reading🔮, coaching calls📲, accounting/booking help🧮, Books, Crystals, Brow products, lash products, hair products, so much more which is worth well over $500!
For far too long there has been a rift between salon owners, both beauty and hairdressers alike, so I am calling us out on it! Its time to start fixing crowns without telling each other they are crooked. Its time for empowering each other. Its a time for change.
I want you to walk out of this event and feel empowered and inspired to share what you have learnt and take it back to your team at the salon. I expect that Fixing Crowns will give you the tools you need to boost your biz and bring new exciting treatments to Darwin. 
This first year is invite only for Bosses and Managers only of Beauty and Hair which includes Lash Extensions, Make up and Cosmetic Tattooing.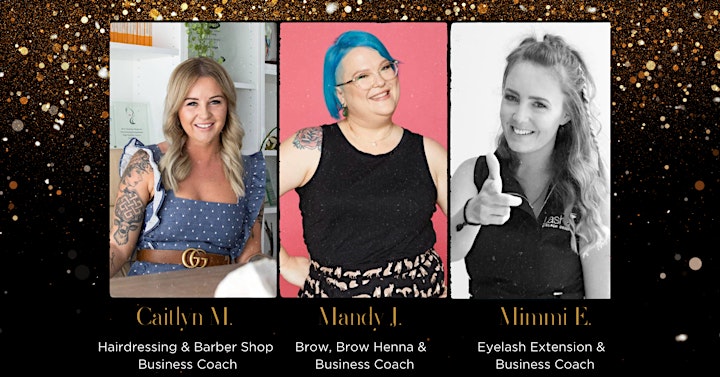 I'm talking flying up educators and key-note speakers from around Australia to deliver theme topics and training. It's about time we brought training to our hometown and show them how amazing the Territory is. 
RUB SHOULDERS WITH THE BIG NAMES IN OUR INDUSTRY!
"Everything I coach and teach, is straight from the horse's mouth from my own personal experience and the learnings of my clients as well. I've been there, done that, experienced the worst of everything. I've (literally) had my entire staff walk out, I've had weeks of not paying myself, a business that almost went belly-up, and there's been times where I've wanted to burn down the salon and never go back. I've also at one stage had a team of 21, profited a generous six figures whilst travelling the world for months at a time, and relocated and expanded multiple times." Caitlyn M.
"With over 2 decades of experience specialising in brows, lashes and skin, Mandy has developed products with her own brand of secret science behind the ingredients used, which have successfully raised the standard in brow products, protecting salons and consumers. Mandy took to the old-growth fields of henna in the heart of India, where she studied and learnt ancient methods of the art and developed Fox Cosmetics Henna Range for beauty salons around the globe." Mandy J.
"We launched our world-renowned Eyelash Designer training program in 2010, and has since built a worldwide network of Eyelash Designers, and a lot has happened in our industry since. I have somewhat become an industry influencer, traveling worldwide speaking at Eyelash conferences, judging Eyelash competitions, and spreading the word of safely applied, aesthetically looking Eyelash Extensions." Mimmi E.
MORE TO BE ANNOUNCED SOON...
Organiser of Fixing Crowns - Darwin's Beauty & Hairdressing Networking Night