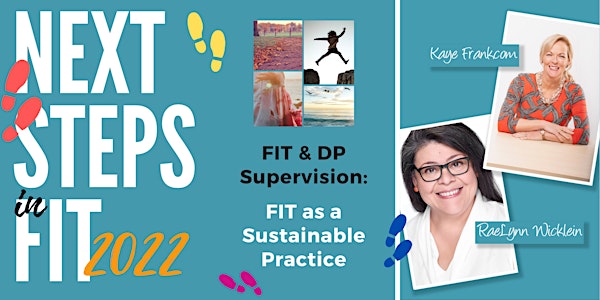 FIT & DP Supervision: FIT as a Sustainable Practice 2022 (Indiv Sessions)
Refund policy
Contact the organiser to request a refund.
Eventbrite's fee is nonrefundable.
Who's this for? You: A practitioner who cares about clients getting better & wanting to know & improve effectiveness to help them get there.
About this event
FIT & DP Supervision Group: FIT as a Sustainable Practice 2022 (The Package)
The FIT & DP Supervision Group is an engaging, informative, and flexible 'pay as you go' continuing professional development offering for practitioners. Led by Kaye Frankcom and RaeLynn Alvarez Wicklein, both certified ICCE FIT trainers, this program seamlessly follows on from our 2020/2021 FIT Peer Supervision Groups and our 2019 webinar series Next Steps in FIT.
Due to demand, we've even added 4 more sessions this year for 10 in total, providing you monthly opportunities to make your FIT and DP practice sustainable. Each of these sessions build with connectedness within the group and over the topics, and can be taken as solo learnings and consultations. In addition, when you present your work, this active PD offering becomes Peer Supervision towards your annual CPD requirements.
Each session is $55 + GST; get a $50 discount off the total package of ten sessions ($550+GST) and pay only $500 +GST!
The Package 2022 Dates included: 24 Feb | 24 Mar | 21 Apr | 19 May | 23 Jun | 21 Jul | 25 Aug | 22 Sep | 20 Oct | 24 Nov
$500 + GST per person, per package (10 sessions!)
Register here for The Package
"The beginning is always today." – Mary Wollstonecraft Shelley
Who's this for?
You: A practitioner who wants to use FIT & DP to improve effectiveness and wants to know how to make these sustainable practices towards better outcomes.
You: Honing your skill in the use of routine outcome monitoring in a Feedback Informed Treatment approach and Deliberate Practice as ways of improving therapeutic effectiveness, identifying and reducing risk of client deterioration and dropout. You are wanting to share your data and graphs in a consultation group to You are wanting to discover simple, sustainable methods to create an enduring cycle of excellence for your psychology practice.
"Know all the theories, master all the techniques, but as you touch a human soul be just another human soul" – Carl Jung
What will I get out of these sessions overall?
• Sustaining the culture of FIT as a sole practitioner and in a group of practitioners
• Group consults: Share your graphs
• Getting the Most of DP: Share your aggregate data
• Sustaining FIT Practices: Tips and ideas to sustaining FIT and DP
• Exclusive access to preview content from the forthcoming book, Creating Impact: Four Pillars of Private Psychology Practice(in progress).
Within each Session:
• Sharing graphs - understanding graph patterns and hear from other FIT practitioners
• Sharing aggregate data - shaping your data into sustainable deliberate practice.
• Rae & Kaye Pick of the Day – highlighting current FIT/DP topics, research and skills
• DP Skill matching – Matching a skill to work on with a deliberate practice plan
CANCELLATION POLICY
To insure an optimal learning environment, registration for this event is limited in number. The quality of the event depends on all participants attending and preparing for the event by completing any pre-meeting reading assignments. A 50% refund or 100% of meeting cost will be applied toward the next available meeting will be made if requested if cancellation occurs 3 days or more prior to the first day of the scheduled event. If cancellation occurs less than 3 days prior to the first day of the event there will be no refund but a 50% of the tuition portion of registration fees will be applied toward the next available meeting if requested. If cancellation occurs 2 days or less before the event there will be no refunds or deferral of tuition.
In the unlikely event the workshop is cancelled (e.g., both presenters unavailable) participants will be automatically registered for the next available meeting. No liability is assumed or coverage offered for any costs incurred resulting from cancellation.