Join the Britain-Australia Society for a virtual lecture by ANU academic, Dr David Headon, regarding Australia's second Prime Minister
About this Event
The Britain-Australia Society is delighted to partner with the Australian Studies Institute of the Australian National University (ANU) in celebrating the life and times of Australia's second Prime Minister, Alfred Deakin. Born in Melbourne in 1856, Deakin was a leader of the movement for Federation of the young Australian nation and was a principal author of the Australian Constitution.
Dr David Headon is the founder of the First Eight Lecture Series and is a passionate advocate for the revival of an understanding of early Australian history. His previous First Eight Lectures in the UK were oversubscribed. ANU has generously agreed to offer this year's virtual lecture gratis to BAS Members and Friends. The Lecture will be introduced by Australian High Commissioner to the UK, HE the Hon George Brandis QC.
Numbers are limited. Book now to secure your place.
The First Eight Project is a collaborative project between the Australian Parliamentary Library, Australian Studies Institute (ANU), National Archives of Australia, National Museum of Australia, and Victorian Parliamentary Library.
We would like to thank Ms Alison Alder for her inspiring artwork.
An enigma revealed: The mystery and mysticism of Prime Minister Alfred Deakin
About the lecture:
When summing up the career of Australia's second Prime Minister, Australian novelist and social commentator, Vance Palmer, concluded that Alfred Deakin was 'the ideal Australian statesman'.
It was a description at odds with the hostile labels used by some of Deakin's more prominent political opponents. Yet neither opinion does him justice. Deakin was different. He lived an extraordinary life that often transcended politics, the machinations of political colleagues and, on occasion, even his family.
He nurtured matters of the spirit and he always wanted to be a writer, a lone creative writer. In the midst of his ground-breaking (second) stint as Prime Minister (1905-8), he considered leaving politics altogether. With Deakin, widely regarded today as one of Australia's most significant Prime Ministers, intriguing contradictions abound.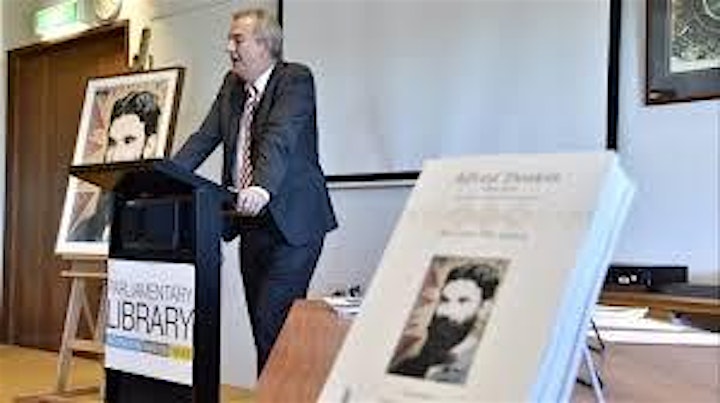 About the Speaker
Dr David Headon is a cultural consultant and historian. Formerly Director of the Centre for Australian Cultural Studies, Cultural Adviser to the National Capital Authority and History and Heritage Adviser for the Centenary of Canberra, he is now a Foundation Fellow at the Australian Studies Institute (ANU), a Parliamentary Library Associate and the Canberra Raiders club historian.