Description
ONE NIGHT ONLY!
The award-winning One Man Band – FINGERS Mitchell Cullen will be performing at the Atrium Hotel Mandurah on the 16th of February 2019 at 7:30pm.
This will be the FIRST TIME IN HISTORY that the main 'Atrium' area of the hotel has been utilized for a performance; This will allow guests to view the performance FROM THE SURROUNDING BALCONIES of the building, looking down into the pool area where Mitchell will be performing, or to dance to their hearts content on the first floor!
Tables and chairs will be cleared from the restaurant for dancing, however, seating will still be available in both our alfresco area and the bar.
Tickets $30 | Children 4 & Under FREE. (Only 100 tickets available so be quick)
Book Tickets on 9535 6633.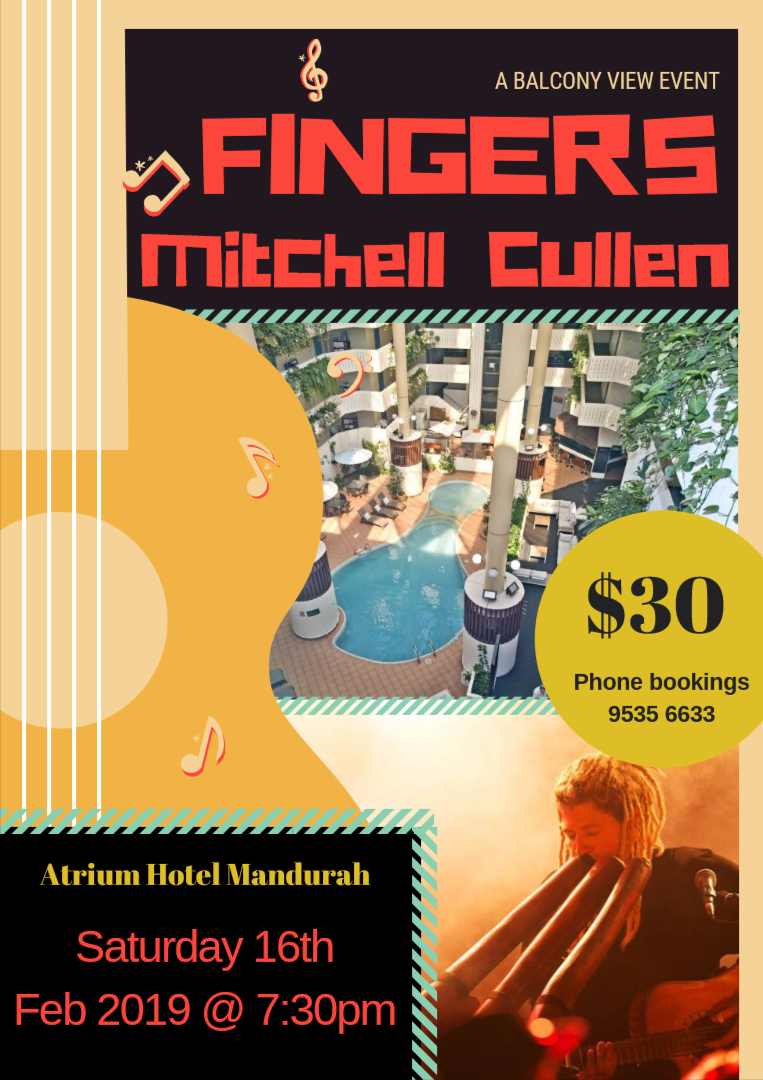 ---
FINGERS Mitchell Cullen 25 years young Albany's Prodigy singer song writer with his own unique style, Mitchell is fast becoming known for his outstanding speed and 12 string guitar skills. Not prepared to rest at that, he is also an extremely talented multi-instrumentalist, having mastered the didgeridoo, slide stomp box, harmonica, percussion, and banjo whilst top-ping it all off as a singer / song-writer.
Publicly Voted Australia's Number One Home Grown Talent as seen live on National TV and performing as a Special Guest on Australia's Got Talent Grand Final.
Mitch is gaining huge interest as an international performer, performing at the OZORA Festival Hungary Budapest Europe's Second Biggest Psychedelic Trance Festival

India / Dubai

He currently has 7 CD's out and a DVD with the New CD "Now You Know Me" now seen touring its way around The World with 6 songs reaching the Top 100 triplejunearthed roots chart and song track Didge It has Been Nominated in the WAMI Song of the Year Award for Outstanding Regional Category 2016
Mitchell has developed a huge connection within the Indigenous Community's and has performed at Welcome to Country Ceremonies'

WAMI Song of the Year Award for Outstanding Regional Category 2016
Publicly Voted Australia's Number One Home Grown Talent
Regional Heat Winner of the Next Big Thing in 2009
Winner of Albany Regional Idol 2008
Regional Heat Winner of the Next Big Thing in 2008

http://www.fingersmitchellcullen.com.au/
https://www.facebook.com/fingersmitchellcullen 130K+ following
https://www.youtube.com/user/fingersmitchell 100K+ views per week