Description
Finding Purpose
Five

Free workshops to help people 55+ uncover or rediscover their purpose. See below for details of each Workshop.

"The Purpose of life… is to be useful, to be honourable, to be compassionate, to have it make some difference that you have lived and lived well." Ralph Waldo Emerson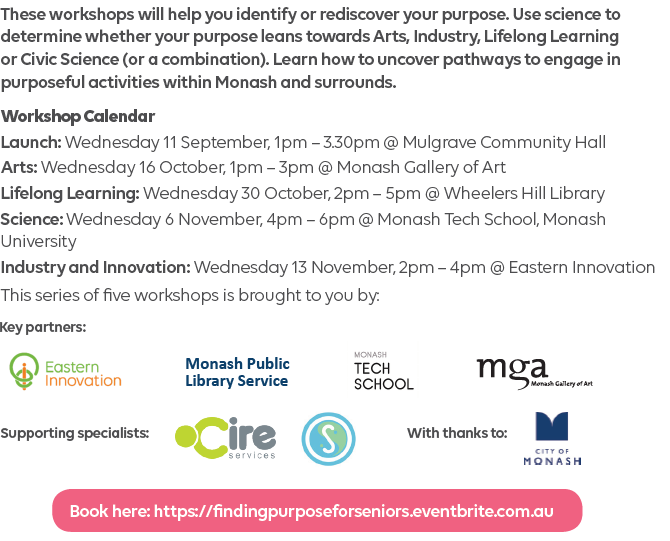 Launch event:
Wednesday, September 11, 2019 1pm – 3.30pm @ Mulgrave Community Hall
Throughout the presentation led by specialist counsellor team CIRE, participants will develop a deeper understanding what it means to have purpose.
During the event they will:
Be guided by volunteers to undertake simple, private psychometric testing to uncover where their purpose lies in the fields of Arts, Life-Long Learning, Civic Science and/or Industry,

Have the opportunity to privately explore Values and Passions,

Be able to book into the following workshops, and

Enjoy afternoon tea and meet new people.
Finding Purpose in Arts
Wednesday 16 October, 1pm–3pm @ Monash Gallery of Art
A workshop for people who feel their purpose lies in:
Visual arts and creative thinking,

Developing a skillset for understanding and interpreting artwork and the enjoyment of experiencing visual art in a gallery or museum setting, and

Creativity through contemporary image making: a hands-on workshop (bring your own device, eg. phone, tablet or camera).
Including How to Volunteer (avenues include as an arts practitioner, as front-of-house staff or administrator, or as a volunteer gallery guide).
Special guest speakers: Anouska Phizacklea, MGA Gallery Director; Stephanie Richter, MGA Education & Public Programs Coordinator; plus a contemporary artist to lead the workshop.
Afternoon tea will be provided.
Finding Purpose in Lifelong Learning
Wednesday 30 October, 2pm – 5pm @ Wheelers Hill Library
A workshop for people who feel their purpose lies in:
Lifelong Learning,

Research,

Family history, and

Volunteering
Participants will be shown how use resources available in the library to undertake research for that project they've always wanted to do but never had time.
They'll learn how to use the library family search databases to build their family tree and learn tips to help when they hit a roadblock.
A representative from South East Volunteers will share how they people can use their experience and expertise to help others.
Afternoon tea will be provided.
Finding Purpose in Civic Science
Wednesday 6 November, 4pm – 6pm @ Monash Tech School, Monash University
A workshop for people who feel that their purpose lies in:
Science and contributing to Science
Civic Science has its participants do more than just data collection. Participants will learn how to analyse results and develop conclusions about their findings.
Learn:
What is Civic Science?

What projects are occurring in our region?

How to begin a project, and

Civic/citizen Science throughout the world.
Afternoon tea will be provided
Finding Purpose in Industry and Business
Wednesday 13 November, 2pm – 4pm @ Eastern Innovation
A workshop for people who feel their purpose lies in:
Business and Industry

Innovation

Contribution as a Board Member or Mentor
Learn:
Where to take your great idea/innovation,

How to commercialise your hobby,

The future of work and how to contribute,

How to Volunteer in Monash.
Afternoon tea will be provided
BOOK ANY WORKSHOP ONLINE https://findingpurposeforseniors.eventbrite.com.au/
or CALL 1300 462 822 and speak to Henriette or Danielle