Description
ICG VIC COACH AND CONNECT : FEBRUARY 20TH 2018:
Find Your Voice, Share Your Message and Change The World.


WOW coach…have we got a fabulous treat for you in Fabulous February.
Are you ready to share your message with the world?

Would you love to learn a seven-step process to become a published author?

Are you prepared to learn the options available to you BEFORE publishing?
YES, OF COURSE!!
Then keep reading…
The ICG has a fantastic calendar of presenters for you in 2018 and we are continuing to ramp up the value for you with our theme for the year "PASSION AND PURPOSE". These events provide a fantastic opportunity to get in the room with like-minded individuals and phenomenal speakers.
This month we are committed to support you as you seek to make a difference on a larger scale and find your voice. Please give a warm welcome to our amazing speaker Karen McTackett.
Introducing Karen McTackett
Karen is a Creative Success Strategist at i.am Academy as well as an author, facilitator, coach, and mentor.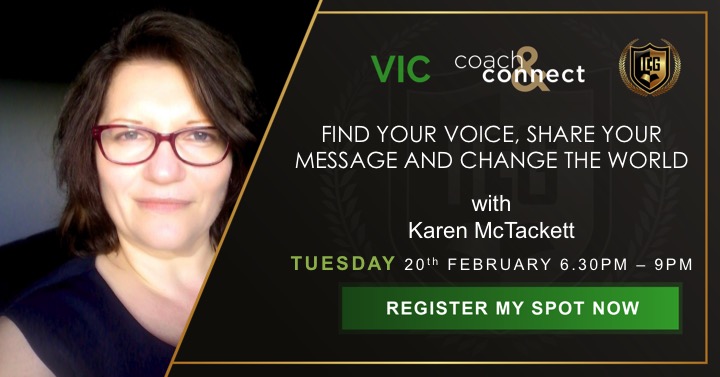 With over 35 years of experience in fiction and nonfiction writing and publishing, Karen is a top 10 best seller in 3 countries, has published 7 books, is published in several anthologies, and helps entrepreneurs build attractive branding by helping them get clear on and share their unique message with the world through book writing and storytelling using a proven system that gets them published quickly and professionally. Her passion is helping others find their voice, share their message, and change the world.


Karen will be sharing with us:
You can become the specialist, the expert, in your industry, by writing and publishing your knowledge and uniqueness that YOU ALREADY HAVE and sharing your passion and purpose to create raving fans.
A 7 Step Methodology to create books, articles, blogs, trainings, that is replicable, takes you from no idea to published, and works even if you are not a writer.
STOP! Don't publish, yet! Know your options FIRST – and yes, there are more than you think.
WOW……this is INCREDIBLE!!
When: Tuesday 20th February 2018
Time: Registration 6.30pm for a 7pm start
Where: TCI HQ, 40/37-39 Albert Road, Melbourne VIC 3004
Tickets: Click HERE to grab early bird tickets NOW at $20 (plus $2.19 fee) or $25 cash at the door.
---
To make sure you never miss an upcoming event and check out everything ICG head over and join in the conversation by CLICKING RIGHT HERE

And remember, all ICG Coach and Connect events are open to you sharing amongst your networks with anyone you believe will gain value from being in the room.

See you there. Bookings open now.
Jane Cann
Victorian ICG Coach and Connect Leader
Are you a member of the ICG yet?

http://www.internationalcoachguild.com/