Description
IMPORTANT!
The Find the WAY: Amazing Wellbeing Race needs to be postponed due to unforeseen circumstances. New date to be announced soon (18/5, 25/5 or 1/6)!
Find the WAY: Amazing Wellbeing Race
* Are you 18-24-years old?
* Do you live, study, volunteer and/or work in the City of Adelaide?
* Do you like to have fun, learn new things and make new friends while you're at it?

If yes!
Then the Find the WAY: Amazing Wellbeing Race is for you!
What to expect?
You can sign up as an individual or with friends. Each person or group is allocated to a team. Together you will be racing around the city. During your adventure you and your team will need to out-smart and out-race the competition across a predetermined route that will see you stopping at numerous stations. Each station is manned by folks from a different local organisation. They will share information with you about their wellbeing related work and how they can be of support to you. Plus, they will give your team a challenge which you successfully will have to complete.
A week prior to the event you will receive an information pack with the starting location and all other relevant information you need to know.
Up for the challenge?
Sign up now! Tickets are only $5 + Eventbrite service fees & GST!
Questions?
Contact froukje.jongsma@togethersa.org.au
This event is part of SA Youth Week 2018.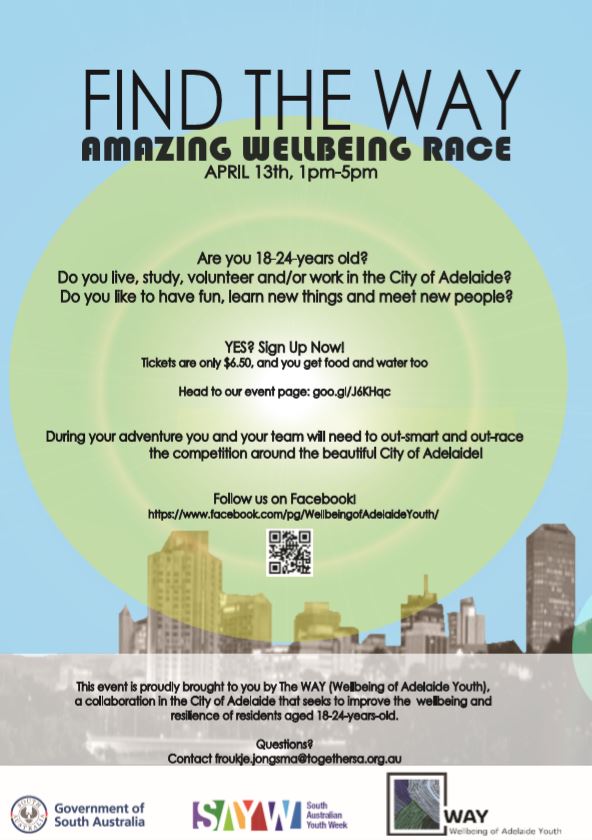 WAY - Wellbeing of Adelaide Youth Initiative
Find the WAY: Amazing Wellbeing Race is an event organised by WAY, a collaboration in the City of Adelaide that seeks to improve the wellbeing and resilience of residents aged 18-24-years-old.
The initiative's members are working together to co-create a city where all 18-24-year-olds have good physical and mental health, are safe and secure, have opportunities to grow, live in a sustainable environment, are included and respected and have positive relationships with others.
Who are we?
WAY is a cross-sector stakeholder collaboration. Its members come from a wide range of organisations and sectors including local and state government, the social, education and health sectors, local business and community including young people.
Follow us on Facebook!
https://www.facebook.com/pg/WellbeingofAdelaideYouth/