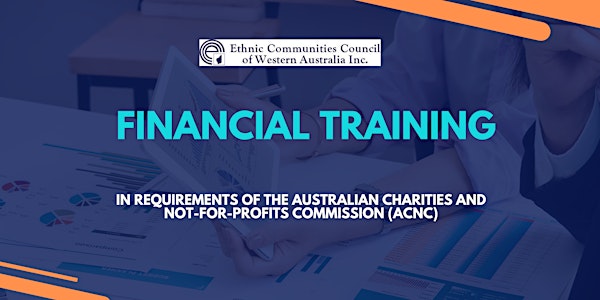 Financial training in requirements of the Australian Not-For-Profits
Location
20 View St
20 View Street
North Perth, WA 6006
Australia
Learn about the three tiers of financial management complying to the minimum standards in accordance with the ACNC Governance Standards
About this event
This training session will be presented by Baily Fernandez
About presenter:
Baily is a Certified Practicing Accountant and a Certified Global Management Accountant with a passion for Community Services, Aged Care and the Disability Services Sector. Baily has held Senior Management and Executive level roles at notable Not for Profit organisations bringing a right balance of commercialisation into the community services sector.
Topic : Financial Training
This training is about focusing on the three tiers of financial management complying to minimum standards in accordance with the ACNC Governance Standards.
Every charity has a governing body that is responsible for the overall operations of the organisation. The board oversees a charity's governance, ensuring that it is achieving its commitments as outlined in its governing legislation.