Description
Meet ASX listed companies, learn what makes their business compelling, ask their CEOs and executives the questions you want, to get the leading edge, make better-informed decisions and learn about market opportunities.
The Finance News Network and its event partner, preeminent wealth manager Shaw and Partners, run regular Investor Events that unite companies, investors and stockbrokers.
To keep your finger on the pulse and stay abreast of opportunities, secure your seat at our next event. Register below, bookings are essential.
---
Market Update
A short update on the current state of equity markets will also be provided at the event by our event partner, preeminent investment house Shaw and Partners.
---
Presenters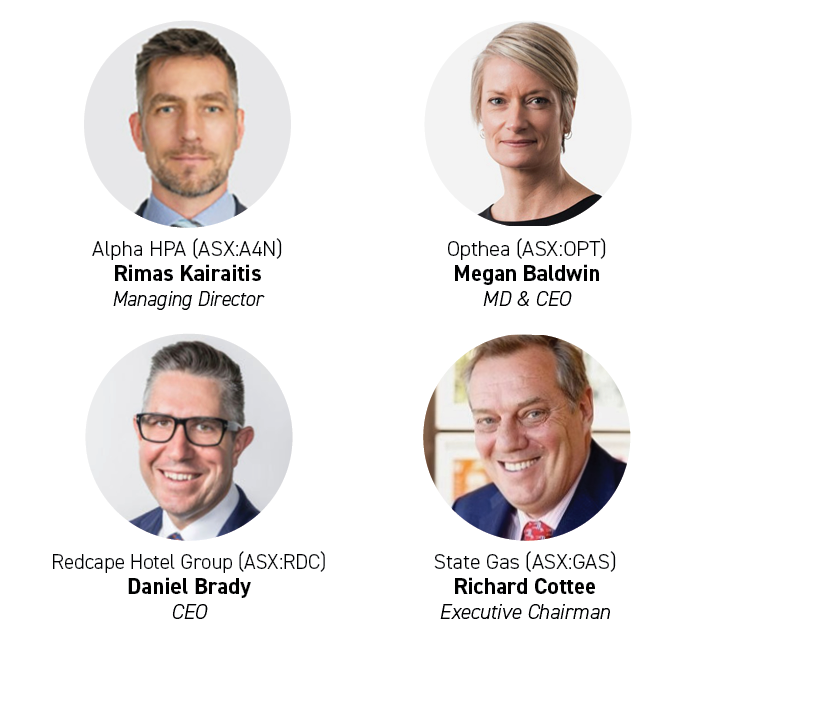 ---
Company Profiles


Alpha HPA Limited (ASX:A4N)
Industry: Metals & Mining
Alpha HPA is utilising its proprietary licensed Solvent Extraction (SX) and refining process to make a 4N (99.99%) HPA using a blend of readily available industrial chemicals rather than a mine generated feedstock.

Recent Highlights:
First HPA production using HPA First process 99.994%
HPA First pre-feasibility study completed November 2018, updated February 2019
HPA First Pilot Plant commenced July 2019
---
Opthea Limited (ASX:OPT)
Industry: Health Care
Opthea Limited (ASX:OPT) is a public biotechnology company listed on the ASX and based in Melbourne, Australia.

Opthea is developing OPT-302, a novel biologic inhibitor of VEGF-C and VEGF-D, as a complementary medicine to be used in conjunction with VEGF-A inhibitors for the treatment of wet age-related macular degeneration (wet AMD) and diabetic macular edema (DME).
Opthea has completed a Phase 1/2a clinical trial in the US investigating OPT-302 in wet AMD patients and has two ongoing clinical trials.
Opthea's technology is based on extensive intellectual property related to VEGF-C, VEGF-D and VEGFR-3 that is held in Opthea's 100% owned subsidiary Vegenics Pty Ltd.

---
Redcape Hotel Group (ASX:RDC)
Industry: Consumer Services
A leading hospitality group of 800+ dedicated people who passionately serve 28 different communities across Australia's east coast.
Managed by Moelis Australia Hotel Management, Redcape Hotel Group own and operate 32 community-focused venues, as well as 22 bottle shops, 3 accommodation venues and The Australian Brewery.
We make it our mission to provide sociable, fun, friendly and safe pubs and hospitality offerings within the communities we operate.
Our commitment is to the betterment of people, be it supporting our staff to thrive and develop in their careers, ensuring strong returns for our shareholders, and enriching the communities we operate in and customers we serve.

---
State Gas Limited (ASX:GAS)
Industry:

Energy
State Gas Limited (ASX: GAS) is a developer of a conventional gas field located in the Bowen Basin in Central Queensland.
It is Operator and 80%-owner of the Cattle Creek and Reid's Dome Conventional Gas Project (PL 231) located 30 kilometres south west of Rolleston, approximately 50 kilometres from the Queensland Gas Pipeline.

Gas was discovered in 1955 at the Reid's Dome project and infrastructure and markets for the gas did not exist until recent years.

More to come ...