Description
Meet ASX listed companies, learn what makes their business compelling, ask their CEOs and executives the questions you want, to get the leading edge, make better-informed decisions and learn about market opportunities.
The Finance News Network and its event partner, preeminent investment house Shaw and Partners, run regular Investor Events that unite companies, investors and stockbrokers.
To keep your finger on the pulse and stay abreast of opportunities, secure your seat at our next event. Register below, bookings are essential.
---
Market Update
A short update on the current state of equity markets will also be provided at the event by our event partner, preeminent investment house Shaw and Partners.
---
Presenters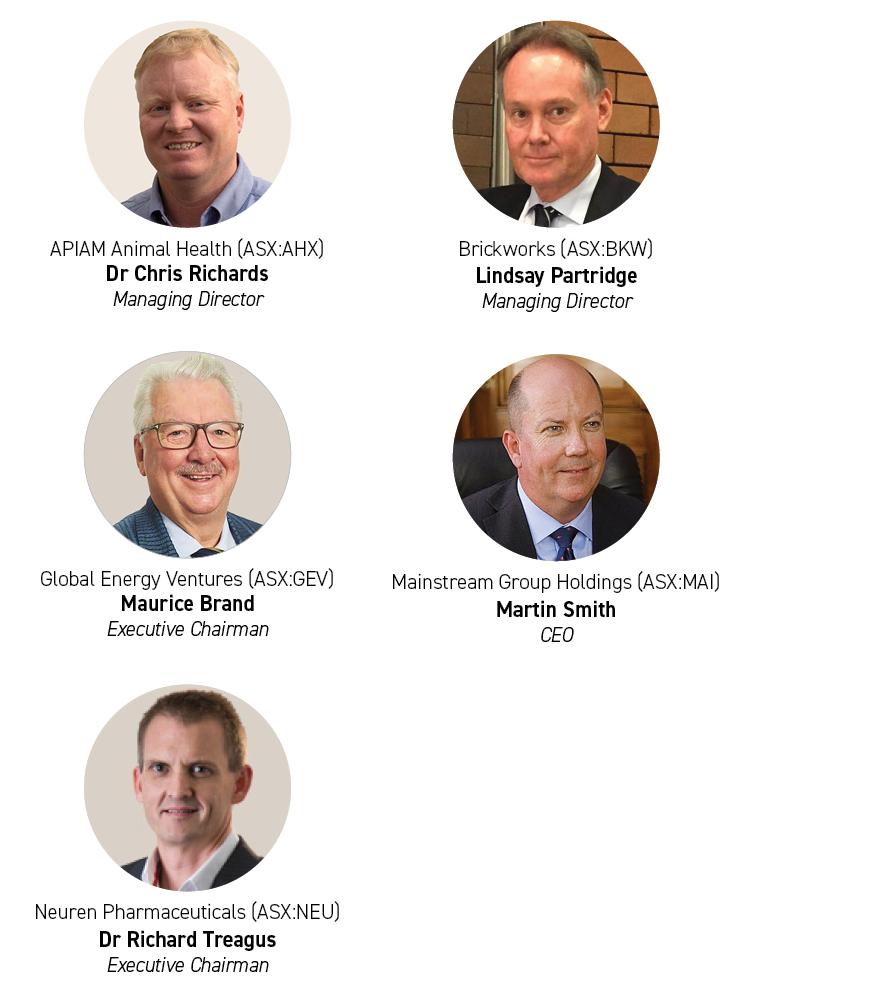 ---
Company Profiles


APIAM Animal Health Limited (ASX:AHX)
Industry group: Health Care Equipment & Services
Apiam Animal Health is comprised of Australia's leading rural veterinary practices. Apiam Animal Health incorporates over 100 highly experienced, industry leading veterinarians with expertise across the pig, dairy, feedlot, sheep, equine and companion animal sectors. Apiam Animal Health is fully vertically integrated, including having veterinary wholesale, warehousing, logistics, and other ancillary services.
---
Brickworks Limited (ASX:BKW)
Industry group:

Materials
Brickworks Limited is a dynamic and innovative group of Australian-owned companies. Our main business is the manufacture and distribution of clay and concrete products, property development and realisation, and investments. We operate in all states throughout Australia and in New Zealand.
---
Global Energy Ventures (ASX:GEV)
Industry group:
Energy
GEV's business model is to develop and then build, own and operate compressed natural gas projects that generate bankable cashflow and make strategic investments in upstream gas resources suited for CNG commercialisation.
The Company's mission is to create shareholder value through the delivery of integrated CNG solutions to global gas markets. GEV will achieve this through the following actions:
Continue the design & construction approvals for CNG Optimum Ship design and maintain global leadership in marine CNG;

Pursue multiple CNG projects to improve the probability of success;

Secure access to strategic gas resources that provides for an integrated CNG gas supply solution;

Offer CNG project stakeholders flexible commercial arrangements;

Employ world class management and staff that are leaders in their chosen discipline; and

Maintain the highest standards of efficiency, safety and environmental responsibility
---
Mainstream Group Holdings Limited (ASX:MAI)
Industry group: Diversified Financials
Mainstream Group Holdings Limited is a specialist fund administrator for the financial services industry. Our clients are typically fund managers, superannuation trustees, listed companies, family offices and dealer groups.
We are independent and focus solely on third party administration. You can choose to outsource all – or a part - of your fund's administration to us.
Our specialty is end-to-end administration where you choose the start and end points. We pride ourselves on offering flexible, tailored solutions.
Mainstream has outsourcing experience across a range of services and sectors, with specialist teams in investment administration (fund services), middle office, fund accounting, superannuation administration, share registry and unit registry (transfer agency) services, so you can be confident you're getting expert support.
---
Neuren Pharmaceuticals Limited (ASX:NEU)
Industry group: Pharmaceuticals, Biotechnology & Life Sciences
Neuren Pharmaceuticals (ASX: NEU) is a biopharmaceutical company developing new therapies for brain injury, neurodevelopmental and neurodegenerative disorders.
Neuren's strategy emphasises product development opportunities with five crucial attributes: solid scientific rationale, significant unmet medical need, compelling market opportunity, favourable regulatory treatment with a clear path to approval, and potential for development for additional conditions.
Neuren's lead product trofinetide (also known as NNZ-2566) is licensed to ACADIA Pharmaceuticals for North America, with Neuren retaining all rights outside North America. Trofinetide has completed Phase 2 development for Rett syndrome and is in Phase 2 development for Fragile X syndrome, moderate to severe Traumatic Brain Injury (TBI) and Concussion. Neuren has conducted double-blind placebo-controlled Phase 2 trials in Rett syndrome and Fragile X syndrome, which both demonstrated clinical benefit from treatment with trofinetide.
More to come...